"In this series I will be sharing my take on which BC Wine pairs well with some inspirational recipes"
This  dish celebrates the last of my fall harvest from the local farmer's market. Zucchini, Eggplant and Tomatoes are a wonderful combination in both tasting and presentation. This is one of my favourite company dishes because it never fails to impress.
You can of course make this dish out of season because all the ingredients are always available at the grocery store. It can be made as a vegetarian dish, or if you skip the cheese topping, a vegan dish. I have made this dish both with and without the onion.
Harvest Trio Gratin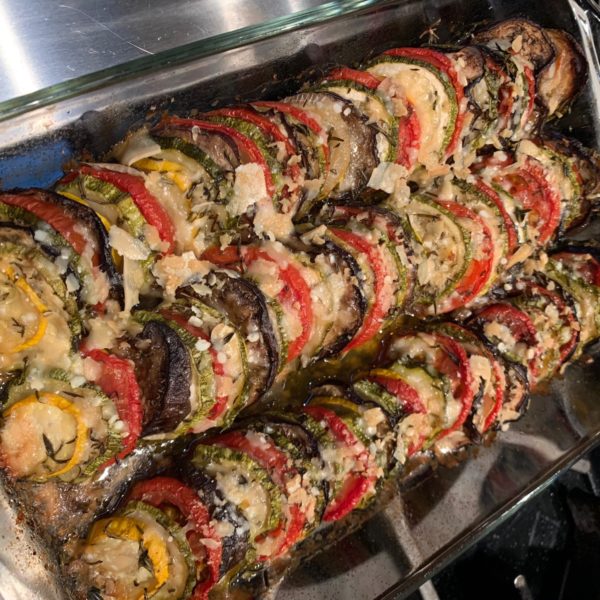 ripe tomatoes, uniform in size, slieed
onion, sliced thin (optional)
zucchini (green, yellow or both) sliced in rounds
eggplant sliced in rounds
olive oil
rosemary, chopped
tyhme and sprigs
salt and pepper
feta, crumbled or parmesan cheese, grated (optional)
I use a rectangular glass casserole dish for this recipe, season with olive oil. It's all in the way you construct it and having the vegetables cook evenly. I find the eggplant takes longer so I either bake or fry it with a bit of olive oil to about half done.
I place the sliced vegetables in rows alternating between tomatoes. Tomato, Zucchini, Tomato, Eggplant, Tomato (onion if using, once per section), repeat. Top with sprigs of rosemary and thyme.
Sprinkle with the chopped rosemary and thyme leaves, drizzle with olive oil. Covered with foil. Bake in a 375 oven for 60 minutes remove foil and cook another 15 minutes or until done. Remove sprigs of rosemary and time. If you are adding grated parmesan do so in the last 15 mins of baking (remove sprigs of rosemary and thyme before adding cheese).
Garnish with thyme sprigs to serve.
Suggested BC wine pairing:
Da Silva Pinot Noir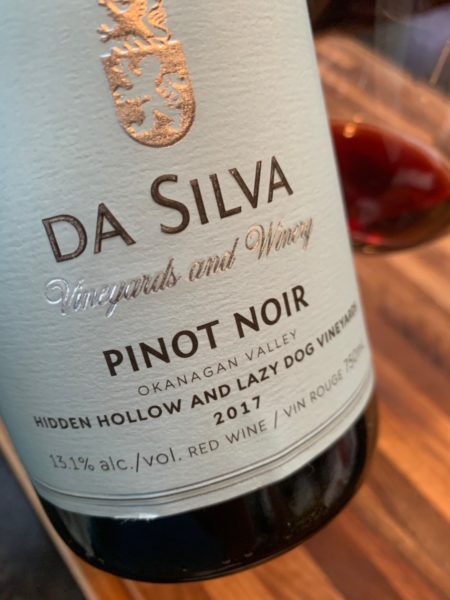 VINTNER NOTES
Hints of Kirsch cherries, cranberry jam, with hints of damp earth and mushrooms. Firm yet velvet tannins with bright mid palate acidity.
I could not have asked for a better pairing. This wine knocked my socks off. Powerful in the best way, smooth and fruity, just a bit bold and juicy. I loved this wine. 
This recipe is one I first made so long ago it would be embarrassing to tell which year. I also have made it to take to a friends home. It has never disappointed. It is a very impressive looking dish to put on the table. As with many of my recipes you can find inspiration at NYTCooking.
Vintner notes courtesy of the winery. Tasting notes (in italics) are mine. All images MyVanCity. I received a complimentary bottle of this wine for review. All opinions are my own.
If you would like to be featured on MyVanCity.ca please connect with your pr agency or email myvancityval@nullgmail.com for full details. Wine samples accepted for review.