Take a break and leave the cooking to Hawksworth
Award-winning Hawksworth Restaurant celebrates the season with family-style classic roast dishes offered at home and at the restaurant! Hawksworth at Home dinner packages present an array of options for a delicious take-home feast to share with close friends and family.
From now through to the new year (excluding December 21-26) choose from the savoury porchetta package ($400, 6 portions) featuring porchetta with chestnut, roasted apple, celery, pork jus or the juicy ribeye package ($568.10, 6 portions) featuring prime rib with Brussels sprouts, sauteéd mushrooms, pickled cranberries, red wine jus. Both packages include nourishing kale & quinoa salad with roasted squash and a champagne vinaigrette to start and a decadent dark chocolate fondant with burned orange compote and hazelnut to finish.
Succulent sablefish ($51.75 per portion) and creamy eggplant parmigiana ($23 per portion) options are available to add on. For gatherings of less than six people, a three-course menu with a tender traditional red wine braised shin of beef ($57.50 per portion) main course is available alongside the salad and dessert.
Hawksworth at Home orders require 48 hours' notice and available to order online here. For questions and inquiries, reach out to Natalie at (604) 605 3325 ext. 107 or nc@nullhawksworthcatering.com.
On weekends we brunch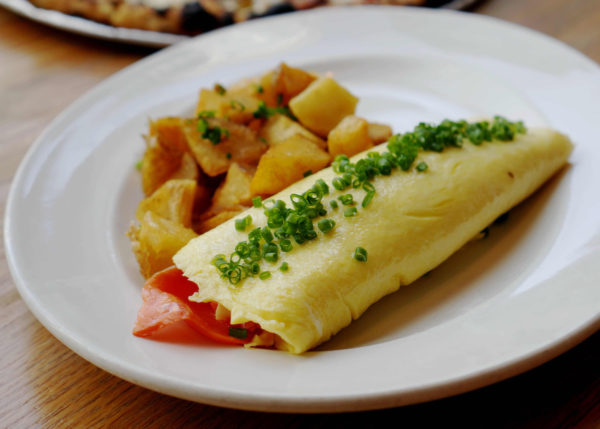 Take it easy on the weekend and dive right into Nightingale's smoked salmon omelette ($17) with pickled red onions, ricotta, capers and fried potatoes. Or perhaps try the new fluffy frittata ($17) made with wild mushrooms, olives, pecorino, tomato jam, served with a slice of grilled brioche. Our all-day menu tempts with a new beet salad ($16) with orange, dill, Macedonian feta and sprinkled with everything crumble. The baked Arctic char ($26) should absolutely not be missed – seared skin-down on a high heat and then baked in the oven, the delectable char is then simmered in brown butter with cannellini beans and black kale. Call 604.695.9500 to reserve your spot today.
Rise and dine at Bel Café

Start your day in the most delicious way with Bel Café's new breakfast sandwich ($7) made with bacon, sauteéed mushrooms, egg, creamy horseradish aioli, Mt. Moriarty cheese, and crisp arugula, or for the ultimate breakfast delight, try our new savoury bostock ($4) made with tomato, feta and olives. For something spicy and sweet, sink your teeth into our freshly baked cinnamon morning bun ($3.75) or our flaky apple caramel danish ($4.25), or a zesty cranberry-orange scone ($3.50). Avoid the wait and collect loyalty points by placing your order on the Ritual app or through our website Downtown / Kitsilano. Until November 8th, if you order on Ritual you'll get free delivery within 5 miles of the café! Follow us on Instagram to stay up to date with all our new dishes and drinks!
Information and images provided by Hawksworth Restaurant Group