"In this series we bring you our #FavouriteThings Holiday Gift Suggestions which we personally recommend"
Returning again this year is the Catena Malbec. A lovely Argentinian wine currently available at a sale price from local BC Liquor Stores throught the province.
Catena Malbec 2017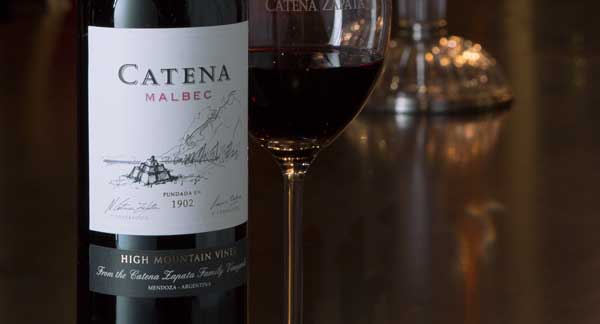 HIGH MOUNTAIN ESTATE VINEYARDS
The Catena wines are a special assemblage of High Mountain Estate Vineyards made by fourth generation vintner, Laura Catena and chief winemaker, Alejandro Vigil. Although we have found that most of the Catena wines are consumed shortly after release, we are pleased to see that they age beautifully for ten to twenty years. Through decades of study and exploration within Mendoza's high altitude mountain terroirs, the Catena family has identified special locations for its Estate vineyards. From the marriage of these historic vineyards emerges a wine of unique character that has natural balance, concentration and a distinct varietal identity.
VINIFICATION
This wine goes through an extensive cold maceration for 5 days at 48ºF (8,8ºC) to extract aromas. The juice is then fermented for 12 days with a post-fermentation maceration of 19-22 days. Wild Yeasts. Elevage: 12 months in barrel. Barrel selection varies depending on vineyard and vintage – First, second and third use barrels used.
TECHNICAL INFORMATION
Varietal: 100% Malbec
Alcohol: 13.5%
Total Acidity: 5 grams/liter
pH: 3.7
VINEYARDS
A Blend of Three Vineyards – vineyards are divided into lots that are harvested at different times:
Lunlunta 3,018 ft (920m) elevation: aluvial origin. Loamy clay in the topsoil with rounded rocks on the bottom.
El Cepillo, Eugenio Bustos 3,593 ft (1,090 m) elevation: aluvial origin. Loam-sandy soil with thick calcareous layers and rounded rocks on the bottom.
Gualtallary 4,757 ft (1,450 m) elevation: aluvial origin. Gravel and limestone soil. Rounded rocks in the bottom.
Available at BC Liquor Stores 3.9 points $24.99 on sale until January 2 $21.99
Information and images courtesy of the winery. I received a complimentary bottle of wine to facilitate this feature.
If you would like to be featured on MyVanCity.ca please connect with your pr agency or email myvancityval@nullgmail.com for full details.