Chef Hidekazu Tojo Celebrates 50 Years in Canada With Omakase Experience Available starting October 1
As Chef Hidekazu Tojo reflects on 50 years in Canada and 33 years of operating Tojo's Restaurant, he launches an Anniversary Omakase starring his favourite local ingredients and elevated renditions of some of his most famous creations. Diners will be able to enjoy the celebratory menu from October 1 until mid November.
"The culinary scene in Canada has changed so much since I arrived here 50 years ago. Back then, Canadians only wanted to enjoy the stereotypical Japanese dishes such as teriyaki chicken, sukiyaki and tempura. These days, customers love the omakase experience and are eager to try anything," shares Tojo. During those early days in Vancouver, Tojo tasked himself with finding ways to introduce locals to Japanese ingredients and sushi, which at the time was not commonly consumed in Canada. This led to creations such as the iconic Tojo Roll, the first inside-out roll, which hid the unfamiliar ingredients; the roll is what inspired the famous California Roll. Such contributions led to him being recognized by Japan's government as a Goodwill Ambassador for Japanese Cuisine. "I no longer have to hide seaweed," laughs Tojo, who can still be found nightly at the sushi bar pushing boundaries, educating patrons and fellow chefs alike.
The seven-course Anniversary Omakase spotlights a selection of chef's favourite seafood, including salmon, sablefish, kazunoko (herring roe), octopus and oyster. To start, an impressive three-piece Amuse Bouche features combinations of; local golden beets and kazunoko kombu (herring roe on kelp); house-smoked salmon, Pacific octopus and sea escargot; and intensely flavourful kabocha and potato salad with smoked sablefish. Diners will also be treated to sashimi and nigiri courses featuring the best available fish of the day; the Tojo Roll makes a blast from the past appearance here too.
Other menu highlights and all-new dishes by chef include; Kaki Fry (Pacific Fried Oyster) with seasonal vegetables and Tojo's Worchester sauce; and a picturesque grilled Japanese Wild Emperor Prawn topped with onion vinaigrette presents the perfect balance of sweet and char from the grill. An indulgent Anniversary Roll ($98) will available a la carte. This take on the Tojo's Roll featuring Dungeness crab, avocado, spinach, egg and sesame seeds is enhanced with Osetra Caviar Prestige.
This latest menu is available for $220 per person. A selection of premium sake pairings will be available for those looking to enhance the experience. A number of the dishes will also be available for order a la carte. The full menu can be viewed online here.
Reservations can be made by calling the restaurant at 604-872-8050 or online here.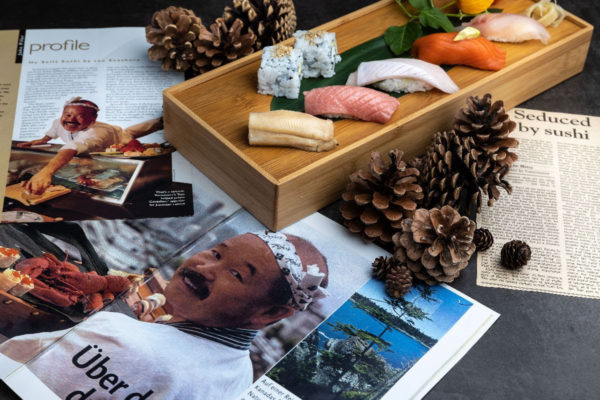 About Tojo's Restaurant
Tojo's Restaurant is internationally recognized for creating exquisite food served as an art form. Fresh, unique and modern rooted in Japanese fine dining traditions with a distinct Pacific Northwest perspective, using the finest seasonal, local and organic ingredients. Tojo's celebrates its 33-year anniversary in October 2021. Chef Hidekazu Tojo has received a long list of awards and accolades throughout his culinary career and has earned respect as a Master Chef for his extraordinary ability to prepare Japanese cuisine. Chef Tojo gained his culinary skills and knowledge while working in a Ryotei, a high-class traditional Japanese restaurant in Osaka in his early twenties. Tojo felt limited by the strict traditions of Japanese culinary culture and jumped at the opportunity to move to Canada and settled in Vancouver, in 1971. He was the first to introduce Omakase to Vancouver's culinary scene and is the creator of countless dishes and techniques that are ubiquitous today. Among the most influential is the inside out Tojo Roll, which is now universally known as the California Roll.
Information and images provided  by the restaurant.