2016 THE ONE SPARKLING

"This wine is exceptional. It
is hitting all the quality
markers. . . Winemaker
Benoit Gauthier has reached
the pinnacle of perfection with this outstanding traditional method sparkling wine."

99 POINTS!
Katherine McEachnie
– Master of Champagne

2017 KING'S
RANSOM
PINOT NOIR

"Exceptional clarity of fruit,
focused acidity, and notable tannins for a Pinot Noir but everything is well balanced."

93 POINTS!
Katherine McEachnie
– IWSC Judge (International
Wine and Spirits
Competition, London, UK)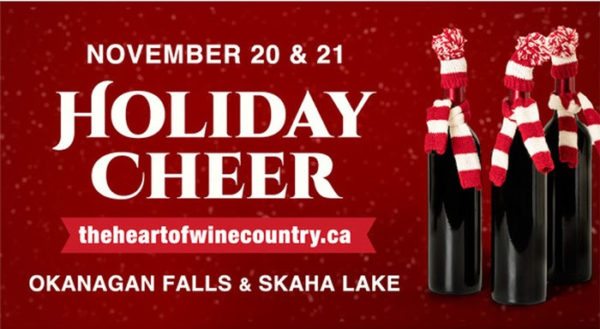 11 am – 4 pm
Join the wineries of The Heart of Wine Country™ for our
annual Holiday Cheer. Taste wines and enjoy special
experiences at all 15 member wineries.
More details on our website: www.theheartofwinecountry.ca 
Noble Ridge will be pouring special, back vintage wines along
with our Premium King's Ransom and Noble Knight wines. Gift
vendors will also be on hand. Book soon as this is a popular
event that sells out quickly.
Special offers on your favourite, hard to get wines will be released
closer to Black Friday, Nov. 26. Click here to find out more.
Any order of 6 wines or more will also receive FREE SHIPPING.
VINE DINING
FRIDAY, JULY 15 & AUGUST 5
SATURDAY, SEPTEMBER 10
HARVEST WORK DAYS
SATURDAY, OCTOBER 1
& SUNDAY, OCTOBER 2
Tickets for these events will go on pre-sale January 3, 2022, to Round Club Members.
PLEASE NOTE:
Due to the current highway situation to the lower mainland, all shipments are currently on hold until the routes are open again.
Our deadline for ordering in time for the holidays this season is
DECEMBER 13th.
You can order and ship wines to your door
in quantities of 3, 6, or 12 bottles.
or email our Director of Sales and Hospitality Preston Radford at
preston@nullnobleridge.com

Noble Ridge Vineyard & Winery
2320 Oliver Ranch Rd, Okanagan Falls, BC V0H 1R2  Tel: 250.497.7945
http://www.nobleridge.com
Information and images courtesy of the winery.