Hello Lovebirds!! We have some fun gift ideas, onsite Food and Wine Pairings as well as Dinner planned for your Valentine's Weekend!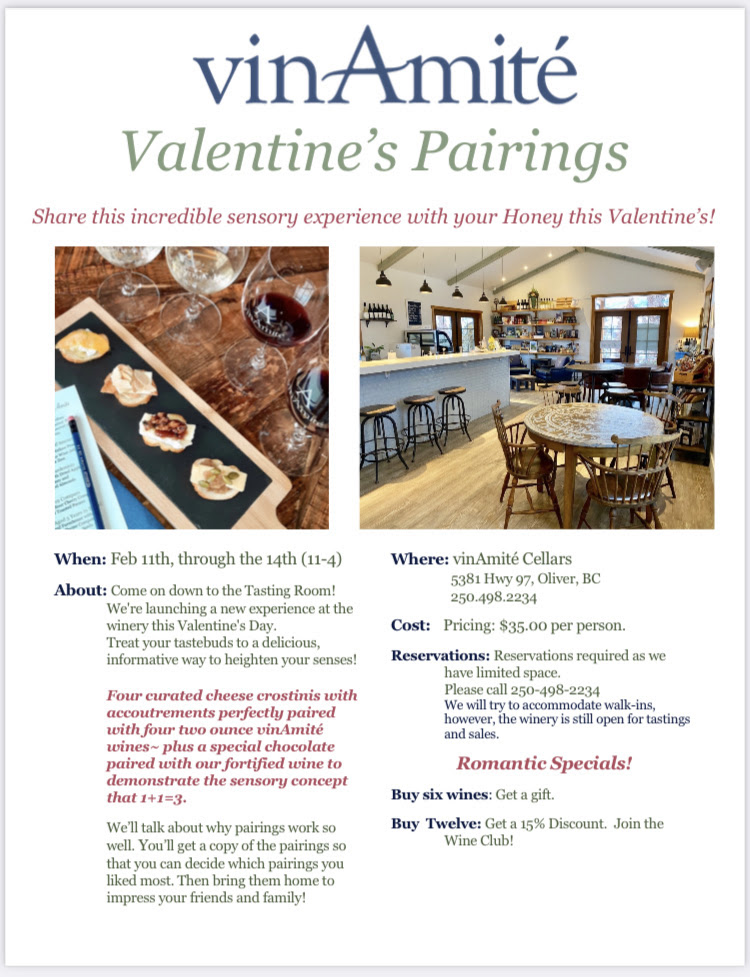 BOOK YOUR FOOD AND WINE PAIRING HERE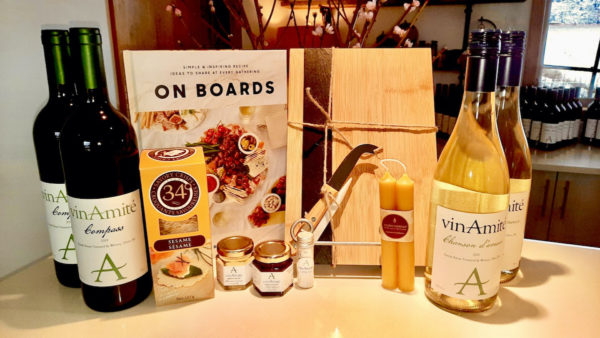 Order this gift box for your Lovebird! For only $190 Tax in,
you'll receive the following:
~ 2 bottles of Chanson d'Amour
~ 2 bottles of Compass
~ A bamboo cutting board with slate
~ A cheese knife
~ One soapstone piece of chalk
~ On Boards by Lisa Dawn Bolton
~ A box of Savoury Crisps
~ 2 small wine jellies
~ Truffle Salt
~ 2 Honey Candles
We will happily ship all over Canada in time for Valentine's Day.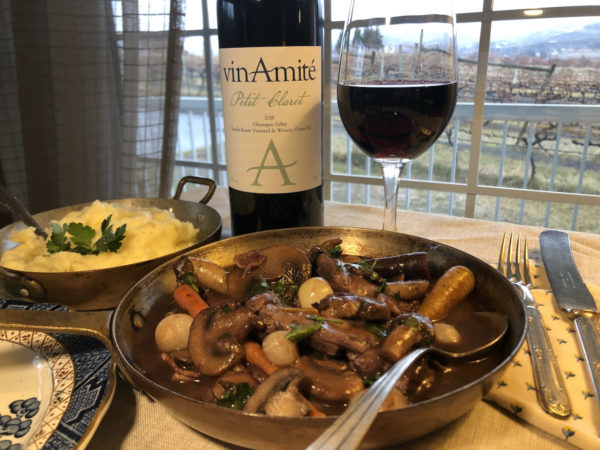 Back by popular demand! We've paired up with @BlackSageButcher again to bring you Coq au vinAmité for you and your person this St. Valentine's Day! Sit back in the comfort of your home and let us do the work. 😉
This traditional French chicken stew is braised in our Petit Claret and embellished with bacon, mushrooms and baby root vegetables. Served on top of a bed of mashed potatoes with garlic compound butter. This dish will warm your hearts because of its comfort and the wine that it's paired with; our Petit Claret! Our "Little Bordeaux" is a Merlot~Cabernet Franc blend classic that will melt your hearts.
For $115 Tax in, you'll get:
TO START:
*150g of Black Sage Butcher Pork and Apple Lavender Pâté made with our Chanson d'Amour.
*One Sourdough Demi French Baguette handmade with love by Audrey @road9audreysbreads breads
*A bottle of Chanson d'Amour "Song of Love" (a white wine to start off your evening).
THE MAIN:
*A Coq au vinAmité Romantic Dinner for two.
*A bottle of Petit Claret.
*Rose Petals from @FlowerFantasyOliver
This is a limited, order/ pay in advance, PICK UP ONLY offering. Order by calling 250-535-1323 or email info@nullvinamitecellars.com by Feb 11th.
The winery will be open for tastings (and for pick up) from 11-4. Pick up for this special will be on the weekend of February 12th, 13th and 14th. We also have a lovely selection of charming gifts available. NOTE: Make it a special pick-up and stay for the Valentine's Weekend Pairings!
Disclaimer: This dish is NOT the following: Vegan, Vegetarian, Gluten Free, Dairy Free, Keto, Paleo, or Sober. 😉
ADD ONS: Click here to read about them.
• CHANSON D'AMOUR • GAMAY NOIR • PETIT CLARET • COMPASS • HIDDEN CORNER•
• PETIT VERDOT • OUEST 5 YEAR IN BARREL •
*Feel free to call and place your order at the winery 250-498-2234.
Information and images courtesy of the winery.