It's TIME to head to the Okanagan for new wine experiences
TIME Family of Wines has prepared special tastings for the coming season
In anticipation of a busy season with groups returning to tasting rooms and patios all over the Valley, the TIME Family of Wines Penticton location is offering a set of unique wine tasting experiences to compliment some of the best bites in the Okanagan from chef A.K. Campbell and live local music every Thursday. Visitors can taste their way through the celebrated lineup from Chronos, Evolve, TIME and McWatters Collection wines in a series of elevated experiences.
Wine Tasting, Elevated.
The team at TIME Family of Wines feels that an unrushed, focused tasting experience offers a chance to give visitors a unique and rewarding way to enjoy wine. With that in mind, TIME now offers four Elevated Tasting Experiences for those wanting more during their next Okanagan trip.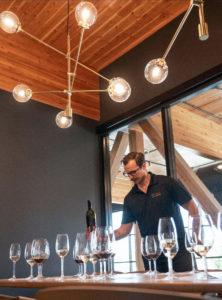 TIME For School
A sixty-minute private wine tasting experience hosted at TIME's newest private suite. Wine lovers learn to demystify the deep and layered world of wine by learning from our estate sommelier. Includes a tasting of five premium BC VQA wines. $25 per person. Cheese platters are available to upgrade the experience for only $10 per person. Learn more here.
Sabre School
Learn how to open a bottle of bubbly like the pros, with a sabre! The experience also includes a lesson on sparkling wine production and the sabering technique. The experience needs a group of at least four guests to be enjoyed properly, and you can choose to sabre one of three iconic TIME Family of Wines sparkling wines: TIME Brut ($80), Chronos Brut ($105) or McWatters Collection Brut ($140) split four ways, starts at just $20 per person. Learn more here.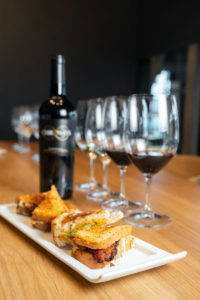 It's TIME to Get Cheesy
Foodie? This one's for you. Putting a spin on the traditional wine and cheese pairing, this experience curated by our estate sommelier and head chef takes wine tasting to the next level by pairing four premium BC VQA wines with four artisanal grilled cheese sandwiches. Learn why these pairings work so well together. It's the perfect opportunity to try something new with a group of friends. $40 per person. Read more here.
Signature Wine Thief Tasting
Go behind the scenes and dive into the TIME Family of Wines cellar to sample the most outstanding wines. The tasting begins with Chronos Brut and is followed by four complex BC VQA wines. To finish things off, wine lovers get a sneak peek at future vintages straight from the barrel. $15 per person. Read more here.
TIME for a Visit
TIME Family of Wines welcomes wine lovers every day. On Monday and Tuesdays, the wine shop is open from 12 pm to 5 pm, the kitchen is closed. From Wednesday through Sunday, visitors can enjoy wine experiences and kitchen service from 12 to 9 pm. Proof of vaccination is required.

About TIME Family of Wines
Built within a historic and revitalized movie theatre in downtown Penticton and at the first Canadian wine destination, the District Wine Village in Oliver, TIME Family of Wines is the parent to Chronos, Evolve Cellars and the McWatters Collection. In Penticton, under the TIME Kitchen banner, an elegant tasting bar and restaurant safely welcome guests to taste and discover beautifully crafted wines for any occasion, as well as some of the best gourmet burgers in the Okanagan. For those that feel like rolling up their sleeves, they can take part in a cellar experience, like tasting a barrel sample from a thief or learning to sabre. Learn more and reserve at timewines.ca.