"In the Spring a young man's fancy lightly turns to thoughts of love."
Alfred Tennyson, Works of Alfred Lord Tennyson
For those of us with our feet planted more firmly our thoughts just may be turning to wine, specifically the wines of the latest Spring Releases. In this series of features I will endeavour to update you on the new spring releases from some of my favourite British Columbia wineries.
Here is the first winery:
Narrative Collection from Okanagan Crush Pad
The Okanagan is a region of stunning extremes and is one of the rarest wine-growing places in the world. Narrative is a collection of wines that tells the story of what is most exciting about the Okanagan Valley: geological & climatic diversity in a wine region that spans 120 km form North to South. Discover Narrative wines; a story worth sharing.
Narrative Syrah Viognier 2018

WINE NOTES
Syrah is an Okanagan staple – a red that is incredibly suited to our soils. This rendition was co-fermented with Viognier in clay amphora and left on skins for nine months to enhance the aromatics and provide a silky mouth feel. Additional Syrah was fermented in concrete and aged in amphora adding spice and texture to the wine while showcasing rich red fruits. Aromatic intensity with additional Viognier exemplifies this world renown style with an Okanagan twist.
$29.99 currently available on the website for $26.99
Narrative XC Sparkling 2019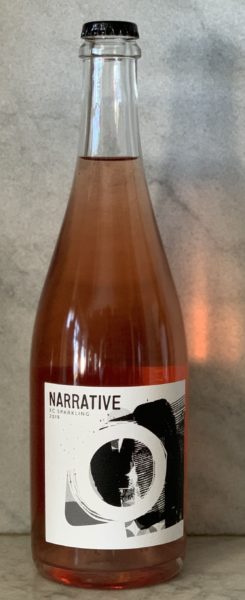 WINE NOTES
This wine highlights the versatility of 35-year-old vines and Pinot Blanc. Primary fermentation took place in concrete tanks, while secondary fermentation occurred in our state of the art charmat tanks designed to lie on their side, exactly like traditionally made sparking wine is aged. The "XC" in the name stands for the Roman Numeral 90, which indicates that the wine spends at least 90 days in these special tanks. The results: a dry style with lush and mouth-filling creamy notes that has broad appeal. Think Mimosas in the morning or oysters and canapés in the evening, or a patio sipper in between.
$24.99
Narrative 2 Pinots 2019

WINE NOTES
A blend of Northern Pinot Gris and Southern Pinot Blanc, this wine shows how well suited the Pinot Family is to the Okanagan Valley. Bone dry yet balanced with an intense richness from concrete tank ageing with a delicate freshness inherent to our region. Fruit driven, texture, freshness, and an elegant vitality. Pair with light seafood or pasta dishes, chicken, creamy cheese, or great company.
Made exclusively for the Cactus Club restaurants.
Narrative Cabernet Franc 2018

WINE NOTES
Cabernet Franc grapes sourced from organic vineyards in Kaleden and Osoyoos. The wine was fermented and aged in concrete tanks for 10 months. Flavours of red fruit coupled with an elegant mid-palate weight and supple finish.
$25.99
Note: Narrative Cabernet Franc Organic 2017 is available at $29.99 currently $25.99 available online from the winery
Narrative Non-Fiction 2018

WINE NOTES
Narrative Non-Fiction is a blend of predominantly Cabernet Sauvignon with accompanying Merlot and Cabernet Franc for complexity.Fermented and aged in concrete vessels for 12 months, the wine provides aromas of wild herbs and dark berry fruits that lead into a lush textural mouthfeel and fine supple tannins with a fresh lengthy finish.
$23.99
Note: Narrative Non-Fiction Organic 2017 is available at $27.99 currently $23.99 available online from the winery.
Some of the wines in this feature are so new they have not been added to the winery website yet. If you need help selecting and purchasing the wines, or have a question about how the wines are made or want to join the Okanagan Crush Pad Wine Club reach out by email to jody@nullokanagancrushpad.com
Wine notes and pricing provided by the winery. Images: MyVanCity. I received complimentary wine to facilitate this feature.