"In the Spring a young man's fancy lightly turns to thoughts of love."
Alfred Tennyson, Works of Alfred Lord Tennyson
For those of us with our feet planted more firmly on the ground our thoughts just may be turning to wine, specifically the wines of the latest Spring Releases. In this series of features, I will endeavour to update you on the new spring releases from some of my favourite British Columbia wineries.
Three perennial favourites from Clos du Soleil spring releases for your sipping pleasure. You couldn't ask for a better selection! Spring releases are your nudge to order these delectable wines before they sell out!
Here are the three favourites from Clos du Soleil:
Clos du Soleil Fumé Blanc 2021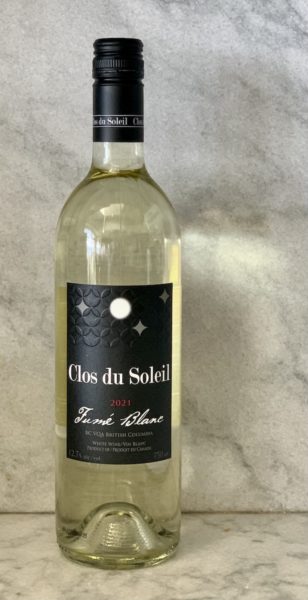 Clos du Soleil's Fumé Blanc is a full-flavoured, aromatic take on Sauvignon Blanc and Sémillon.
EYES
A beautiful pale-gold in the glass.
NOSE
The nose of this wine immediately envelops the taster in ripe fruit aromas of grapefruit and ripe lemons, beautifully complemented by notes of sagebrush, lilac and lime leaf.
MOUTH
On the palate the wine is an explosion of fruit: grapefruit, passionfruit, guava, and citrus, with floral notes, wisps of gunflint, and a subtle hint of oak.
BODY
Light
WINEMAKING NOTES
The grapes for this wine were harvested by hand at peak maturity and then immediately pressed whole-cluster. The juice was lightly settled before fermentation and then fermented slowly at cool temperatures, in a combination of stainless steel tanks and French oak puncheons. The Sauvignon Blanc and Sémillon were vinified separately, and all of the wine lots were left to age on the lees, in both tank and barrel, for 4 months prior to final blending. Minimal, gentle handling of the wine in every stage of the production process was the key to preserving and showcasing the natural beauty of the fruit.
FOOD PAIRING
Crisp, juicy, refreshing: this is a wine that is easy to enjoy by itself, but pairs wonderfully with roast poultry, soft cheeses, and is a knock-out with all kinds of seafood.
Clos du Soleil Winemaker's Series Pinot Gris 2021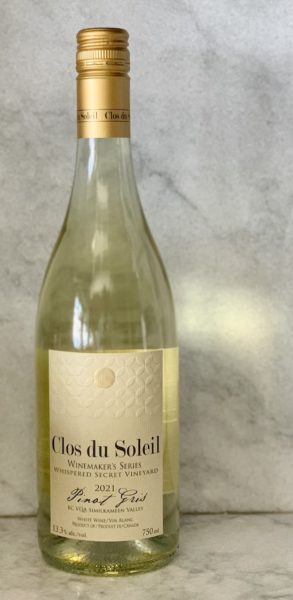 The grapes for this wine were grown on our certified-organic Whispered Secret Vineyard, a cooler site on the south side of the valley, ideal for flavour development while maintaining beautiful acidity.
NOSE
A nuanced and complex expression of Pinot Gris, on the nose this wine presents the taster with aromas of ripe nectarine skin, fresh pear juice and lemon zest.
MOUTH
On the palate the wine is dense with flavours of ripe nectarine, peach, pear and crisp apple, with a streak of stony minerality. It has a fine-grained texture in the mouth, leading into a long, juicy finish of stone-fruit flavours complemented with zingy citrus acidity.
BODY
Medium
WINEMAKING NOTES
The fruit quality was excellent so the winemaking focused on preserving that which nature gave us. We pressed the fruit whole-cluster immediately after hand-harvesting, and fermented it in a combination of stainless steel barrels, tanks, and French oak puncheons. The slow fermentation lasted for over a month, and then the wine was aged on the lees for a further 3 months. Other than a light filtration prior to bottling, nothing else was done to this wine – just as nature intended it!
FOOD PAIRING
The firm structure but concentration of ripe fruit flavours means this wine is easy to enjoy by itself, but has the richness to pair with many foods: summer salads, chicken with poached pears, or glazed pork would all be excellent pairings.
Clos du Soleil Rosé 2021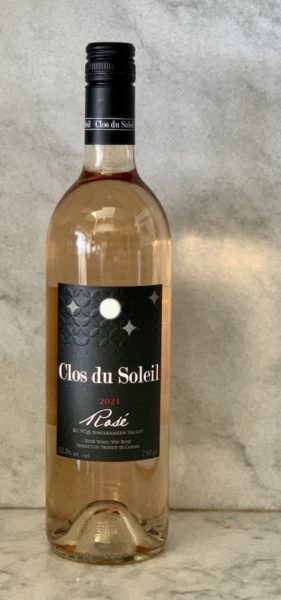 Cabernet Sauvignon and Malbec grapes for this Rosé were grown specifically for this wine, on the steep and rocky southern-facing slopes of Clos du Soleil's Estate and La Côte Vineyards on the Upper Bench of the Similkameen Valley.
EYES
The strawberry hues of this wine announce the delightful aromatic profile.
NOSE
This delicate and complex Rosé wine greets the taster with aromas of cranberry, raspberry, and pomegranate.
MOUTH
The flavours dance across the palate with a swirling blend of wild strawberries, cranberries, rhubarb, and lime zest. Soft on the palate, but crisp, dry and with a long finish. This Rosé is a blend of organically farmed Cabernet Sauvignon and Malbec and is delicate, uplifting and food-friendly – everything a Rosé should be.
BODY
Medium
WINEMAKING NOTES
From a wine-making perspective the focus was on gentle-handling of the juice and wine, to protect the beautiful flavours and aromas. After hand-harvesting the grapes were destemmed and lightly crushed, and then soaked under dry ice for 4 hours. This was followed by gentle pressing, and then cool fermentation in stainless steel tanks. The two varieties were co-fermented together, and oxygen contact was kept to an absolute minimum. The wine was aged on its lees for 4 months, and not handled again until a light filtration just prior to bottling.
FOOD PAIRING
An extraordinarily flexible food wine, this rosé makes for a perfect pairing with salmon, roasted chicken, soft cheeses, or just a sunny day and a picnic blanket.
MAKING CONSISTENTLY BEAUTIFUL WINE
It's all about the vineyard and the wine in the bottle.
Clos du Soleil is a small artisan winery and estate vineyard on the Upper Bench of the South Similkameen Valley, in British Columbia, Canada.
We produce ultra-premium quality wines, borrowing an aesthetic derived from the great wines of Bordeaux, but stamped with the flavours and aromas of our particular piece of rocky Similkameen land.  Through traditional winemaking techniques, informed by research, but adhering to the philosophies of minimal-interventionist winemaking and biodynamic viticulture, we produce wines that are complex and classic, ageable and elegant.
BECOME A SOLEIL 160 WINE CLUB MEMBER
Choose your favourite package and receive new wines twice a year around the Spring and Fall equinoxes, or create a memorable gift
A great way to surprise someone
Contact our club coordinator to build your custom gift pack
Our tasting room is now open for the 2022 Tasting Season, 7 days a week, 10am to 5pm!
We continue to offer tastings on a RESERVATION-ONLY basis, with easy online booking. When time and space allows walk-ins may be accommodated.
For questions and more details please email wine@nullclosdusoleil.ca.
Wine notes courtesy of the winery. Images: MyVanCity. I received complimentary wine to facilitate this feature.