"In the Spring a young man's fancy lightly turns to thoughts of love."
Alfred Tennyson, Works of Alfred Lord Tennyson
For those of us with our feet planted more firmly on the ground our thoughts just may be turning to wine, specifically the wines of the latest Spring Releases. In this series of features, I will endeavour to update you on the new spring releases from some of my favourite British Columbia wineries.
These three wines just have "mom" written all over them! If you want to be the favoured child then all you have to do is gift mom with these three new releases from Mayhem. Done! Just don't wait too long because these beauties go fast.
Here are the three spring releases you are going to want:
2021 Mayhem Pinot Gris

The grapes were handpicked based on flavour and natural acid levels from a single vineyard on Ryegrass Rd in Oliver on September 17th. They are 2009 planting of clone 53. We use a hands-off winemaking approach. It was then whole bunch pressed, followed by a long, cool 7-week fermentation, which started in stainless steel before moving to 7% new French barriques, 69% seasoned puncheons, 24% seasoned barriques. The wine was left on the lees for six months to create complexity, then blended and filtered before bottling.
TASTING NOTES:
This bone-dry Pinot Gris is grounded and approachable. Laced with white stone fruit & orchard fruit it finishes with a creamy minerality and Caribbean spices. Weighty and texture driven, this Pinot gris is fresh, crisp, flavourful and has lots of length.
PAIRS WELL WITH:
Mussels & French fries, Havarti, crab salad or mac & cheese!
2021 Mayhem Rosé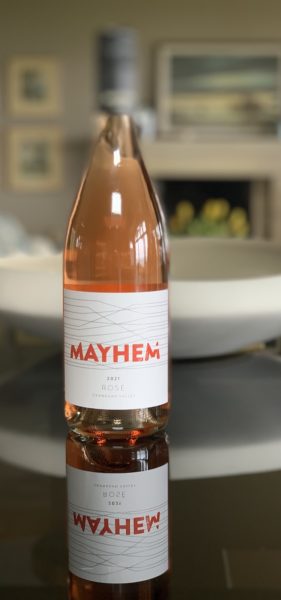 100% Merlot
This 100% Merlot based rosé hand-harvested on September 16th from Ryegrass Road in Oliver. The fruit was completely crushed and destemmed directly into the press. It was then gently pressed over a 3 hour period where only the best juice was taken. Racked off its heavy lees and fermented slowly down to dryness over a 16 week period with maximum fermentation temperatures only reaching 10C to preserve the delicate aromatics. This wine's final blend comprises of 11% neutral French Oak barriques, 80% aged in stainless-steel tank and 9% Stainless steel barrique. The long, extremely cool primary fermentation allowed this wines freshness and clean, crisp flavours to shine through
TASTING NOTES
Exhibiting a slight peach colour. Sage brush spice notes dominate the nose, along with strawberries & cream and tangy orange zest aromas. A mineral based palate that is well balanced shows off layers of berry fruits, and a depth of flavour. Bright and racy, this Rosé is great for the upcoming summer months!
PAIRS WELL WITH:
Charcuterie, olive tapenade, grilled eggplant and relaxing in the garden.
2021 Mayhem Small Lot Sauvignon Blanc

WINEMAKING SPECS
The 2021 vintage had some challenges as it began with typical spring temperatures but starting in June came the heat dome with temperatures reaching 48 degrees Celsius some days and continued for roughly a week to 10 days. Those extreme temperatures reduced yields significantly. As well as we saw the beginning of forest fires in the valley and smoke from northern California and Oregon. With exacting canopy management and irrigation schedules in our vineyards, the vines produced great quality, small berries with concentrated flavours.
TASTING NOTES
This very racy Sauvignon Blanc is fresh, crisp, bright, and full of flavour. It's bone dry and shows off an array of exotic fruits such as passion fruit, mangoes, and is mineral loaded with a creamy lemon grass character. A linear stream of acid closes out the finish with some grapefruit pith.
PAIRS WELL WITH
Roast chicken, goat cheese & avocado salads, bacon wrapped scallops or oysters on the patio.
$23.48 available online for a limited time please note this wine will become a Wine Club exclusive next week.
You may find this wine at:
Salt + Brick;
The Hooded Merganser;
Oak & Cru;
Tratto Pizzeria; and
(soon to be at) Elma Restaurant
Just so you never miss out on your favourites from Mayhem
Club Mayhem is a great club, that's not really a club, it's more a gathering of friends who love wine. Break all the rules!
NO FEES TO BECOME A MEMBER. PICK THE WINES YOU WANT. GET THE SHIP DATES YOU NEED.
Here's how it works:
2 shipments per year. 6 bottles each shipment. There is also the option to pick up if you are in the area.
You are free to add on any other available wines to your club shipment.
Club members are the first to receive the new releases.
Customize the wines in your case OR stick with the curated selections of our talented winemaker
10% off on all your wine orders. Perks!
Be first in line for crazy good Club Mayhem events
Hang out with awesome Club members and Mayhem people
You are free to cancel whenever you want, but…why?
Wine notes, except as noted, courtesy of the winery. Images: MyVanCity. I received complimentary wine to facilitate this feature.