"In this series I will be sharing my take on which wine pairs well with some inspirational recipes"
With Father's Day just around the corner I am inspired by some dad favourites with a new wine pairing that I think your dad will love!
Good Housekeeping Online featured Bonterra's Canned Rosé in "16 Best Rosé Wines to Celebrate Summer." Editor Lizz Schumer recommends "Drink wine made in California from organic grapes… Taste watermelon, some pomegranate, pineapple, and ripe peaches in this deliciously dry rosé. It pairs well with just about any picnic fare."
Right now Rosé wines are available in abundance and this one is a delicious organic wine, the perfect Rosé wine to pair with the Tomato Bruschetta.
Suggested wine pairing:
Bonterra Organic Rosé  2021
Mendocino County
Crafted From Certified Organically Grown Grapes
VINEYARD NOTES
This rosé blends organically grown grapes from throughout California including a large portion from our own organically farmed estate vineyards in Mendocino. Diverse vineyard sites and varietals like Grenache, Mourvèdre, Zinfandel, Malbec and more allow Winemaker Je Cihocki to select from a broad array of lots to craft a balanced, cohesive wine.
WINEMAKING NOTES
We pressed the grapes immediately after harvest for freshness then kept the juice in contact with the grape skins for a brief period, which gives the wine a delicate pink, pale salmon hue. Each variety is cold fermented separately and after aging in stainless steel tanks for three months, the final blend is assembled.
TASTING NOTES
The 2020 Rosé is Grenache-based, with fresh, citrus aromas and grapefruit, blood orange and watermelon fruit flavors accented with maraschino cherries, quince paste and notes of Earl Grey tea. This dry rosé is both light, juicy and vibrant, with a crisp, mouthwatering finish that begs another sip.
JEFF CICHOCKI, WINEMAKER
Available at the following wine shops:
Berezan – Willoughby location www.berezanhg.com
Everything Wine – North Vancouver, River District – Langley and Abby coming soon
Neighborhood liquor.com – Tri-cities/Langley
Tomato Bruschetta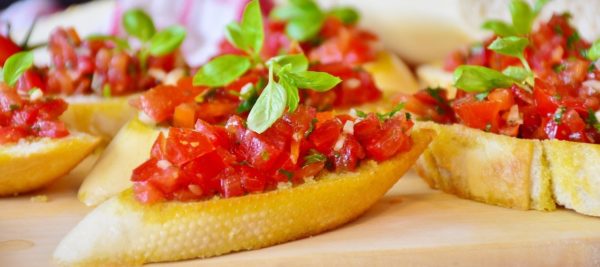 This dish is so easy anyone can make it! Why not get the kids involved in the assembly? You need a grown-up to do the chopping but there are other steps that are kid friendly and you can make it a family affair.
Ingredients
Sliced baguette or a favourite loaf
Fresh, ripe tomatoes, diced
garlic, minced and one clove, sliced
Basil, whole if small or torn (not cut)
Olive oil
salt and pepper to taste
balsamic vinegar (optional)
zucchini, diced (optional)
Chop the tomatoes, and zucchini if using, add minced garlic and salt and pepper to taste.
Rub the sliced garlic clove over the slices of bread and drizzle with olive oil.
At this point there are a few ways to proceed. 1. Top the bread with the other ingredients and serve. 2. Lightly broil the bread and then top with the other ingredits and serve. 3. After lightly broiling the bread top with the other ingredients (except basil and balsamic if using) return to the broiler for a few minutes, remove from the oven and top with basil, balsamic and a little more olive oil.
Whichever way you decide to prepare the Tomato Bruschetta it is delicious and pairs so nicely with the Bonterra Rosé.
Enjoy!

Organically farmed and masterfully made, Bonterra Organic Vineyards wines are crafted to be perfectly in tune with nature. A celebration of the vitality derived from organic cultivation, our wines re ect careful farming practices carried out on a dynamic network of estate and partner farms throughout California. Long before organic produce lled the shelves of neighborhood groceries, our dedicated team was committed to organic and Biodynamic farming because we passionately believe that farms teeming with biodiversity—encompassing vines, insects and wildlife, and healthy soils—yield better wines.
Uncompromising standards. Uncompromising wine.
At Bonterra, we'd never dream of making you choose between clean, safe wine and delicious, award-winning taste. Since 1987, we've been leading the way with wines that deliver on uncompromising standards for quality and purity you can trust. What's more, our regenerative farming and responsible practices bring you cleaner air, purer water and positive climate impact with every glass raised.
Why settle for clean when you can go beyond?
Climate Neutral. Now.
Our pioneering Climate Neutral certification + Bonterra Beyond Clean™ commitment ensure we've taken the full measure of our carbon footprint—from ground to glass, published it publicly for all to see, and committed to taking accountability, now.
As America's leading organic winery, anything less is not an option.
Organic Farming
Bonterra vineyards have been farmed organically since 1987, long before organic products were widely available in America. The inspiration for farming this way was simple: organic grapes produce the purest expressions of the varietals and land on which they are farmed. At Bonterra, we have a deep respect for the environment. Organic farming and regenerative practices enrich the biodiversity in our vineyards year after year.
VISIT BONTERRA ON THE WEB AT BONTERRA.COM EVERYTHING IN BALANCE. DRINK RESPONSIBLY. ©2021 BONTERRA VINEYARDS, MENDOCINO COUNTY, CALIFORNIA USA
Wine notes courtesy of the winery. wine images: MyVanCity I received complimentary wine to facilitate this feature.