After a busy few days in Vancouver we decided to take the scenic route home and stop in for lunch at the Restaurant at Unsworth Vineyards. The Cowichan Valley is exceptionally beautiful and it makes for a very enjoyable drive through picturesque farm and wine country.
Unsworth Vineyards has an enviable location, easy to find, lots of free parking and a modern tasting room with a sizeable outdoor patio and of course some very good wines. For this visit our focus was to visit the restaurant which we had not been able to do since the fall of 2019. 
The restaurant offers a main dining room with windows looking out towards the tasting room and landscaped gardens, a favourite in the chilly weather with a fireplace to warm guests as they delight in the delicious dishes on offer. Also a seasonal room surrounded by glass where we were seated with vineyard and garden views. There is also an indoor/outdoor dining space and a new wood fired pizza oven completing the scene. The restaurant is located in a restored 1900's heritage farmhouse and every seat is the best in the house.
We were surprised at how busy the restaurant was on a Wednesday (closed Monday and Tuesday) so I guess some built up demand as visitors have anxiously waited for spring to finally arrive. We had reservations, recommended, so we were shown to our table without a wait.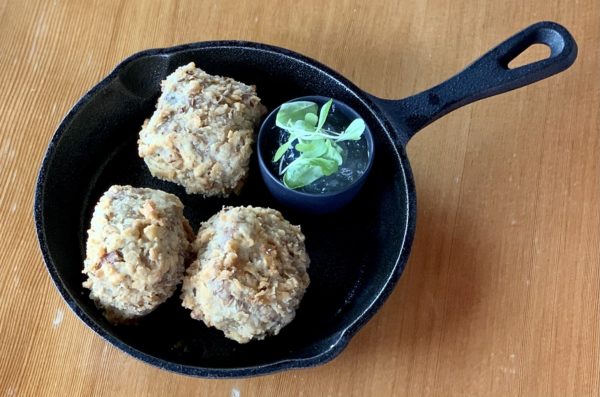 The food was just as good as we remembered! First we enjoyed a glass of wine, Pinot Gris for me and Pinot Noir for hubby. Chef sent out the Lamb Croquettes and the Polenta Fries to start . Tasty bites of moist Alberta lamb and crunchy almonds in a crispy coating with mint jelly on the side, the Lamb Croquettes were a big hit. Generous flavourful bites of lamb and tangy mint jelly. Really very, very good. The Polenta Fries are crunchy on the outside soft and yummy on the inside with smoked cheddar and served with spicy tomato jam on the side. Both dishes were totally unexpected but we certainly weren't complaining, Both were great starter options and perfect for sharing.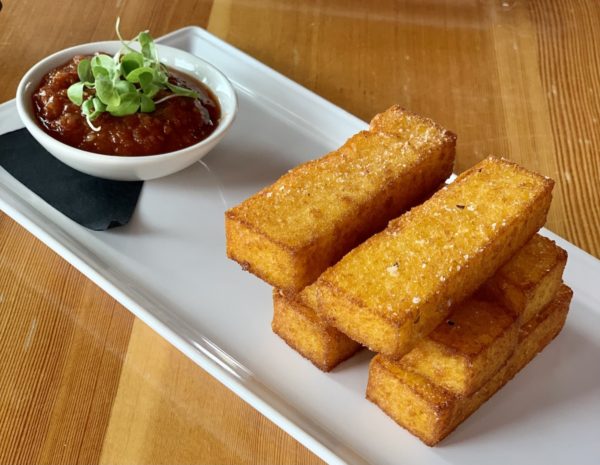 I had to have the Smoky Seafood Chowder and chose the cup rather than a bowl to try to leave room for a main. I encouraged hubby to do the same because I knew he would want to try mine and it is way too good to share! Sorry, not sorry.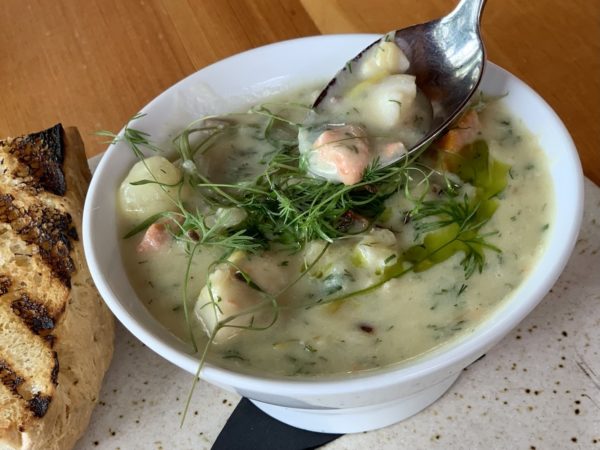 The Chowder was as delectible as I remembered from last time when I had the bowl as my main. It is a seafood lovers dream just packed full with an assortment of local seafood that varies depending on what is fresh and available. Toasted Focaccia compliments the dish. On this particular day it had Rock cod, clams, halibut, and salmon plus a smoked Ling cod bacon. The seafood goes into the broth at the very end so each bite of fish is just right, moist and perfectly cooked. No surprise that this is the most ordered dish on the menu. It is worth a trip just for a cup or bowl of the Smoky Seafood Chowder.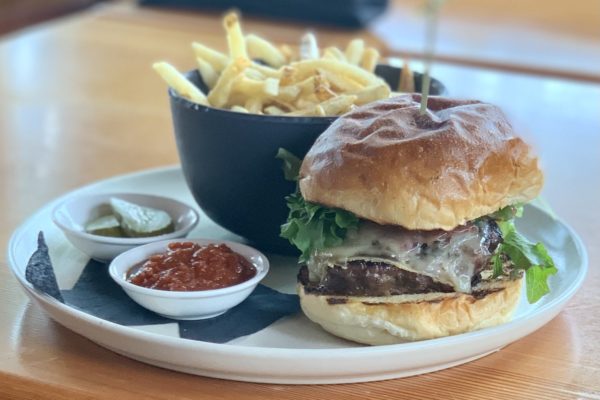 For mains we really went all out; I debated between the Two Rivers Ground Beef Burger & fries and the Angus Reserve Ribeye & Frites. In the end the Burger with the addition of Haltwhistle Clevedon cheese won out deciding that the Angus Reserve Ribeye would be best left for another visit.
The burger patty was huge, packed with flavour and spices like coriander, cumin and chili plus a couple more I lost track of. Enhanced with double smoked bacon, house dill pickes, basil aioli, local greens, spicy tomato jam and chipotle aioli, in other words – the works! It was a juicy, spicy delight that was best eaten with a knife and fork! Bring your appetite.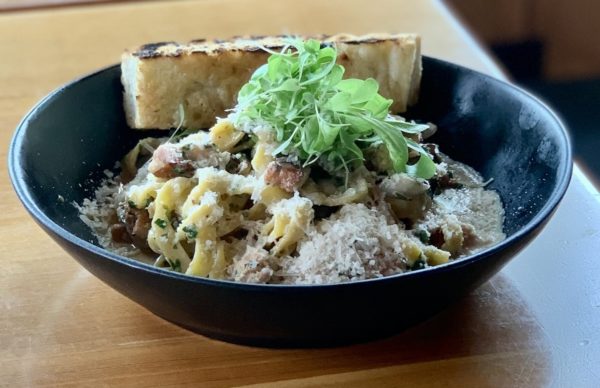 Hubby indulged in the House Made Pasta of the Day. A rich, creamy fettuccine that was out of this world.
Did we have room for dessert? Not even, but we thoroughly enjoyed the Unsworth Vineyards Pinot Gris and Pinot Noir. The Pinot Gris was light and delicate with aromas of stone fruits, brioche and white grapefruit. Crisp and fresh with citrus notes. The Pinot Noir was rich and smooth offering both scents and the juicy flavours of ripe berries with light tannins.
Lunch was excellent and has us already thinking about our next excursion to the Cowichan Valley.
The Restaurant at Unsworth Vineyards
Take it all in.
Located off a picturesque country road winding through the working farms and rolling hills in the heart of Cowichan Valley's wine country, Unsworth Restaurant is whimsically nestled in a restored early 1900s farmhouse—warm and welcoming with plenty of charm and heritage. Relax and enjoy panoramic views that change with the breezes. Our dining room, sun room, and outdoor patio—complete with an authentic forno pizza oven—overlook 12 stunning acres of vineyards, an ancient apple and walnut orchard, and our own organic herb and vegetable garden. Also a spectacular setting for intimate celebrations and events.
As local as it gets.
While Cowichan Valley tends to keep a low profile, it's gaining a reputation as an exciting destination in wine and foodie circles that's almost definitely local. As Chef Maartyn Hoogeveen and Manager Jaelithe Piccolo will attest, it's about simple delights created from local love and ingredients. Over the years, we have fostered relationships with many neighboring farmers and producers. And it shows in Unsworth Restaurant's menu and Community Supported Restaurant program.
Menu & Wine List
Enjoy refreshingly delicious and interesting choices that deliver the essence of casual meets elegant vineyard dining. Our Menu offers a selection of small plates for those who prefer smaller portions, or for tables that like to share. We also offer more traditional large plates, featuring bistro classics. And of course, our Wine List features award-winning wines from Unsworth Vineyards. Like our menu, the wine list changes with the seasons, creating the perfect balance of food and wine flavours.
Reservations Recommended
For a quick and easy reservation, 
We were guests of Chris Turyk, farmer sommelier at Unsworth Vineyards and received a complimentary lunch including wine by the glass. A gratuity equal to 20% of the value of the lunch was left for the restaurant team. We truly can't wait for our next visit. Reservations are highly recommended.