Black Tot Day was the inspiration for the creation of Black Tot Finest Caribbean Rum, honouring the art of blending, creating a rum to be enjoyed by all. Now the inspiration for the perfect Father's Day gift!
TOT OF THE DAY
"Ultimately the bond of all companionship, whether in marriage or in friendship, is conversation."
OSCAR WILDE
Tall Ships and a Toast for Everyone
There are tall ships,
And there are small ships,
And there are ships that sail the sea,
But the best ships,
Are friendships,
So here's to you and me!
Aye!
Black Tot Finest Caribbean is inspired by tradition and the motivation to blend delicious rums from around the world. Head Blender, Oliver Chilton, has developed a recipe featuring some of the world's finest rums while creating a new and individual style. With nothing added or taken away, the final blend has been selected for its ability to allow the individual flavours of each rum to shine.
Balanced innovation and tradition in Black Tot Finest Caribbean – inspired by the navy rum blend of the past, but evolved to create a rum that can be enjoyed today, and tomorrow.
Bringing together the rich flavour profiles of Barbados, Guyana and Jamaica creating a rum with tropical, coffee and chocolate notes. Aged entirely in the tropics, which produces bolder flavours at a younger age, Finest Caribbean is intended as a delicious sipping rum as well as bringing an extra depth to tasty cocktail creations.
Never chill-filtered or sweetened Black Tot Finest Caribbean presented it in its purest form.
Black Tot Finest Caribbean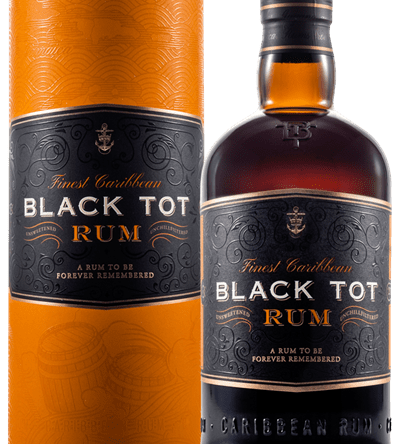 TASTING NOTES
FROM THE PRODUCER
NOSE
The copper-coloured liquid is immediately inviting, with tropical breezes of pineapple, melon and a feast of Caribbean sweets. Thick scents of banana fritters, plantain tarts, overripe mango and crème brûlée are lifted by fresh honeysuckle blossom and eucalyptus.
PALATE
Rounded and rich, with butter toffee, banana cream, and caramel to start. Gentle cinnamon and allspice build with more fruit – baked apples, pineapple cubes, and dried mango – joined by coffee, dark chocolate, and black pepper.
FINISH
Chocolatey coffee fades, leaving roasted bananas and a tingle of anise.
In BC, Black Tot Finest Caribbean can be found at private stores. Retail cost is between $85 – $98.
Legacy Liquor Store (Vancouver) $94.02 available online and in store
Everything Wine River District (Vancouver) $87.98 available online and in store
High Point (Vancouver) $97.90 available online to pickup in store
The Gull (North Vancouver) $85.10 available online
Black Tot 50th Anniversary Rum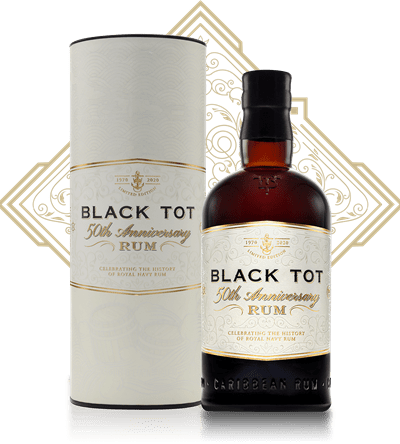 "The British Navy were the original rum blenders, marrying together flavours from around the world to create something served to every sailor, every day. This bottling, celebrating the 50th anniversary of Black Tot Day, is a tribute to their original blend, bringing together some of the great lost rums of the past with the amazing modern distillates of today. Every cask used has played its part in making a rum that we believe people will want to drink every day.'' – Oliver Chilton, Head Blender
To celebrate the 50th Anniversary of Black Tot Day,  a commemorative limited edition Black Tot blend has been created. In this release of just 5000 bottles, you'll find a marriage of rums from the four cornerstones of the Royal Navy blend: Jamaica, Barbados, Guyana, and Trinidad.
Bottled at full Navy Issuing Strength, discover rums from demolished distilleries and ancient stills, and even the remnants of the historic Navy Rum blend itself.
This rum reflects the dedication to the art of blending. With a carefully-chosen balance of rums from across these countries and distilleries, as well as a nod to the last consignment of the Navy Rum blend, Black Tot 50th Anniversary Rum is a fitting tribute to Black Tot Day, with an incredible medley of flavours and origins.
Each year will see an evolution of the Black Tot blend, using the previous years' rum as the base.
The 50th Anniversary Rum is on the shelf at a dozen or so BC Liquor store locations and retails for $199.99
Canada's Royal Navy was officially established in 1910, and as such inherited the majority of the British Navy's customs – rum included. Interestingly, some later references to the Canadian Navy blend cite that it was in fact Captain Morgan from… Waterloo, Ontario. If that sounds surprising, it's worth looking at the backstory of the brand behind this familiar piratical figure. The brand was created by Canadian spirits company, Seagram in 1944 – shortly after they purchased the historic Long Pond distillery in Jamaica.
So were the Canadian Navy enjoying a funkier blend of Navy Rum than their British counterparts? Well, it's likely that the initial supplies would have been sourced from the British Navy blend, though with Seagram's based in Canada it would have certainly made more sense to buy local (note that Seagram's blended rums from many parts of the world, including Guyana, Jamaica, and Puerto Rico, all of which may have found their way into the Canadian rum blend).
Information courtesy of Colleen Wilkinson, Pacific Wine and Spirits and Black Tot Rum. Black Tot day was March 30th. Black Tot Finest Caribbean and Black Tot 50th Anniversary images courtesy of Black Tot Rum. I received a complimentary bottle of Black Tot Finest Caribbean to facilitate this feature.