This was my first trip to the Zanatta Winery and it will definitely not be my last. I was invited to attend an intimate Long Table Dinner in the vineyard. It was a weather permitting outdoor experience that, not surprisingly given our weather lately, became an on the covered porch long table dinner.
Nevertheless, the company was gracious and friendly; the food out of this world delicious; and the wines outstanding!
Needless to say a good time was had by all. If you are interested in attending a future Zanatta Long Table dinner then I would suggest you act quickly to secure your place at the table for July. The August dinner is already sold out.
The company was an interesting and lively mix of Cowichan Valley, Shawnigan and Cobble Hill locals with two friends from Toronto joining our friendly group. A number of the guests were well travelled and I enjoyed hearing their stories about their journeys, especially those stories that included wines and visits to wineries both near and in far away places.
The winery Tasting Room is housed in a century old farmhouse that is both quaint and comfortable. It was a fun spot to enjoy a glass of bubbly and circulate. Taking in the vineyards and beautiful fruit tree in the yard that should have been the locale for our long table. The venue is an interesting mix of hidden corners and intimate tables where guests can enjoy a glass of Zanatta wine and just relax.
Dinner was comprised of five courses with the Aperitivo being a collection of yummy finger foods all lovingly prepared and presented by Barnes & Maracle Food Specialists.
Zanatta June Long Table Dinner
Aperitivo
Fishcakes with Dijon and Caper Aioli
Prosciutto, Fig and Gorgonzola Flatbread
Goat Cheese, Smoked Apricot and Dried Plum Rolled in Walnuts and Dukkah
 2017 Tradizionale Brut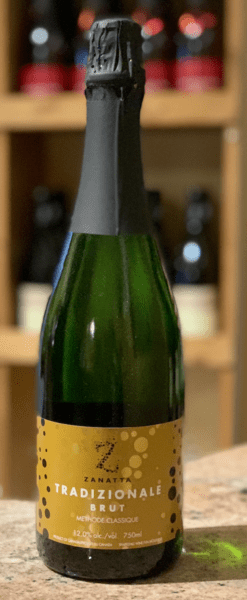 Made with hand-harvested estate grapes of Pinot Noir and Chardonnay, this is an elegant sparkling wine with rich toasty notes and delicate bubbles.
The sparkling was a welcome beginning to a delightful evening. The Tradizionale Brut was light and delicate with just the right amount of effervescence. It paired nicely with the delicious appetizers. My favourites were the Goat Cheese and the Flatbread.
Insulate
Arugula Salad with Almonds, Green Olives and Citrus
Ortega

With the oldest vines in Canada, our award-winning Ortega is a dry white wine with delicate floral and peach aromas. Celebrated as one of the signature grapes of Vancouver Island, Ortega is a cross of two German grapes, Müller-Thurgau and Siegerrebe. Ortega is named after the Spanish philosopher, José Ortega y Gasset. "To be surprised, to wonder is to begin to understand."
The Ortega was a delight and pretty much it is the signature grape of the Vancouver Island. Wonderful scents of citrus, some tropical notes like pineapple, with stone fruits, roses and brioche aromas. The wine was light and deliciously fruity with medium acidity and a lingering finish. The Ortega went very well with the spiciness of the salad.
Pasta
Squash Ravioli with Brown Butter, Sage, Toasted Hazelnuts and Parmesan
Damasco

Zanatta's signature white wine, Damasco, is a delicate blend of our estate grown grapes, Ortega, Muscat, Auxerrois and Madeleine Sylvaner. With a hint of effervescence and a fruity bouquet, Damasco is the best-selling local white wine in the Cowichan Valley.
This was heaven in the glass! Scents of ripe melon, a ChiChi, pineapple, coconut milk, and a tropical fruit salad. Flavours of the same ripe fruits tickle the palate with high acidity, mineralogy and wet stone, ever so slight tannin. Superb. It was the perfect pairing for the rich squash ravioli spiced with nutmeg, topped with grated parmesan and crispy sage.
Main
Duck with Brandied Plum Sauce, Roasted Fennel and Orange with Crispy Potatoes
2019 Pinot Noir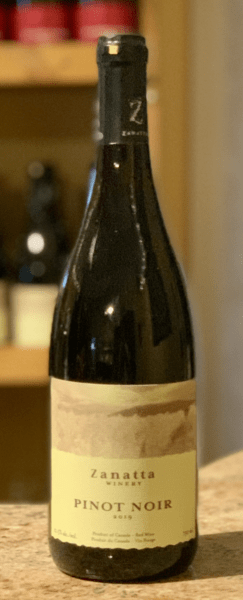 In honour of our winery founder, Dioniso (Dennis) Zannata, we celebrate our heritage and use the Italian name Pinot Nero instead of the French, Pinot Noir.  Planted in 1992, our single vineyard Pinot Nero is grown on our steepest gravel slopes with southern exposure.  Aged in french oak for a minimum of twelve months, our PInot Nero is an elegant red wine with subtle oak flavours and  refined notes of fruit and spice.
Some would say the Vancouver Island Pinot Noir is distinctly different than it's warmer climate Okanagan cousin. The nose is greeted with cherries, blackberries, mandarins and Italian plum with a savoury flavour with light but riper fruit on the palate, nice acidity. The duck confit with plum sauce and orange challenged the Pinot but it easily held its own giving way to a smooth finish.
Dessert
Lemon Cake with Italian Plum Compote
2017 Glenora Fantasia Brut

Crafted in the traditional method, this sparkling wine is aged on the lees for a minimum of 3 years. 100% Cayuga grapes are gently pressed immediately upon harvest to produce an utterly unique sparkling wine.
A bouquet of green apple is expressed through an array of small persistent bubbles.
A lovely finish to a line-up of delectable dishes and wines. Pairing exactly right with the rich, and satisfying, cake and plum compote.
Rosé

Using the saignée method, our rosé is made exclusively from Pinot Nero grapes. This dry rosé complements good company and light foods such as sushi. Fresh notes of strawberry and a long clean finish.
Between courses we were treated to a taste of the just released Zanatta Rosé which was a drier, Tavel style that is reminiscent of summer afternoons on the patio.
Beyond the Farm Gate
After decades of making wine together, a lot has changed, but even more has stayed the same. To this day, we only vinify grapes from our own vineyard and try to bring out as much regional flavour as possible in our wines. While the Okanagan growing season comes on fast and furious, our Vancouver Island climate can only be described as slow: slow to start and slow to finish, which gives us fruit that is deliciously earthy and rich. With a growing season that extends well into October, our grapes have time to develop a depth of flavour that is completely unique to Vancouver Island and we are proud to make uniquely Vancouver Island wine.
Wine notes courtesy of the winery. My notes (in italics). Images: MyVanCity. Dinner for myself and a guest was complimentary to facilitate this review.