"it's a smile, it's a kiss, it's a sip of wine … it's summertime!"
― Kenny Chesney
What better way to enjoy summer than with a glass of wine. These are wines from Moon Curser so you know they will all be excellent.
Although delicious the wines of Moon Curser can be elusive, hidden even, not to mention many sell out so quickly they are gone before you know it. So if you want to procure your goods I suggest you do so without delay.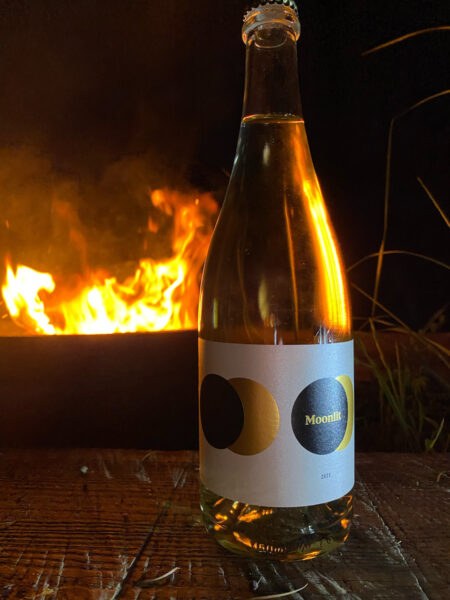 Viognier is rarely found in its effervescent version, but here at Moon Curser, we have created a wine bright with personality, charm and, yes, bubbles!
Tasting Notes
Made from 100% Viognier, this vintage of Moonlit has been a hit around the winery since the day it was bottled. Moonlit is a sparkling wine with a beautiful pale yellow colour that is produced using the carbonation method. The nose on this wine bursts with aromas of granny smith apple, kiwi, orange zest and clementines. The palate is balanced, crisp and clean with a wonderful backbone of acidity to carry this fruit-forward dry wine. Fresh bubbles make for a light-bodied wine and beautifully transport flavours of quince, orange blossom, raw honey and a note of flinty minerality across the palate.
A perfect accompaniment to any patio, seafood dinner, or charcuterie board. To fully enjoy the fruit-forward nature of this wine, it is best to consume by the end of 2025.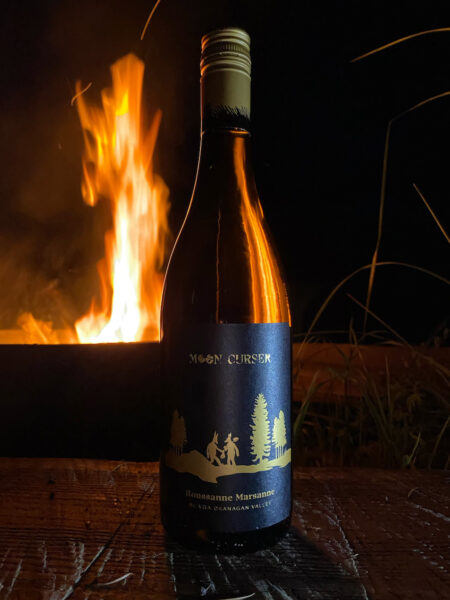 Tasting Notes
Our Roussanne Marsanne blend is a dry, medium to full-bodied white wine with a beautiful pale gold colour. The nose jumps out of the glass with notes of toasty brioche, white flowers, vanilla bean, chamomile and clove. The palate mimics the nose with flavours of crème brulée, lime, blood orange and limestone minerality. A portion of this wine spent four months in oak with lees stirring, and the resulting subtle richness adds an intriguing dimension of toast and baked apples. This is an elegant and graceful wine, with a smooth acid profile that allows its brightness and freshness to serve as a welcomed counterweight to the rich brioche notes. Aging will allow for the development of the fantastic secondary flavour characteristics typical of the Marsanne grape to shine through – look for marzipan, honey and caramel if you are able to set the wine down for three to four years.
This wine drinks well now, but will benefit those willing to wait till 2026 or so before opening.
A classic Rhône Valley combination of Roussanne and Marsanne grown and made on the Osoyoos East Bench. Floral and citrus fruit notes with a kiss of oak; elegant and graceful.



South Okanagan is recognized as a producer of world class, elegant and powerful Syrah. Our delicious 2020 Syrah displays the signature notes of spices, dark fruits and floral notes, all backed up by lush and approachable tannins.
SILVER MEDAL – 2022 All Canadian Wine Championships BRONZE MEDAL – 2022 WineAlign National Wine Awards of Canada
Tasting Notes
Our Syrah has quickly become one of the pillars of the Moon Curser portfolio, providing us with a consistently fantastic wine, year after year. The 2020 iteration of Syrah is a medium to full-bodied wine, opulent yet focused, with a spine of trademark fresh South Okanagan acidity and is a deep ruby colour in the glass. The highly aromatic nose of dark chocolate, sun-dried tomato, violet and black peppercorns is followed by the palate of round tannins and savoury blackcurrants, cumin, Morello cherries and cinnamon. A nicely balanced and elegant rendition of Moon Curser Syrah, this wine is approachable in its youth, while showing promise of a long life. Drinks very well now, but we expect it will continue to develop in the bottle if cellared until 2029.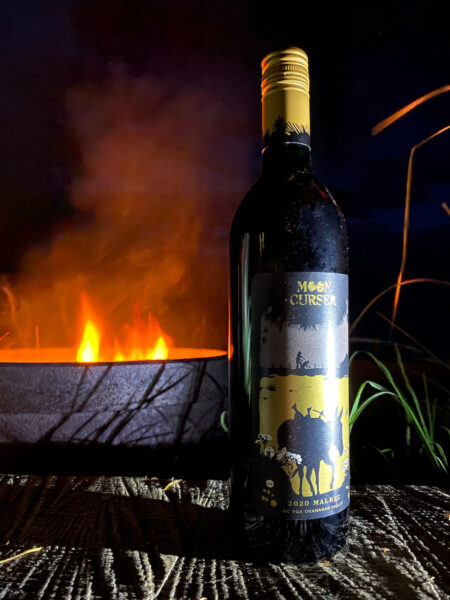 A bold, juicy and delicious interpretation of this captivating Bordeaux variety. Grown in a single vineyard on the Osoyoos East Bench.
GOLD MEDAL – 2022 All Canadian Wine Championships SILVER MEDAL – 2022 WineAlign National Wine Awards of Canada
Tasting Notes
Our 2020 single vineyard Malbec is an elegant, fruit and spice driven interpretation of this enticing grape variety. It is a medium to full-bodied red wine with a dark purple colouring in the glass. Lively notes of blueberry compote, dates and violet dominate the nose alongside subtle hints of eucalyptus. The refined palate brims with blackcurrant, espresso, truffle, mint and cocoa. This flavour profile sits in harmony with dark chocolate from the French oak influence. The wine is perfectly structured with rich, chewy tannins balanced by a fresh, lifting acidity. With its well-balanced structure and long finish, this wine drinks well now, but with proper cellaring will thrive and develop beautifully over the next seven years through to 2029.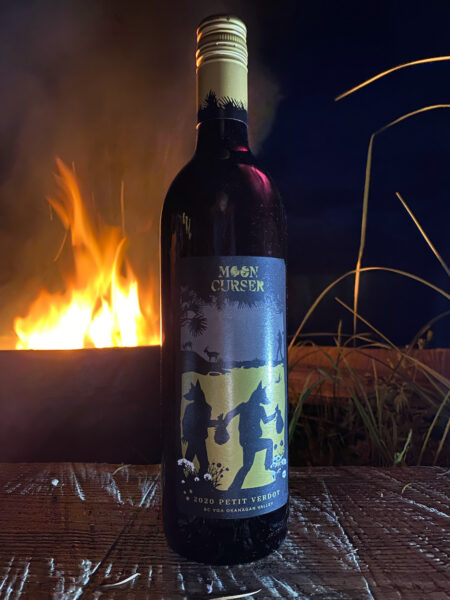 A Fall 2022 release
'Tis a rare thing to see this grape on its own, but when it happens, it can be a thing of beauty. An elegant and powerful expression of this intriguing Bordeaux variety.
Tasting Notes
This single vineyard wine is a quintessential varietal Petit Verdot. The 2020 vintage is full-bodied, with a deep purple colouring and flavours and aromas to match. Inviting delicate notes of lilac, lavender, rose and eucalyptus dominate the nose. The palate is ripe with notes complementing the nose; cedar, nutmeg, fig and graphite. The elements of oak aging are artfully woven throughout to provide rich tones of dark chocolate and truffle on the edges of the palate. The palate is rich with tannins and a bright acidity that lengthens out the finish. This is an elegant and tannin driven wine. While fairly approachable now, this wine will definitely reward those who can set the bottle aside for several years. The wine will start to reveal its true potential after three to five years of cellaring (by 2027), with beneficial aging continuing for an additional five years (ten years in total after bottling).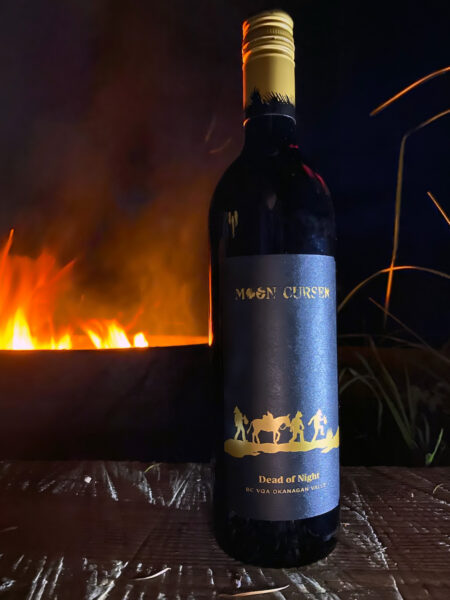 Moon Curser's flagship blend of Osoyoos East Bench grown Syrah and Tannat. Bold, rich, age-worthy and so very delicious. One of a kind.
SILVER MEDAL – 2022 All Canadian Wine Championships BRONZE MEDAL – 2022 WineAlign National Wine Awards of Canada
Tasting Notes
The 2020 vintage of our flagship Dead of Night is comprised of eleven co-fermented barrels of Syrah and Tannat, the five top performing barrels of our '20 Syrah, and the five top performing barrels of our '20 Tannat. This is a full-bodied wine with a deep ruby colour in the glass, and a nose of dark fruit, blueberry, vanilla bean and hints of milk chocolate. The palate brings out characters of blackberry, tobacco, cocoa and ripe plum. This wine has an incredible structure; rich and complex with a beautiful texture and depth of flavour. The firm but well-integrated tannins provide the perfect backdrop for the wine, while allowing the acidity to carry the lengthy finish. Dead of Night is quite approachable and drinks well upon release – surprisingly so for such a well-structured wine. However, this is also a wine that has the intensity, acid structure and tannins required to make it an excellent candidate for cellaring up to and through 2032.
All Wines
We offer subsidized shipping rates, as well as a shipping fee discount of 50% on each case shipped in addition to the first case. The minimum order quantity is six bottles of wine. All bottles are 750ml unless otherwise stated.
Any questions? Call us at (250) 495-5161
Moon Curser Vineyards
Deep in Osoyoos, just shy of the US border, hides the Okanagan Valley's most elusive winery.
Named after moonlight-evading gold rush smugglers, Moon Curser pursues clandestine (some would say fascinating) grape varieties like Touriga Nacional and Tannat, with an occasional Syrah or Bordeaux blend thrown in for diversion.
Highly prized by both good guys and those of questionable repute, Moon Curser wines are treasured across Canada's finest dimly lit dining establishments.
Wine notes courtesy of the winery. Images: MyVanCity. I received complimentary wine to facilitate this feature.