20 years #Blessed:
Blasted Church celebrates anniversary in Okanagan Falls
The team at Blasted Church Vineyards is celebrating 20 years of operations in Okanagan Falls and raising a glass to a bright future under new ownership.
Blasted Church Vineyards is celebrating its 20th anniversary and hosting a 'Seven Deadly Sins' party on August 20th. Wine lovers in the Okanagan are invited to join proprietor Sean Morrison, winemaker Evan Saunders and other team members for an epic party with speech and sparkling wine sabering starting at 6 pm.
Guests will taste through seven food stations to enjoy winery chef John Burke's creations paired with award-winning Blasted Church wines. There will also be an opportunity to take to the dance floor with live music by Jon Bos or during DJ Lady of the Mist's set. Cosmic-Co-Motion will provide further entertainment. Limited tickets ($150 per person) are available online. Guests are encouraged to come dressed as their favourite 'sin', there will be a prize for the best costume.
As the future promises to bring more outstanding wines and plenty of accolades, we look back at some of the highlights in Blasted Church Vineyards' history.
BACKGROUND AND CONTEXT TO 20 YEARS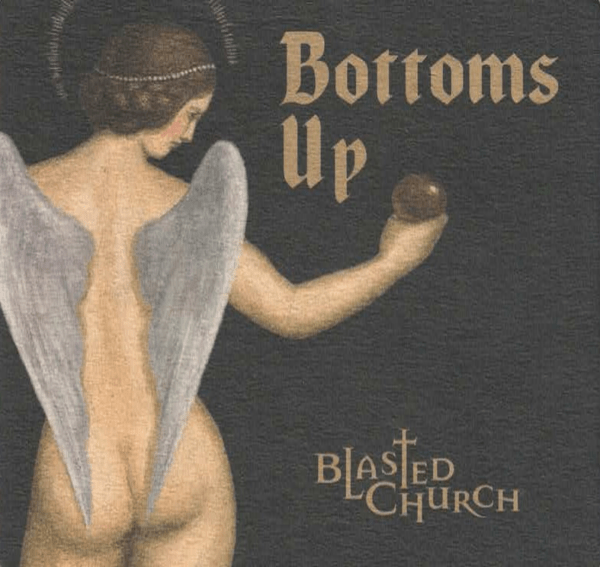 Bringing Irreverence to The Okanagan
The year was 2002 when the Campbell family acquired Prpich Hills Winery and Vineyard in Okanagan Falls to create a new, irreverent winery they renamed Blasted Church Vineyards. The name refers to the iconic house of prayer in Okanagan Falls that endured a controlled blast in 1929. A controversial topic, the name and mildly blasphemous stance arguably is Blasted Church's most notable characteristic.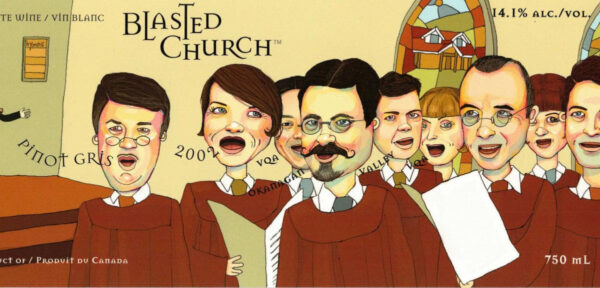 Blasted Church's first Pinot Gris label featuring Tim Pawsey and Jurgen Gothe, 2002
A Place Of 'Firsts'
Blasted Church Vineyards launched its inaugural vintage with labels illustrated by Whitehorse-based artist Monika Melnychuk. Bold and witty, the 2002 Pinot Gris depicted well-known characters in the BC wine industry such as journalists Tim Pawsey and Jurgen Gothe attending mass. In 2005, Blasted Church became the first BC winery to move to screw cap closures completely, and soon after the first winery to get introduced to the on-tap market, available at Tap and Barrel.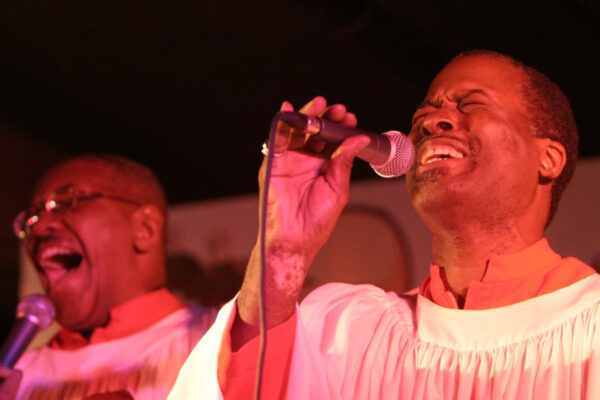 Gospel Experience Choir at the first Midnight Service at Blasted Church, 2004
An After Party…Service.
The winery has become a place where people gather. Some of the most fun Okanagan Wine Festival after-parties are at Blasted Church. For example, after the Festival's Grand Finale tasting finished, on Thanksgiving weekend, the midnight service at Blasted Church started. The shuttles lined up at the Penticton Convention Centre brought 'sinners' who had tickets. On-site, they enjoyed a BBQ feast and music by Gospel Experience Choir until past midnight. Some people still miss it to this day.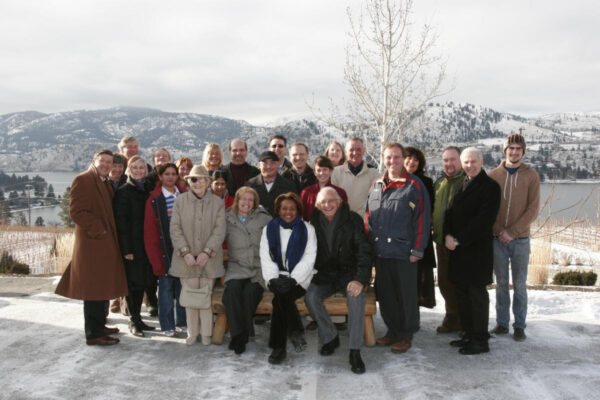 Governor General Michaëlle Jean visits Blasted Church, 2008
A Very Important Visitor
In 2008, the winery hosted Governor General Michaëlle Jean, and the winery team invited grape growers and everyone involved with the winemaking at Blasted Church to meet her.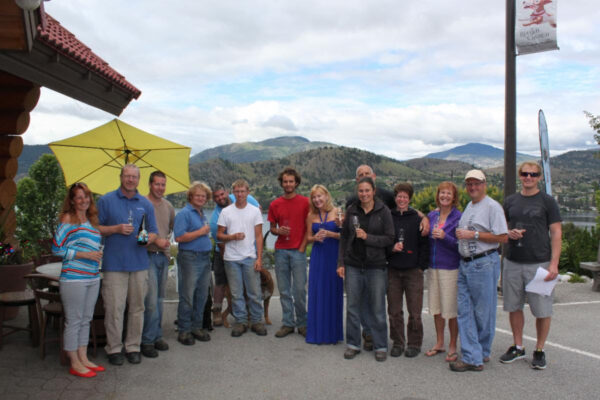 The release of Blasted Church's first traditional method sparkling wine OMG, 2013
OMG, Bubbles!
The release of Blasted Church's first traditional method sparkling wine was a special occasion. The winery team decided to celebrate the summer solstice, on June 21st. Every single bottle of OMG enjoyed that day was sabered with a few very foamy attempts at the end of the day when the wine was not as cold anymore. The solstice must have brought OMG good luck, because to this day, this is one of the most awarded wines produced by Blasted Church.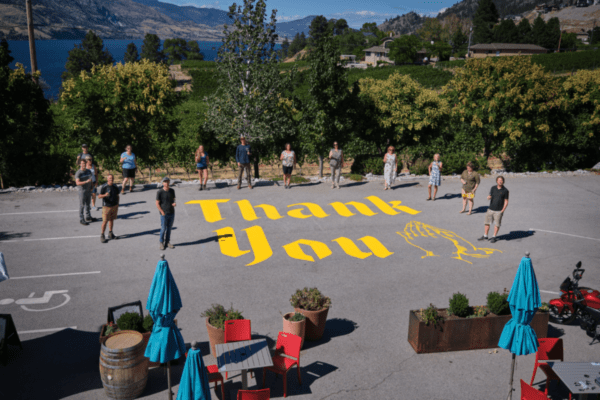 A big "Thank You" to the firefighters working on the Christie Mountain Fire in 2020
A Challenging Year
The year 2020 was challenging for everyone, and especially for the team at Blasted Church. When the world shut down, the winery had to pivot. With no customers coming through the doors, the solution was to offer direct-to-consumer sales through their website. Every order included a handwritten card with words of encouragement, colouring pages and crayons.
When summer finally arrived, the Christie Mountain fire threatened the winery and vineyard, and the team was evacuated for six days (many staff members were also evacuated from their homes). When the team was permitted back to the property, they witnessed helicopters filling their buckets in Skaha Lake and flying directly overhead, sometimes so low that they could feel the drops of water falling from the buckets. To show gratitude for the firefighters' life-saving efforts, the winery team painted a big "Thank You" on the parking lot pavement for the crews to see, still visible today.
In the past 18 months, many things changed. The world started opening again, visitors are back to the tasting room, and new team members have come on board. What has not changed is the team's wish to continue to produce top-quality wines that reflect the Skaha Bench terroir and impress critics in Canada and beyond.
To schedule a tasting and enjoy bespoke wine pairings and delicious bites this summer, go to blastedchurch.com.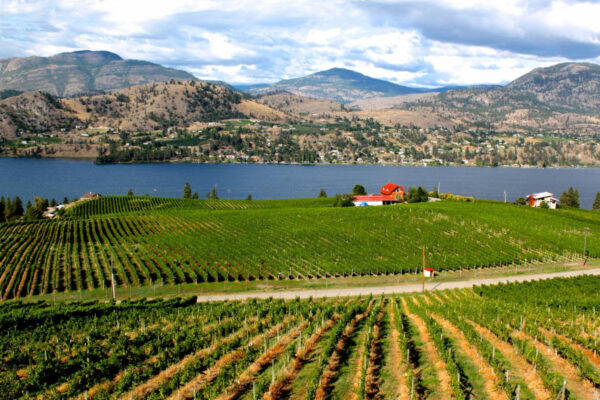 Blasted Church Vineyards, 2014
About Blasted Church Vineyards
Located in the Heart of Wine Country™, and in the heart of the revered Skaha Bench Sub GI is Blasted Church Vineyards.
Named for the Okanagan Falls-based house of prayer that was dismantled and rebuilt in 1929, Blasted Church, with its gently blasphemous stance, has become one of BC's most notable and awarded BC wineries. While showcasing wit and often irreverent sensibility, the team at Blasted Church is all about the production of serious wine.
The team applies progressive farming practices to produce handcrafted, small-lot wines that have gathered accolades from the most respected wine critics in Canada and beyond. Landing the accolade of #2 ranked winery in BC and #3 in Canada by WineAlign's National Wine Awards is a win the winery team is very proud of.
Visitors to the winery can experience a taste of the sublime, taking in their choice of heavenly wine and food experiences while enjoying the incredible Skaha Lake views from the tasting room or pool area.
To join the flock, visit blastedchurch.com
Media release and images provided by Giulia Sa Barreto, Town Hall Brands.