With World Egg Day on October 14, Egg Farmers of Canada is sharing unique recipes made by four Canadian chefs, using only local eggs and ingredients.
Almost a year following the BC floods that directly impacted agriculture, supporting BC's Egg Farmers is more important than ever before.
The recipes use only local eggs and ingredients, emphasizing the importance of supporting BC's Egg Farmers after this year of climate change directly impacted the province's agriculture.
Two out of three Canadians say that buying locally-produced eggs is more important than ever, according to a recent survey by the Egg Farmers of Canada. With this in mind, Chef Minh Phat's eggs-quisite soup would not be possible without the hard work of over 1,200 Canadian egg farmers, who produce local eggs year round for us to enjoy.
Egg Drop Soup with Corn and Chicken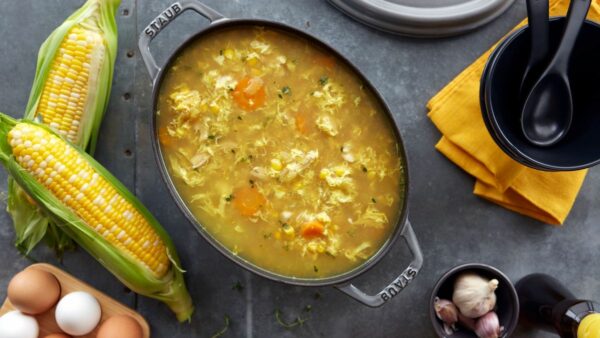 By Chef Minh Phat Tu 
Prep Time: 30 mins
Cook Time: 90 mins
Serves: 4
Cooler weather marks the perfect time to enjoy Chef Minh's comforting Asian-inspired egg drop soup, combining locally-grown corn with fresh chicken and Canadian eggs. This delicious soup is easy to prepare and great for a cozy afternoon or evening meal. 
Ingredients
3 large corn cobs
2 chicken thighs
5 garlic cloves 
3 sprigs of thyme
3 Spanish onions, finely chopped
2 tbsp (30 mL) unsalted butter
1 tbsp (15 mL) vegetable oil
1 cup (250 mL) medium carrots, sliced 
1 tsp (5 mL) turmeric powder
5 large eggs
3 tbsp (45 mL) lightly salted soy sauce
2 tbsp (30 mL) roasted sesame oil
Salt and pepper to taste 
Instructions
Step 1
Cook the corn cobs in 12 cups (3 L) of boiling water for 7 minutes. Once cooked, carefully remove the corn kernels from the cobs and set them aside for later. 
Step 2
Bring the corn water to a boil once again. Add the chicken thighs, garlic cloves, thyme and corn rinds and let stand over low heat for 1 hour. 
Step 3
Strain the broth. Shred the chicken thighs and set them aside for later. 
Step 4
In a pan, sauté the chopped onions in butter and vegetable oil. When the onions become transparent, add the corn kernels and the carrots, and soften for 2 minutes. 
Step 5
Add the onions, corn kernels, carrots, shredded chicken, and turmeric to the broth and boil for 5 to10 minutes. 
Step 6
Whisk eggs in a small bowl. Slowly pour eggs in a thin stream into the broth, stirring gently.
Step 7
Add the soy sauce and sesame oil and season to taste with salt and pepper. 
More egg-quisit recipes here.
About BC Egg
BC Egg is a non-profit organization that oversees and manages the province's egg farming industry.
We work with approximately 144 family-owned and operated egg farms to bring the goodness of B.C. fresh eggs to your table. We oversee and manage the production, grading, packing, marketing and transportation of all regulated eggs in B.C.
Matching egg supply with market demand results in stable egg prices for consumers and a structure operating without government subsidy. We work with industry partners, such as graders and processors, to ensure that the consumer has a choice of eggs that is of the highest quality standard, and is affordable for all household budgets.
About Egg Farmers of Canada
Canadians love Canadian eggs. They come from local farmers who ensure our eggs are among the best in the world for quality and freshness. Our uniquely Canadian system of supply management makes all this possible and also supports thousands of Canadian jobs and sustains vibrant rural communities.
Our farmers produce over 789 million dozen eggs annually to meet growing consumer demand. In fact, 2020 marked the industry's 14th consecutive year of retail sales growth. A strong industry makes it possible for our farmers to make long-term investments in on-farm efficiencies and to drive innovation through R&D.
We are a national organization that represents Canada's more than 1,200 regulated egg farmers in all ten provinces and the Northwest Territories. Created in 1972 under the federal Farm Products Agencies Act, Egg Farmers of Canada manages the supply of eggs, promotes eggs and develops standards for egg farming in Canada.
For information about Egg Farmers of Canada and what we do please visit eggfarmers.ca.
About Get Cracking®
Get Cracking® is Egg Farmers of Canada's consumer brand, which aims to inspire Canadians about the amazing versatility that eggs can provide. Get Cracking® promotes a variety of quick, easy and healthy recipes for Canadians and believes that eating nutritious and delicious meals doesn't have to be complicated or expensive.
Media release, recipe and image provided by Julia Dumbrell, Citizen Relations.