Marc's Rack of Lamb paired with Barbaresco Riserva
Thanks to Anna Savino founder of the Barolo Wine Club and ItaliaAnna Food & Wine Tours we are bringing you another outstanding recipe. This time from a Michelin starred chef!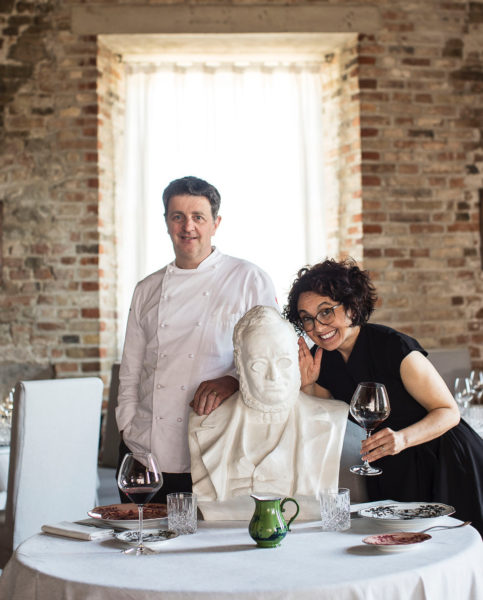 A lamb recipe straight from a Michelin Star chef paired with a Barbaresco.
Husband and wife team, Chef Marc Lanteri and Amy Bellotti, run this suggestive Michelin Star restaurant, Al Castello in the grand castle of Grinzane Cavour.  We have the honor of calling them friends! Amy is an American expat, originally from Colorado who ventured off to Culinary School in Piemonte. Marc Lanteri comes from an interesting area on the border of France and Piemonte called Valle Roya where you can see the mix in his beautifully done dishes.
The restaurant is located inside an important castle in the region where Count Camillo Benso resided in the middle of the 1800s.
Not only did he play a role in the Unification of Italy, but he also was a major player in what is now considered the first Barolo. Today you will find a wine shop, truffle museum, caffè and Marc Lanteri's Al Castello Restaurant.
Feel free to pair it with any Barolo or Barbaresco with a few years of age on it. Lamb is a great meat dish to match the tannins of Nebbiolo. We feel so honoured to have a summer meat recipe coming from this fantastic restaurant in the Langhe.
Rack of Lamb with aromatic herb infused pan juices, Taggiasche olive tapenade and summer garden vegetables
Recipe from Marc Lanteri | Michelin Star Chef  – Grinzane Cavour
INGREDIENTS FOR 4 PEOPLE
2 racks of lamb or 8-12 chops
1 cup mirepoix (onions, celery, and bell peppers), medium dice
Fresh thyme, rosemary and oregano
sea salt qb (freshly ground)
1/2 c Taggiasche olive tapenade* , room temperature
INSTRUCTIONS
 Brown the rack of lamb in a hot sautè pan with a drizzle of olive oil and a piece of butter.  Remove and dust with sea salt.
Add mirepoix to sautè pan and brown vegetables, bathe with stock and ad aromatic herbs. 
Reduce to 1/2, adjust salt and pass through fine mesh strainer.  Set aside.
Prepare garden vegetable assortment and cook in salted boiling water leaving vegetables al dente. 
Remove from water and drizzle with extra vergine olive oil.
Bake lamb in 350° F oven for 8-10 minutes.  Wrap in aluminum foil and allow to rest for 10 minuts.
Heat serving plates in oven, nappe with olive tapenade, plate vegetables. 
Slice lamb chops and plate, sauce and serve!
*What are Taggiasche olives? A local Ligurian black olive but you can use any olive tapenade (Kalamata for ex.) you can find.
I found four Barbaresco offerings at the BCLS, all priced at $70.99 with one on sale until September 5 at $57.97. View here. One at Everything Wine at $73.98 (only one in stock)
Thank you to guest blogger Anna Savino @italiannawinetours and @barolowineclub on Instagram, and online at ItaliAnna Food & Wine Tours.
Anna Savino contributor to our #TasteofThursday Food &Wine Pairing Articles is now happy to announce a fantastic online project with some of the best guides around the world called Guide Collective www.guide-collective.com be sure to check it out!
If you would like to be featured on MyVanCity.ca please email myvancityval@nullgmail.com. Wine samples accepted for review.