That all important night is coming soon. Be prepared to celebrate in the best way with a glass of Champagne! Happy New Year!
Since its founding in 1785, the House of Piper-Heidsieck has proven its innovative prowess in selecting and blending wines of exception. A quest for excellence and open-mindedness are reflected in the entire range of champagnes created by Chief Winemaker Emilien Boutillat, serve as guarantor the Piper-Heidsieck style.
Piper-Heidsieck Champagne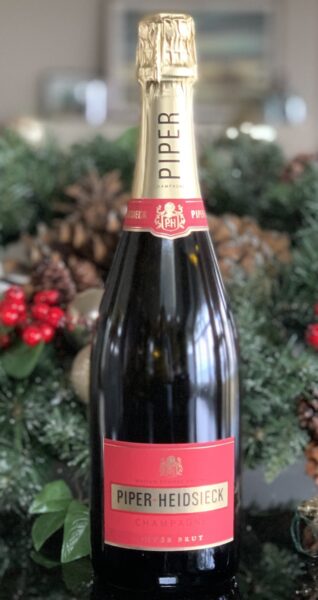 50% Pinot Noir 30% Meunier 20% chardonnay 25% reserve wines
Cuvee Brut is an emblematic multi-vintage champagne, elaborated from a blend of more than 100 crus sourced from 3 grape varieties of Champagne.
95 Points, International Wine Challenge: "Lovely broad autolytic attack. Very fine mousse. Tight, taut style with great breadth and length. Creamy apple and lemon flavours with long, elegant and savoury finish. Delicious."
Examples of great pairings: Seafood Salad, Smoked Salmon, Oysters, Pasta with Cream or Mushroom Sauce, Baked White Fish in Butter Sauce, Soft-ripened cheese, Chicken Sandwich, Prawns, Scallops 
$69.99 available at BC Liquor Stores currently on sale for $65.99 until December 31
Pale lemon with fine bubbles; pronounced aromas of rye bread toast, hazelnuts and lemon tart with a hint of spice; extra-dry and light to medium body with resonating flavours and a creamy texture. 
BLENDING SECRETS
Terroir: More than 100 crus representative of the great diversity of the Champagne terroirs
Reserve wines: Minimum of 30%
IN OUR CELLARS
Ageing on lees:
Minimum of 24 months
Ageing after disgorgement: Minimum of 6 months
PERFECT PAIRINGS
Sublime as an aperitif, a champagne for every occasion
FINGER FOOD : ENJOYING CUVÉE BRUT AT HOME
GOURMET RECOMMENDATIONS: – Fresh tagliatelle, pan-fried king prawns, white butter sauce with champagne suggested by « Au Piano des Chefs »
ADDITIONAL INSPIRATIONS:
− Steak tartare
− Young Comté
− Courgette flowers, feta cheese and spelt
Cellaring potential: 5 years or more Serving temperature: 8 to 10c
AWARD
BEST NON-VINTAGE BRUT Mundus Vini 2020
#PiperHeidsieck #PiperExperience #BetterWithPiper Piper_Heidsieck
FRESH // ELEGANT // HARMONIOUS
PIPER-HEIDSIECK
UNCORKS A SUSTAINABLE
FUTURE
– PIPER-HEIDSIECK, CEO BENOIT COLLARD
Reims, Champagne: Since its inception, Piper-Heidsieck owes its success to audacious leadership and a pioneering spirit, anchored in its company wide practices.
The House showcases its unwavering commitment towards a conscientious, sustainable future and responsible Champagne production by implementing several initiatives across a number of areas including its carbon footprint reduction, vineyard operations, social impact and supplier management.
Today, the efforts of the Champagne House are recognised as it becomes B Corp Certified, joining a community of companies that are leading a global movement for an inclusive, equitable, and regenerative change.
Champagne Piper-Heidsieck
– 12 allée du vignoble 51100 Reims –
+33(0)3 26 84 43 00
– [email protected] com – piper-heidsieck.com
Please drink responsibly.
Notes courtesy of the winery and (in italics) the LCBO and courtesy of BC Liquor Stores. Images: MyVanCity. I received complimentary wine to facilitate this  feature.