"In this series we bring you our #FavouriteThings Holiday Gift Suggestions which we personally recommend"
This fall I was fortunate to have been invited to a Brandy tasting with Master blender Mrs. Cécile Roudaut. It was a wonderful experience and now I am sharing with you my personally recommended Gift Suggestion for the most disxriminating people on your holiday gift list.
Also ideal for holiday entertaining. Think cocktails!
SIGN UP FOR HARMONY
St-Rémy Signature is the new creation from Master Blender Cécile Roudaut. With this blend, she wanted to shape a new face for brandy by exploring new production processes and new aromas, while continuing to respect St-Rémy traditions and its historical smooth profile. To do so, she decided to introduce a double maturation process.
The first maturation takes place in new oak casks (Quercus Petraea species with a fine grain) using medium and high heat. These casks will deliver spicy notes, indulgence, and vivacity. The second maturation takes place in traditional casks (Quercus Robur species with a large grain) using high heat only. These casks will deliver roundness, balance and sweetness, and will assert the very personality of our brandy.
St-Rémy Signature Brandy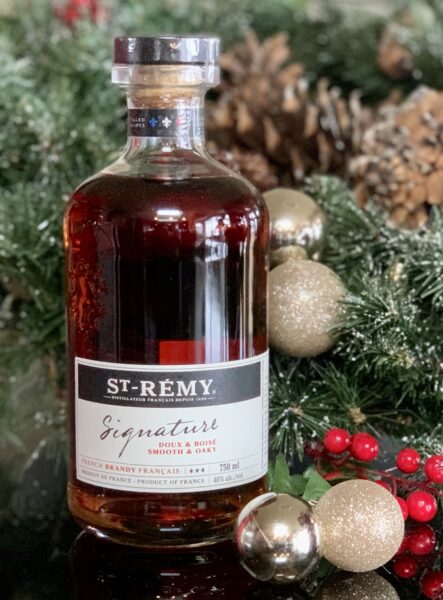 TASTING NOTES
APPEARANCE
Luminous, bright-amber, intensified by fiery, red sparks.
NOSE
A sweet aroma of virgin wood and spices such as vanilla, coconut and almond, as well as fresh fruits.
PALATE
Subtle and smooth. Virgin woody notes are enriched with honey, nut and butter flavours. Fruity notes start fresh, and then become candied. Sweet spices create roundness and balance.
SERVING SUGGESTIONS
Neat, on the rocks or in cocktails. Its perfect harmony makes it ideal for classic brandy cocktails or creations/other classics with a twist.
Enjoy a range of holiday-worthy cocktails using St-Rémy Signature Brandy. Classic Cocktail recipes are available here.
Le Brandy So French
FRENCH VINEYARDS
France is well known for producing elegant and aromatic wines that convey the concept of terroir. The soil and grape varieties planted in vineyards influence the quality, character and style of French wines.
St-Rémy's signature style is about roundness, subtlety and a surprisingly long finish for a brandy. The process starts with the selection of a wide range of French grape varieties from the country's best vineyards: Bordeaux, Burgundy, Champagne, Beaujolais, the Rhône and Loire valleys, and Languedoc-Roussillon. Its style is characterized by a wide variety of vines and terroirs giving complex and diverse aromatic notes!
The result is a smooth and fruity taste. Its perfect harmony makes it ideal for classic brandy cocktails or creations! Classic Cocktail recipes are available here.
Gold, San Francisco World Spirits Competition 2022. St-Rémy Signature is the new creation from Master Blender Cécile Roudaut. While respecting French brandy-making traditions, she added a maturation stage in small virgin oak barrels, which marks its distinction. The result is a smooth brandy with elegant notes of vanilla, a hint of toasted French oak and a velvety texture. It can be enjoyed neat or in cocktails.
$43.99 available at BC Liquor Stores
St. Remy began its journey in 1886, forming its distillery in Machecoul, France. Since then. they've been creating unique, authentic brandy. Anticipate aromas and flavours of plum, dried apricot, oak and vanilla, along with baking spice. It's medium-bodied with a rounded palate and a long finish. Serve neat after a meal.
Honest, generous and bon vivant, each and every drop of St-Rémy evokes the French art of living.
THE MOST PRESTIGIOUS FRENCH BRANDY
St-Rémy is the world's favorite and most prestigious French brandy, prized by connoisseurs and critics alike since 1886.
With 130 years of brand history, the recipe continues to be passed down from generation to generation: it is a closely guarded secret known only to our dedicated Master Blenders, well protected in its iconic black bottle.
OUR MASTER BLENDER
Mother of two boys, Cécile Roudaut lives in a small town of 3,000 inhabitants, in a former post office surrounded by vineyards. Born in nearby Saumur – as was Coco Chanel before her – she loves the mild climate, landscapes, white lime-stone, vines and light in Anjou in France's lower Loire Valley.
As a young adult, Cécile's interest in the grapevine was noticed by the local grape-growers and cellar-masters in Angers and Saumur who showed her how wine was made. She later joined a winery and developed her passion for the product by studying oenology.
Inspired and encouraged by this experience, Cécile joined Rémy Cointreau in July 1997, working in the Research & Development department. That was where her close relationship with St-Rémy began, culminating in June 2016 with her appointment as Master Blender, following the retirement of Martine Pain.
Aware that her job involves the transmission of knowledge to a wider audience, Cécile Roudaut has been giving courses at the University of Angers for the past 15 years, in the fields of sensory analysis and food biochemistry.
A Master Blender with an open mind
Cécile Roudaut defines her role as Master Blender as follows: "I work on selecting eaux-de-vies and nurturing them whilst they are aging in oak barrels; I then taste them and create the blends which will become St-Rémy brandy." She focuses on pursuing this ancestral task by respecting the brand's values: "St-Rémy has strong roots – tradition, history, and a real elegance. My role is to ensure that the brand retains its authenticity."
Notes and information courtesy of St-Rémy, notes in italics courtesy of the BC Liquor Stores. Images: MyVanCity. I received complimentary brandies to facilitate this feature.