"In this series I am bringing you an exclusive list of wines for Valentine's"
Once you've passed the early stages of a relationship, the Romance, and when you've gotten to know each other, exploring your love of wine together may add a spark to your Passion for Valentine's Day.
Passion, a feeling of strong and barely controllable emotion.
Stag's Hollow 2021 Renaissance Chardonnay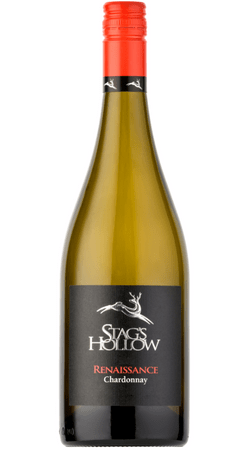 Wine Profile
Tasting Notes
Medium lemon in colour, with an expressive nose of ripe peach, lemon curd, almond paste, a hint of toast, and the faintest whisper of struck match. The layered complexity on the nose keeps you coming back for more, and finding new notes with each sniff. On the palate, it is at once restrained and mineral driven, yet rich and textural, with mouthwatering citrus and creaminess. Balanced and expressive; a Chardonnay that will continue to evolve in bottle.
Production Notes
A small lot of hand-picked and hand-sorted Chardonnay was destemmed and pressed into stainless steel to settle for 24 hours. From there, it was racked into a combonation of French oak (2 x 3rd-fill 500L puncheons & 1 x new 228L barrique) and stainless steel for fermentation with selected yeast strains. All lots underwent 100% malolactic fermentation with periodic lees stirring. It is set to be racked out of barrel after 9 months on lees, and blended in July 2022, with filtration and bottling to follow in August.
Winemaker Notes
Our first Renaissance Chardonnay (or any Chardonnay, for that matter) in 11 years is a serious treat that we're pretty excited about, to say the least! We finally got our hands on a spectacular block of Chardonnay, grown at the Partridge Vineyard on the Naramata Bench, and we were determined to do it justice in the cellar. We used the best barrels we could source, and set our sights on something textural and elegant, with just the right amount of oak, richness and acidity that would make all our in-house Chardonnay lovers proud. I think we nailed it.
Food Pairing Notes
Classic: lobster, roast chicken with tarragon, grilled salmon, a range of seafood (mussels, clams, prawns, squid, etc), green salads, dishes with creamy sauces (particularly with Dijon), risotto, semi-soft aged cheeses, truffle popcorn. Adventurous: Indian chicken curries, sushi bowls, mexican street corn, tacos al pastor.
Other Notes
200 cases and 36 magnums (1.5L)
$35.00 available online and at the winery
Moon Curser Petit Verdot 2020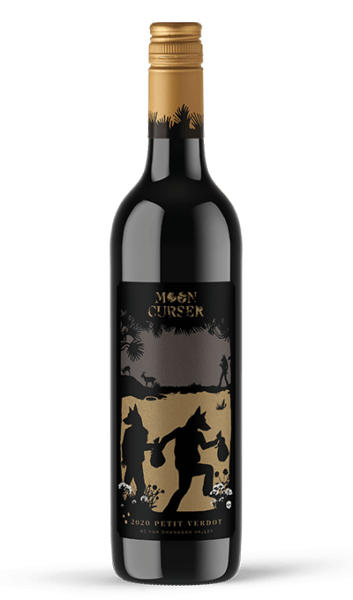 We've selected our Petit Verdot 2020 for Passion because at Moon Curser we are passionate about old-world grape varieties not previously planted in the Okanagan. Petit Verdot is one of the many unique varieties we grow here on the Osoyoos East Bench. 'Tis a rare thing to see this grape on its own, but when it happens, it can be a thing of beauty. An elegant and powerful expression of this intriguing Bordeaux variety.
Tasting Notes
This single vineyard wine is a quintessential varietal Petit Verdot. The 2020 vintage is full-bodied, with a deep purple colouring and flavours and aromas to match. Inviting delicate notes of lilac, lavender, rose and eucalyptus dominate the nose. The palate is ripe with notes complementing the nose; cedar, nutmeg, fig and graphite. The elements of oak aging are artfully woven throughout to provide rich tones of dark chocolate and truffle on the edges of the palate. The palate is rich with tannins and a bright acidity that lengthens out the finish. This is an elegant and tannin driven wine. While fairly approachable now, this wine will definitely reward those who can set the bottle aside for several years. The wine will start to reveal its true potential after three to five years of cellaring (by 2027), with beneficial aging continuing for an additional five years (ten years in total after bottling).
THE GRAPES
100% PETIT VERDOT
Petit Verdot is a red grape variety that is principally used in Bordeaux blends, often contributing colour, structure and its typical floral notes of rose and violet. Because it is such a bold wine, it is commonly added in proportions of less than 10% to a blend. Its origins are hard to trace, but it is believed to date as far back as the 18th century. It is a late-ripening grape variety and has fallen out of favour in Bordeaux as a result. We have had great success with Petit Verdot grown on the Osoyoos East Bench, and believe that the abundant sun and heat our vineyards get create the perfect growing environment for this grape variety. So much so, we feel confident in showcasing its true potential as an Okanagan single varietal (and single vineyard) wine, not simply hidden away in a blend.
$34.99 available online and at the winery
vinAmité Compass

Tasting Notes
"Compass has become a benchmark and the most popular red blend in our portfolio, often selling out first. "
Aromas of raspberry and ripe cherry bring you front and centre to the taste of black currant, blueberry, nutmeg, clove and leather, all rolled into a nice bundle of soft, smooth tannins with a hint of vanilla on the finish. This lovely wine, the second in the Trinity, is reminiscent of a relaxing afternoon in a Bordeaux sidewalk bistro.
39% Merlot, 29% Malbec, 20% Cab Sauv,, 7% Petit Verdot and 5% Cab Franc.
$41.00 available online and at the winery
Hester Creek 2020 Syrah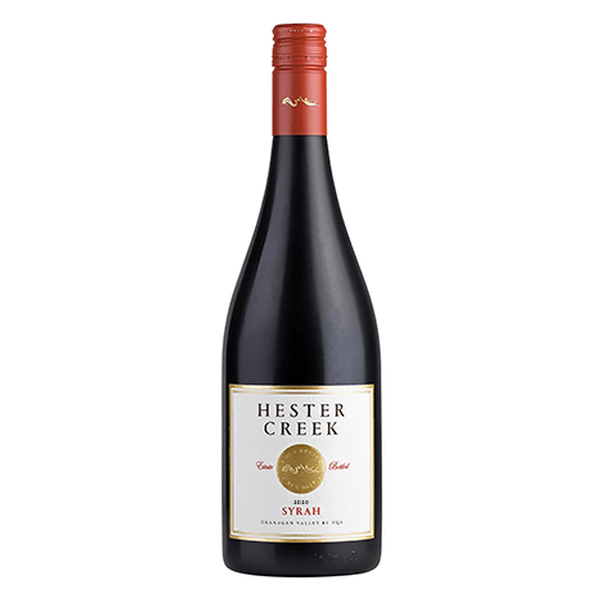 WINE PROFILE
Tasting Notes
This sumptuous and seductive wine displays vivid cherry, blueberry and white pepper aromas with fragrant hints of violet and toasted caramel.Velvety tannins wrap around a generous and fruity palate, which is accentuated by savoury cured salami and roasted fennel flavours. Full-bodied and absolutely delicious, enjoy with cherry braised short ribs, smoked brisket, or smoked beet hummus.
Vineyard Notes
From a winemaking perspective 2020 was an exceptional vintage in the South Okanagan. Early spring started out colder than average but by mid-to-late June, temperatures were at or above average. Following a summer that began a little later than usual, September was very warm resulting in our vineyards seeing a smaller than average crop with smaller grape bunches. The vines benefited from a dry September, with a smaller berry size contributing to concentrated flavours. The warm weather in late September and early October enabled the grapes to reach ideal phenolic ripeness, with our white varietals all handpicked and fermenting in tank by the first week of October. Following a warm start to fall, the weather turned and we saw a rare snowfall and a freezing event in the valley on October 23rd. Fortunately, the majority of our red grapes were harvested by this time. From a temperature perspective, the 2020 vintage was the 5th warmest in growing degree days in the last 2 decades. Overall, the 2020 season delivered exceptional quality grapes of a smaller berry size with abundant ripe fruit and beautifully enhanced flavour profiles. It is a year where the quality will be talked about for years to come, producing wines that are cellar worthy.
Winemaker Notes
A lovely representation of the south Okanagan, this vintage was made primarily with handpicked fruit from our Golden Mile Bench estate, along with a small percent from two local growers in Oliver and Osoyoos. The lots were fermented in our Italian Ganimede fermenters then gently pressed, cross blended and encouraged through malolactic fermentation. Crafted in the Côte-Rôtie style, our winemaker co-fermented the wine with 15% Viognier to highlight the beautifully fresh floral and spice notes. Aged in 60% American oak and 40% French oak barrels (2/3 were neutral barrels) for 14 months contributed a leathery/smoky component to the final blend.
$29.99 available online and at the winery
Clos du Soleil Winemaker's Series 2020 Syrah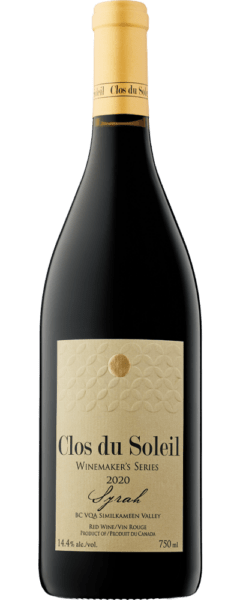 This single-vineyard Syrah* is part of our acclaimed Winemaker's Series.
EYES
A deep purple in the glass.
NOSE
Immediately the perfumed nose of this wine envelops the taster with aromas of freshly crushed raspberries, plums and violets, complemented with subtle notes of baking spice and sagebrush.
MOUTH
On the palate the flavours are rich, complex and layered: wild raspberries and dark forest fruit, accented with black currants and chocolate, and notes of spice. With a full mouthfeel structured on a backdrop of stony tannins, this exclusive and limited-production Syrah is an opportunity to see another side of Clos du Soleil.
BODY
Full
WINEMAKING NOTES
Hand harvested at peak maturity, the grapes for this wine were very gently de-stemmed, lightly crushed, and then fermented in our concrete fermenters. Destemmed Viognier grapes (3%) were co-fermented with the Syrah. Fermentation lasted for approximately 3 weeks, prior to pressing in a basket press. The wine was then aged for 16 months in French oak barrels (5% new). As in all Clos du Soleil wines, the focus was on attention to detail, minimal interventions, and the expression of terroir.
* Vegan
$39.90 available online and at the winery
Blue Grouse 2020 Quill Q Red
Passion this is such a gorgeous robust red blend, it can only but inspire passion!
Blue Grouse Winery
Cabernet Franc 45% | Okanagan – Oliver
Merlot 34% | Okanagan – Oliver
Marechal Foch 16% | Vancouver Island – Cowichan Valley Syrah 5% | Okanagan – Oliver
Vineyard Notes
The Merlot and Cabernet Franc are single vineyard Okanagan fruit from our grape growing partner just north of the town of Oliver. The vines grow in Parkhill soil, which is sandy loam formed from fluvioglacial deposits. The Marechal Foch is from a single vineyard in the Cowichan Valley about 14 kilometers northwest of our own estate (mid-valley). The vines are grown in Fairbridge soil that is made up of silty loam. Both are quality grapes suppliers who have long standing relationships with Blue Grouse.
Winemaker's Notes
Each grape variety was handled and fermented separately. The Merlot, Syrah and Cabernet Franc were allowed to soak for two days and then heated to initiate a natural fermentation. The high brix reading from these grapes forced a second inoculation with cultured yeast halfway through the process to ensure they fermented to dryness. The Marechal Foch was immediately inoculated with yeast and finished fermenting to dryness in 8 days. The wines were pressed separately and racked to a combination of American and French oak barrels. Each of the four wines were aged for 12 months in barrel and then the individual components blended to create the final wine.
Profile & Food Pairing
This is a robust red blend. Expect to find flavours of blueberry pie and cassis on the nose and palate. The wine is juicy and slightly herbaceous, with medium tannins. It will pair perfectly with most things barbequed. We suggest you give bison burgers or beef steak a whirl.
$28.99 available online and at the winery
Tinhorn Creek 2019 Oldfield Reserve Merlot

Reserve Wines
Throughout the growing season, winemakers often find a golden spot – or two – in the vineyard that tempts creativity and allows for experimentation and to push the boundaries. The Reserve wines are our premium tier wines that truly showcase what best defines that vintage.
Lively aromas of fresh baked cherry pie, strawberry jam, red currants and raspberries at the forefront, followed by creamy milk chocolate, a soft minerality and fresh cut cedar build anticipation for your first sip. The palate does not disappoint. Vibrant acidity from juicy red fruits, with hints of raw cacao held together with fine well integrated tannins. Just in time for barbecue season.
Silver Medal – 2022 WineAlign National Wine Awards of Canada
$29.99 at BC Liquor Stores
$34.99 available online and at the winery
Mayhem Wines 2020 Cabernet Merlot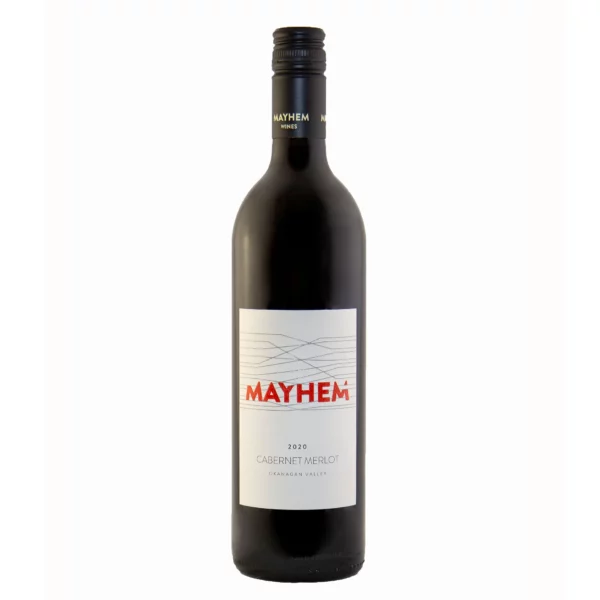 Big, bold red
89% Merlot and 11% Cabernet Franc
On the nose, there are layers of blueberries, black plums and baking spices with soft, velvety tannins and a touch of graphite and cocoa on the finish. This Cab Merlot is destined for anything on the grill, so invite some friends over and fire up the barbie!
Production Notes
After a nice cool winter, followed a bit of a challenging spring/early summer, where fruit set was not even throughout, 2020 pulled through to be one of our winemakers favourite vintages. Mid-season was not overly hot, allowing the fruit to retain its natural acidity without the sugar content getting too far ahead. Small, clean, concentrated berries resulted. The end of the season, the nights started to become cool allowing good fruit and phenolic development alongside the retention of natural acid.
Each pick was hand harvested and kept separate from the 3 single vineyard sites in South Okanagan for this blend. They were whole berry destemmed into stainless steel fermenters, each parcel was soaked for 5 days, prior to a 12–15-day fermentation. Post-fermentation, the wines were transferred to 100% French oak barrels and aged for 5 months, at which point the final blend was put together. The wine was transferred back to barrel for an additional 6 months. This blend is 89% Merlot and 11% Cabernet Franc. Bottling occurred in late August 2021. This wine is unfined and unfiltered.
This big, bold red recently took home a Gold Medal and scored 92 points at the National Wine Awards of Canada.
$24.44 available online and at the winery.
Phantom Creek 2019 Estate Cabernet Sauvignon

Cabernet Sauvignon excels in the sunbathed South Okanagan. Marked by desert heat, long summer days provide the rare conditions to make exceptional Cabernet Sauvignon. For this wine, we selected specific blocks of fruit that displayed great varietal expression from our Estate vineyards across the South Okanagan. Intriguing notes of black currants, lilac and tobacco mingle together with a subtle hint of raspberries and cocoa powder. On the palate, this wine showcases fresh dark fruit flavours, classic terroir driven sage notes and cedar box that are lifted by a hint of black pepper and herbs. Soft tannins and a seamless oak integration provide a superb mouthfeel and plush finish.
WINEMAKER NOTES
A cooler April in 2019 was quickly followed by warm conditions in May and June resulting in perfectly timed bud break in the vineyards. Summer brought more warmth to the valley but temperatures were average and this allowed the vines to fully develop. Harvest started with warm and dry conditions and the early ripening varieties were harvested on schedule. However, by the end of September, a slight change in weather conditions brought cooler temperatures and small amounts of rainfall to the valley. October was warm and had minimal rainfall allowing for more flavour development and acidity retention in the grapes. Harvest 2019 was challenging and required extremely precise vineyard management, however the result of all that hard work is well balanced wines with vibrant fruit characters and freshness.
VINEYARD NOTES
This wine comes from two historic vineyards located on the Black Sage Bench and Golden Mile Bench. Our vineyards on the Black Sage Bench are steeply sloped, and Southwestern-facing, receiving complete exposure to the sun, yet enjoying a more gradual growing season due to its higher elevation, producing richly concentrated and aromatic wines. Our Kobau vineyard on the Golden Mile produces exceptional wines that balance ripeness with fresh acidity. The unique minerality in the wines grown from this vineyard are due to its complex, gravelly soils paired with early morning sunshine and afternoon shade cast by Mount Kobau.
$45.00 available online and at the winery
Available at these retail outlets:                      
Marquis Wine Cellar Vancouver
Nesters Liquor Store Whistler
Mountainside Liquor Store North Vancouver
Please note that there will be differing deadlines for delivery depending on the winery. Please order promptly if you will be ordering online.
Wine notes and bottles shots courtesy of the wineries.