"In this series I am bringing you an exclusive list of wines for Valentine's"
What can you say about love that hasn't already been said many times over? Love is constant and nourishing, very much like wine. This Valentines share a glass of wine with someone you love.
Love, an intense feeling of deep affection.
Stag's Hollow Cachet No 5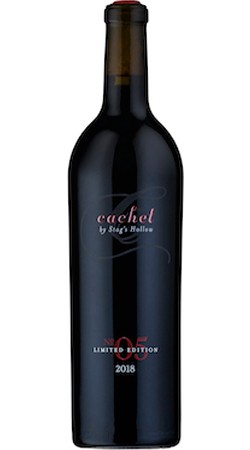 Wine Profile
Tasting Notes
Aromas of ripe black cherry, blackberry, plum, cedar, toast, and pepper mix with lingering lifted violet notes. The palate shows more of the savoury side of this wine, with some leather, olive tapenade, garrigue, and baking spice notes complementing the fruit that carries through from the nose. The prominant but fine-grained tannins and ripe fruit character are balanced by the lively acidity. The fruit and spice linger on the palate.
Production Notes
Hand-picked and hand-sorted lots of Estate Merlot (together with a small amount of Cabernet Franc & Cabernet Sauvignon from the same block) and Syrah were destemmed, lightly crushed and fermented separately in small 1 ton open-topped fermenters, using selected yeast strains. The ferments were punched down by hand 2-3 times daily, and were pressed into a 500L French Oak puncheon (Syrah) and 2 French Oak barriques (Merlot field blend). After malolactic fermentation, the wine was aged for 18 months on fine lees. These 3 barrels were then blended, stabilized and bottled without fining or filtration in February 2021.
Winemaker Notes
It seems serendipitous that an assemblage worthy of our Cachet label has come together as we celebrate our 25th anniversary year. Cachet wines are not produced every year, and only when exceptional or interesting barrels present themselves and give us inspiration to create something unique, not to be replicated. Our fifth edition captures the juxtaposition of elegance and power that has become synonymous with the very best Okanagan wines, and showcases the two varieties that this reputation has been built upon: Syrah and Merlot.
Food Pairing Notes
Classic: grilled meat (steak, sausage, etc.), charcuterie, roast beef, game pies, burgers, lamb, stews, cured meats, steak, lamb, brisket, heavily seasoned dishes with black pepper, aged cheeses, sausage, grilled meat Adventurous: Japanese-style beef dishes, Chinese crispy duck, grilled eggplant, Asian dishes with plum sauce, pulled pork, stir-fried pork, venison.
Hand numbered bottles.
$85.00 available online and at the winery
Moon Curser Roussanne Marsanne 2021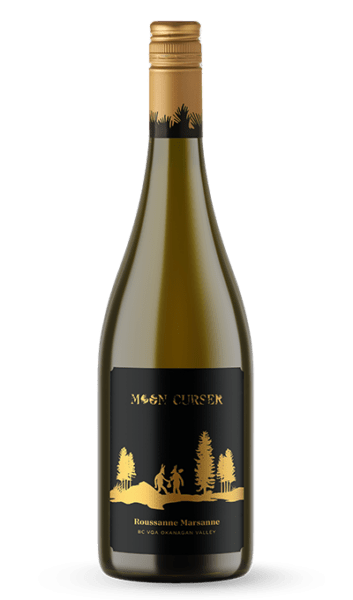 A classic Rhône Valley combination of Roussanne and Marsanne grown and made on the Osoyoos East Bench. Floral and citrus fruit notes with a kiss of oak; elegant and graceful.
Profile
Tasting Notes
Our Roussanne Marsanne blend is a dry, medium to full-bodied white wine with a beautiful pale gold colour. The nose jumps out of the glass with notes of toasty brioche, white flowers, vanilla bean, chamomile and clove. The palate mimics the nose with flavours of crème brulée, lime, blood orange and limestone minerality. A portion of this wine spent four months in oak with lees stirring, and the resulting subtle richness adds an intriguing dimension of toast and baked apples. This is an elegant and graceful wine, with a smooth acid profile that allows its brightness and freshness to serve as a welcomed counterweight to the rich brioche notes. Aging will allow for the development of the fantastic secondary flavour characteristics typical of the Marsanne grape to shine through – look for marzipan, honey and caramel if you are able to set the wine down for three to four years. This wine drinks well now, but will benefit those willing to wait till 2026 or so before opening.
$26.99 available online and at the winery
vin Amité 2020 Petit Claret
"This first red in our popular Trinity Collection of red blends delivers tasty satisfaction blended to perfection."
Essence of cherries, plums and strawberry jam combined with hints of spice, red liquorice and cocoa, surrounded by supple tannins and subtle minerality. This is the anticipated meeting of Old World tradition with the excitement of New World discoveries. Let the magic begin with the first of the Trinity Collection!
51% Merlot and 49% Cabernet Franc
$36.00 available online and at the winery
Hester Creek Character Red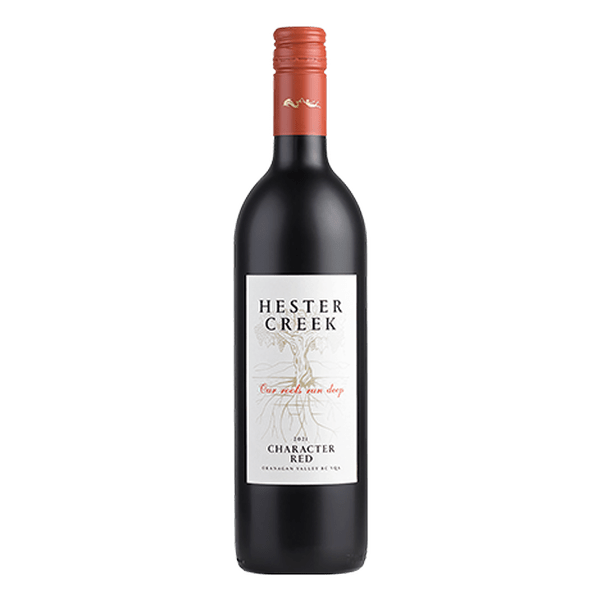 WINE PROFILE
Tasting Notes
A hearty wine with a purity of fruit, featuring vivid blueberries and blackberries, mingling with white pepper, clove and sage aromas. The palate is fruit forward with juicy acidity, bursting with ripe cherry flavours, supported by smoked meat and vanilla. Enjoy this delightfully savoury blend with your favourite summer burgers or warm winter braised dishes.
Vineyard Notes
The 2021 growing season in the South Okanagan was one for the history books as the driest on record, due in large part to the "Heat Dome" and its record breaking high temperatures. It was also one of the warmest years, seeing the most growing degree days GDD (1758) since 2015. Following flowering, we experienced an extremely dry and hot June during fruit set. The heat led to a lighter fruit set and smaller berry size than usual. While there was less fruit per vine and the yield was light in volume, on the upside the smaller berries in the clusters resulted in more concentrated flavours and colours on the red varietals. Similarly, for the white varietals there are intense flavours and vibrant aromatics. With the warm dry season, the grapes reached phenolic ripeness earlier than usual with harvest commencing and finishing early. We began picking the whites on August 27th for our Ti Amo (Prosecco-style sparkling wine). We started picking our first reds in mid-September with our block 10 Merlot on September 14th at our historic Golden Mile Bench estate vineyard. We finished our last estate reds pick with Cabernet Sauvignon from block 8 of our Golden Mile Bench vineyard on October 28, 2021. Overall, the 2021 harvest produced wines of outstanding quality and varietal character. We expect to see some intense, fruit driven wines, with excellent depth of flavour.
Winemaker Notes
Deep and rich with character, this vintage of Character Red is made with handpicked fruit primarily from our Oliver estate, complimented with grapes sourced from local growers. This vintage is a blend of Merlot, Syrah, Petit Verdot, and Malbec, including a unique clone of old vine Merlot originally from Italy. The grapes were carefully sorted, destemmed and gently fermented in separate lots in our Ganimede fermenters. After a light pressing and malolactic fermentation, the lots were blended and aged for 8 months in French and American oak. The 2021 season was a particularly intense year, producing ripe, small berries for a fabulous drinking wine with heady aromatics and a depth of colour.
$22.99 available online and at the winery
Blasted Church Merlot 2018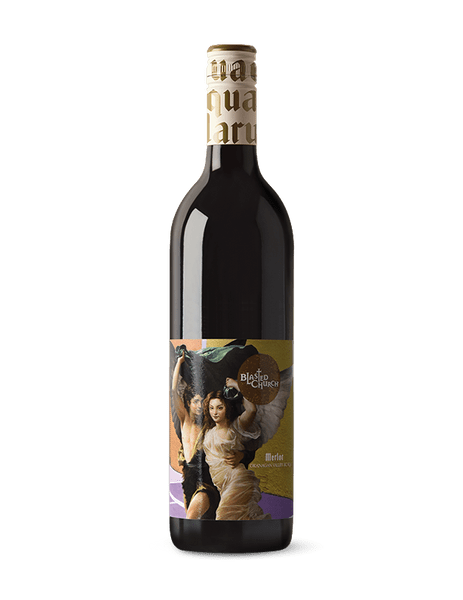 A heavenly wine reigns upon us.
Winemaking
Grapes for our 2018 Merlot were sourced exclusively from our estate vineyard with the Malbec coming from the Mariposa vineyard in the Similkameen Valley. The Merlot contributes a beautiful, balanced ripeness, freshness, and a rich mouthfeel, while the Malbec brings a pure fruit component as well as an incredibly refined acid and tannin structure. Each block was hand harvested and brought to the winery where they were destemmed into tank without crushing. After four to five-day cold soaks, during which time the juice was pumped over once daily, the fermentations kicked off and pump overs were increased to two or three times daily, depending on the needs of the individual fermentations.
Wines were left on skins from 18 to 21 days. Once maceration was complete, the free run wines were drained from each tank directly to barrel for 20 months before being racked to tank in preparation for bottling.
Tasting Notes
The nose shows ripe plum, blueberry, blackberry, candied red berry, and pencil shavings. The palate echoes the nose with ripe plum, chocolate, and dark berries leading the way. The elegant finish of plum, dark berries, and baking spices is supported by a well-integrated and refreshing acid backbone.
Pairing
Grilled steaks, rich tomato-based pasta or burgers off the grill.
$34.00 available online and at the winery
Haywire Gamay Rosé

Mouthwatering acidity with lifted red fruits balanced by savoury herbal notes.
Organically farmed gamay grapes from higher altitude Secrest Mountain Vineyard was whole bunch pressed and native fermented to dryness in a mix of concrete (80%) and stainless (20%).
A delectable salmon hue on the eyes and a bouqet of tropical delights on the nose. Creamsicle with a bowl of fresh strawberries jumps out instantly with delicious, savoury notes intertwining.
The palate is lush with lavish notes of sumptuous sweet fruit. A glossiness coats the mouth leading to a very lengthening and mouthwatering finish. Enjoy with good food and good times! – Matt Dumayne, 2022
Secrest Mountain Vineyard is a 50-acre site, home to a 38 acre (15 ha) vineyard situated on a flat south-west facing bench in a high mountain setting 487 meters (1,600 feet) above sea level. This cool site has flat alluvial soils studded with coarse gravel and sandy loam with limestone layers. The vineyard was planted in 2000 with Chardonnay, Gewurztraminer, Pinot Blanc, Pinot Gris, Gamay Noir and Pinot Noir. Since 2010, it has been farmed under the direction of Okanagan Crush Pad and a conversion to organic farming practices was started in 2014. In 2018 when Brad and Dave Wise decided to retire, the winery purchased the property from the family and will carry on with the work that the Wise family has done for the past 18 years.
Delicate, bright fruit with an Okanagan herbaceousness coated in orange blossoms lead to a dry yet lush & mouth-watering ros. Pairs well with fresh air, BBQed salmon or halibut. Save On Foods
$24.99 at Save On Foods
Tinhorn Creek 2019 Pinot Noir

Pinot Noir, the heart break grape. One that everyone loves and loves to hate. Tough grape in the South to grow at its best, but spurs the love winemakers have for it and strive to make a good pinot.
This wine has lots of bright red fruit with savoury notes of dried herbs and medium tannins.
Examples of great pairings: Mixed Bean Salad, Tuna Salad, Nicoise, Antipasto, Grilled Vegetables, Olives, Grilled Salmon, Roasted Quail, Roasted Squab, Roasted Pheasant, Sausages, Mixed Grill
$26.99 at select BC Liquor Stores
$26.99 available online and at the winery
Meyer Family Vineyards 2021 McLean Creek Road Chardonnay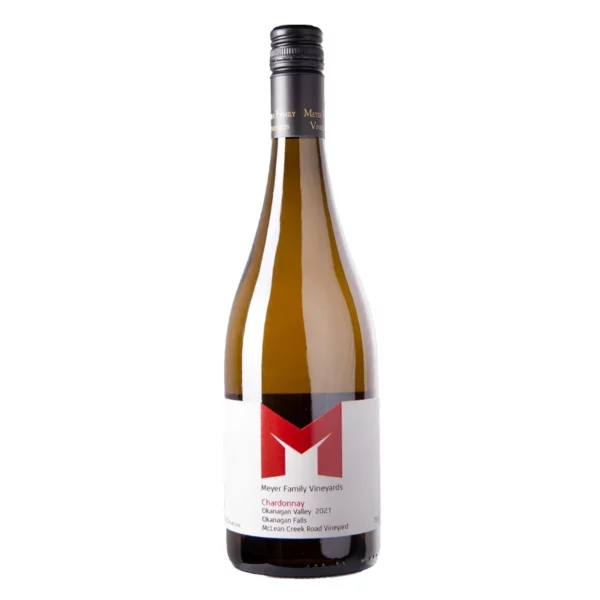 If you've had the pleasure of visiting our tasting room, this is the home site of our McLean Creek Road Chardonnay. It aged for 11 months in French oak barrels (22% new) before being bottled, we produced only 500 cases.
Winemaker Notes
At the winery the fruit was fed directly into the press with an ensuing long gentle pressing employed. Only the finest, purest juice from the early stages of the pressing was used for this wine with the more astringent so called "hard press" kept separate. A long cool fermentation began in stainless steel vessels, employing indigenous and cultured yeast where it remained for most of the ferment. The must was then transferred to 100% French oak (22% new) to complete fermentation. The wine was left "sur lie" for 11 months without battonage. A natural malolactic fermentation occurred in late spring. In keeping with our philosophy to maintain as much as possible a hands-off approach in the cellar to allow the true expression of the terroir this wine is unfined and coarsely filtered.
Vineyard Notes
Our family owned "McLean Creek Road Vineyard" was originally planted in 1994. The vineyard is within the Okanagan Falls sub-geographical indication (sub-Gi) which was designated in 2018 and recognized as being geologically unique in the production of wine grapes. It has a predominantly steep southerly aspect with the soil comprised of alluvial and glacial deposits making up a mix of gravel and sandy loams. The Chardonnay is planted in two separate blocks, one on the far east side of the south facing slope and the other on the west end of the slope. The variation of east and west leads to differences in flavour development and in turn more complexity in the finished wine. Although we are not certified organic, we practice organic/sustainable farming principles.
$32.26 available online and at the winery
Phantom Creek 2020 Viognier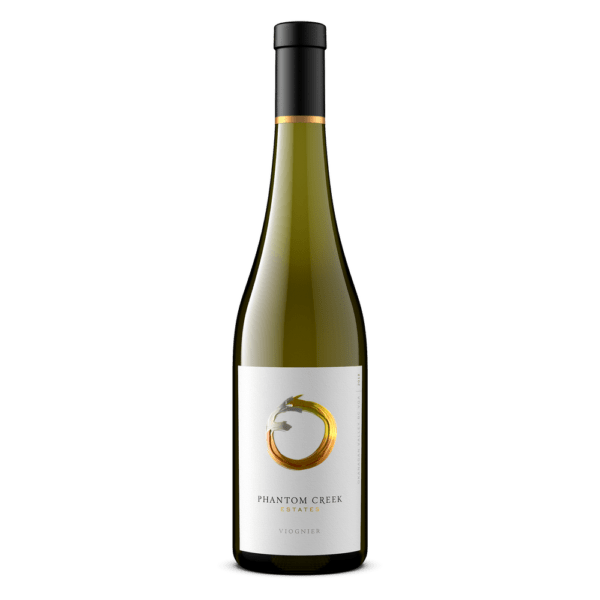 From a small 2.9 acre block at Kobau Vineyard on the Golden Mile bench, this elegant, complex Viognier benefits from retained freshness due to the vineyard's cooler afternoons. The nose exhibits delightful floral notes of honeysuckle and neroli followed by citrus zest, tropical fruit, and pineapple. The palate has a smooth and supple mouth feel with delicious melon, mandarin, peach, and sweet spice mingling together for a noticeably long finish.
WINEMAKER NOTES
2020 growing season was slow to start, with slightly higher than average rainfall and mild temperatures throughout the spring. Hot and dry conditions, typical of the South Okanagan climate prevailed from late Spring until harvest and were ideal for berry and tannin development. Fortunately, most of the harvest was completed before a sudden cold snap occurred towards mid October, ending harvest quite abruptly for the region. Although 2020 had a less than average harvest volume due to small berry size this resulted in more concentrated fruit flavours.
VINEYARD NOTES
The southerly aspect of the Kobau vineyard on the Golden Mile Bench allow the vines to bask in the early morning sun. On gravelly soils, wines from this vineyard are known for being mineral-driven, well structured, with a balanced ripeness and fresh acidity.
$40.00 available online and at the winery
Available at these retail outlets:
Legacy Liquor Store
Kitsilano Wine Cellar
Featured on the wine lists of:
Provence Marinaside
Tutto
Hydra Estiatario
Lupo Vancouver
Water St. Cafe
Please note that there will be differing deadlines for delivery depending on the winery. Please order promptly if you will be ordering online.
Wine notes and bottles shots courtesy of the wineries.