Wildebeest's Game Lasagne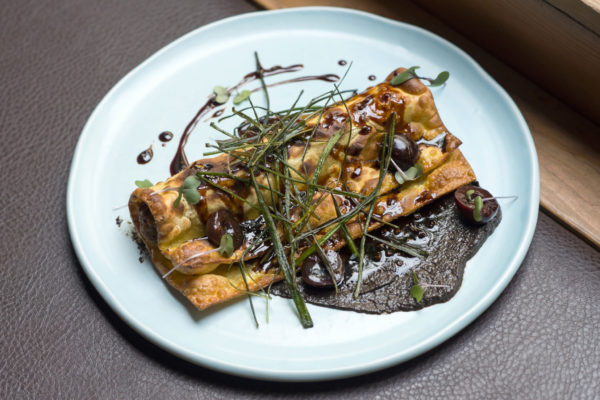 Featuring a meaty mélange of venison and lamb, Wildebeest's game lasagna offers a hearty new take on the classic Italian dish.    
Serves 4
Braise
Ingredients:
500g venison stewing meat
500g boneless lamb leg
1 medium onion, diced
1 medium carrot, diced
2 celery stalks, diced
3 cloves garlic, minced
2 Tbsp. molasses
3 sprigs tarragon
100mL or red wine or port
1L chicken or beef stock
2 Tbsp. canola oil
Method:
In a large sauce pan or Dutch oven, sear the venison and the lamb with canola oil.
Once evenly browned, remove it from the pot and add the vegetables.
Caramelize the vegetables well and then deglaze the pot with the wine.
Add the meat back into the pot with the molasses and the tarragon.
Add the stock and cover.
Place in a 350 F oven for about three hours, or until the meat is very tender
Allow to cool, preferably overnight in the braising liquid.
Remove the meat and put aside.
Strain and reduce the braising liquid until a syrupy consistency.
Lasagna Filling
Ingredients:
Reserved braised meat
Half of the reduced braising liquid
3 Tbsp. capers, chopped
2 Tbsp. Dijon mustard
3 sprigs tarragon, leaves removed and chopped
2 shallots, chopped fine
Salt and pepper to taste
Method:
In a stand mixer, combine all the ingredients on low speed with a paddle attachment.
Adjust the seasoning and reserve.
Pasta dough
Ingredients:
6 egg yolks
2 whole eggs
350g 00 Italian pasta flour
1 tsp. salt
1 tsp. olive oil
Method:
Combine all ingredients well and kneed for about 10 minutes.
Let the dough rest for about 30 minutes.
Assembly
Roll your pasta sheets out and cut them into strips approximately eight-inches long by four-inches wide.
In a pot of simmering salted water, cook the pasta for about four minutes.
Once the pasta is cooked, lay it down flat on a tray to cool slightly.
Take your game filling and place about 150g of filling on one side of the pasta and roll it into a log shape.
Once you have rolled out all of your pasta portions, turn on the broiler.
Place the pasta rolls on a tray in the oven for about five to six minutes or until the filling is hot and the pasta is crisp and golden brown.
To plate:
Heat up the remainder of your sauce
Place the pasta on one side of the plate
Pour the sauce in the middle of the plate and garnish with crispy leeks and the micro greens.
Enjoy!
Alessandro Vianello
Development Chef, Gooseneck Hospitality
Twitter: @wildebeestYVR
Instagram: @wildebeestYVR  @chefavianello
Facebook: /wildebeestyvr
Web: http://wildebeest.ca