Or in this case getting there, and back, was worth the trip!
This past week I attended Taste Washington! for the first time. One of our experienced wine writers, Karl "mywinepal" mentioned this wine tasting event and I was intrigued. But more about my time at Taste Washington! in a future article.
This was a quick trip to Seattle which eventually saw us doing a turn around of about 32 hours home to home.
For some reason I seemed to think I needed about twice as much time to travel to Seattle as we actually needed. Consequently we took off at 7 am on Sunday morning heading south. Zero wait time at the border and it still isn't 8:00 am.
As we're driving down I-5 I spot the exit for Chuckanut Drive and exclaim "let's stop for breakfast at Chuckanut Manor" but of course by this time we've passed the exit. No matter we have lots of time on our hands so we continue on and take the exit at the opposite end of Chuckanut Drive.
There is the cutest little town you pass through going north back towards Chuckanut Drive called Edison. Locals tell me once a place with only two bars where everyone went to drink. No more, now dotted with adorable second hand shops, galleries, and purportedly a fantastic bakery with a baker trained in France. Just around the corner in a rustic old barn there is a cheese producer and you can stop in for a sampling if the little sandwich sign is out. A quaint looking seafood shack that is definitely on my list for next time. Just be sure to go during the middle of the day and not early am like we did.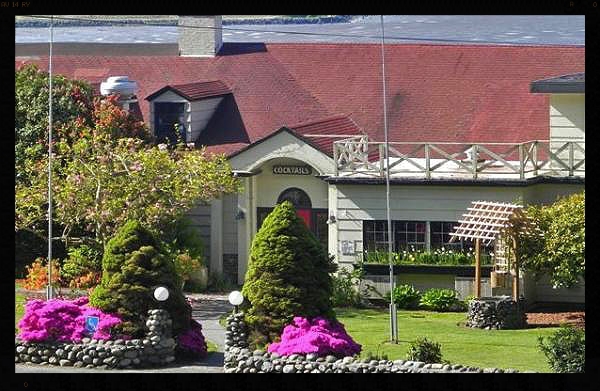 So carrying on to Chuckanut Manor, an institution in the area, and old inn with a restaurant open Tuesday to Sunday with a specialty Prime Rib & Seafood smorgasbord on Friday nights. Other than the fact it is no longer it's formerly sparkling white it remains much the same, at least on the outside with its lovely grounds and set right on the beach. But,  guess what, not open until 10:30 am on Sunday.
Back from whence we came, through Edison again, and with time on our hands head off to La Conner. Been years since I have been and I was delighted to see it has maintained its quaintness while growing just a little.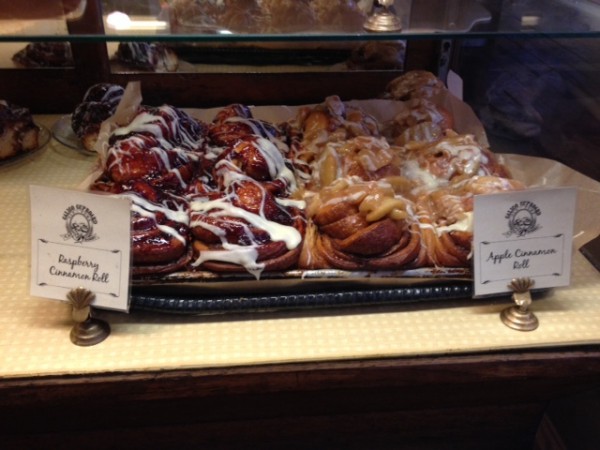 Stopped in for breakfast at the Calico Cupboard Cafe and Bakery. Quite a popular place and one look at the bakery display you'll see why. Good down home fare in the dining room and despite the early hour was fairly busy. Great hearty breakfast and a dash across the street in the pouring rain and we continue our journey.
Arriving in Seattle at the Fairmont Olympic in time to freshen up and change for the Taste Washington! wine tasting at CenturyLink Field at 1:00 pm.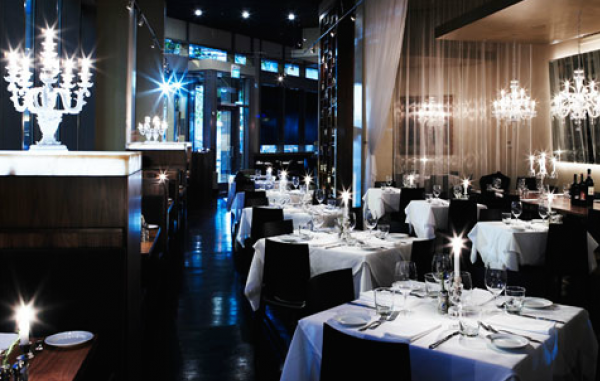 I have a couple of favourite restaurants in Seattle and we reserved for Barolo partly because it is an easy walk from the downtown hotels. We have been there before for lunch and once for happy hour. A lovely little spot, family run, that serves good basic Italian dishes. Slightly more old school and traditional than we're used to here in Vancouver at places like La Buca, but good. We weren't overly hungry so we shared family style having the veal carpachio to start and sharing the Alaska King Crab fettucini in a tomato sauce for our main, accompanied by a delicious Nebbiolo. Not unusual for me I tucked in to dinner without taking a picture so I will add some from their website to give you an idea.
As an alternative I would suggest  Spinasse located in Capitol Hill which, I think, compares in quality and service to La Quercia in Vancouver. Top notch but a little difficult to get to from downtown. Spinasse also has a wine bar next door called Artusi and recently added a Spanish inspired restaurant located on Union Street (open Monday to Saturday).
Early starts seemed to be the order of the day and we headed out with lots of time to leisurely make our way home on Monday morning. Had to make a stop at the Outlet Mall in Tulalip of course. Then continuing on to retrace our steps to Chuckanut Drive.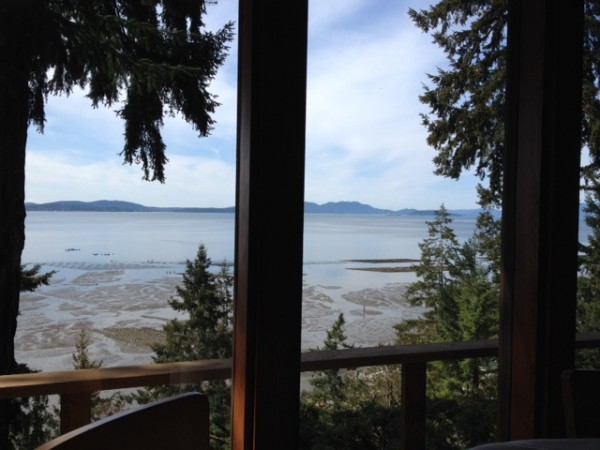 Before we left our hotel in Seattle we made a reservation for lunch at the iconic Oyster Bar. Once upon a time a wooden shack that sold oysters from a takeout window it was transformed into a multi-level restaurant about forty years ago and remains a well known spot for locals and visitors. Seating 60 the interior is tiered to make the most of the truly spectacular views.
I chose the special of that day, Lobster Bisque which although good had not a nibble of actual lobster and followed that with the beer battered fish and chips. I would have preferred regular fries as opposed to sweet potato fries as I think they would be a better match with the fresh rock fish. The fish changes daily based on what is fresh. Also available was fresh Alaskan halibut, the first of the season. My companion started with the baked oysters. I followed that with the breaded oysters as his main. The two dishes were almost identical and it was too bad our server didn't point that out but nevertheless they were pronounced delicious. We accompanied our dishes with an incredible Sancerre. We declined dessert reluctantly as they all looked wonderful. The fare is definitely what I would term "old school" but fresh daily. The Oyster Bar is noted for it's outstanding wine list. Wines chosen personally by owner Guy Colbert. Since 1990 their Wine List has been voted as one of the outstanding Wine Lists of the World by Wine Spectator Magazine, for 23 straight years the Oyster Bar has received their Best of Award of Excellence. Quite the accomplishment and worth the trip just to read the wine list, all 27 pages of it!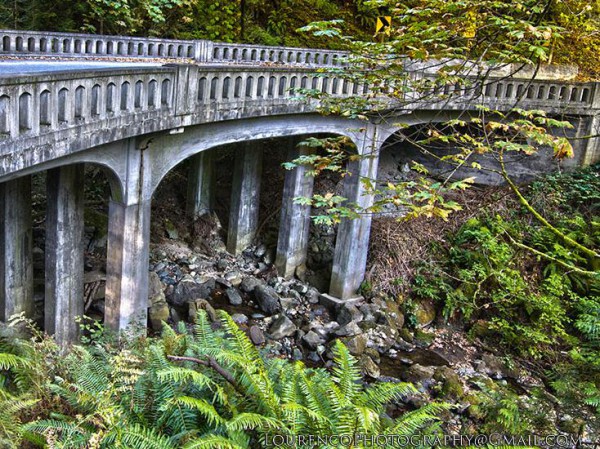 Moving on we made a quick stop down the Drive at the Oyster Creek Inn, strategically located with a view of the hairpin curve of the highway. Open now for about four years and featuring a menu with a continental influence. Although we didn't have the chance to dine here I am putting Oyster Creek Inn on the top of my list for next time. I'm thinking Prawn & Gin Bisque, or Oyster stew, or maybe Dungeness Crab stuffed Ravioli or even Szechaun pepper dusted seared Sea Scallops from a recent dinner feature sheet or perhaps for lunch a Sea Scallop Risotto or hand rolled Potato Gnocchi. So many choices I can't wait and less than an hour from the border too.