Crisp, Rich Chardonnay Wines are on Trend for Summer
Vancouver's leading sommeliers are keen to share that the wines from Chablis are a rising trend for wine lovers; perfect for summer, and the local foods we love.  
This promotion of Chablis wines has been percolating among the sommelier set for a long time, but was brought the forefront earlier this year.
During the wine festival in Vancouver, a tasting competition showcased the versatility of the wines of Chablis, and demonstrated how the wines are perfectly suited to local West Coast cuisine.
This event was in an innovative format never done in Vancouver before: a friendly competition between three up-and-coming sommeliers: Brooke Delves (Wildebeest), Jason Yamasaki (Chambar) and Roger Maniwa (Hawksworth). Each was tasked with creating the best food and wine pairing to Chablis wines, based on a single menu prepared by chef Jefferson Alvarez of Secret Location.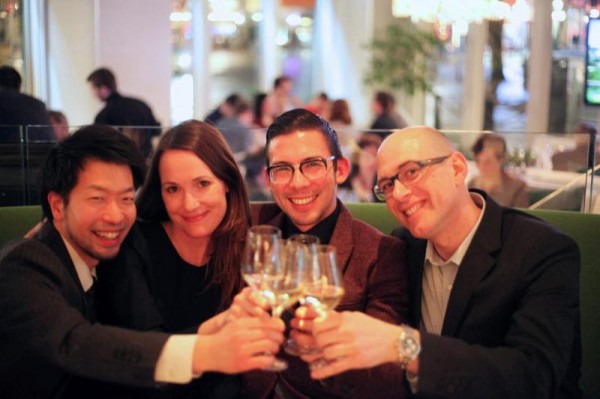 Attendees to this unique event, an a-list room of Vancouver's wine trade, media and thought leaders, tasted 10 different Chablis wines paired with signature elements of West Coast cuisine. Menu items included fresh Vancouver Island oysters, local produce, just-caught scallops, foraged wild mushrooms and organic free-range chicken. Everything was served blind, and 
guests electronically voted on the mystery pairings they liked best. After voting was completed, the wines were revealed, 
votes were tallied and one sommelier, Maniwa, was named the winner. In the weeks and months that have followed, the trade has been abuzz about Chablis.
On the heels of this event, conversation on Chablis wines has been on the rise, with increasing critical review, new Chablis discoveries to be found on wine lists in Vancouver's smartest rooms, and in the past year, the Chablis wine category has seen sales increase. Here is what two Vancouver sommeliers have to say:
"While being a single region within Burgundy, Chablis is diverse, ranging from racy, crisp, and mineral to round, ripe, and complex while all still showing trademark uniqueness. Versatile with an array of flavours. Chablis is about purity and a vigneron's expression of terroir. Nicely paired with seasonal seafood such as Spot Prawns, Halibut, Striped bass, all of which, if kept simple, are fantastic to pair as Chablis' fresh citrus, green apple tones." – Roger Maniwa, Hawksworth
"I'll reach for Chablis the year round. The cuisine and spirit of Spring provides a great opportunity to highlight the wine; this is a time when scenes of green-growth, freshness and vibrancy define our landscape. When we consider the bounty available to us such as halibut, spot prawns, scallions, green peas, and sorrel, Chablis is what we should be reaching for to ignite these flavours in celebration of the season." – Jason Yamasaki, Chambar
Visit chablis-wines.com for the latest on this world-class wine region.  Follow