Recently I attended a special evening of wine tasting at Hellam Vineyard, a popular wine store and wine bar in La Conner, Washington.
It was a very special wine tasting with Italian winemaker Barbara Tamburini arriving fresh on the heels of ten days at the Kapalua Wine Festival which was preceded by three days of seminars in Hong Kong with a trip back to Italy in between.
Tamburini is a dynamo with absolutely boundless energy. Winemaker to sixteen wineries in mainly the Tuscan regions of Italy she has a comprehensive knowledge and an extensive educational background. Tamburini's specialty is biodynamic winemaking and she is not afraid to experiment.
Our host Hellam Vineyard provided the following tasting notes.
2012 Tenuta Roccaccia Bianco di Pitigliano Superiore 'Oroluna'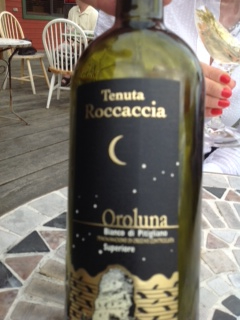 Crafted with Chardonnay and Trebbiano; the nose is a delightful flowery and fruity fragrance. Bright, pale straw colour. Immediately accessible on the palate, juicy, fresh, lively with subtle nuances and fresh acid, which is well integrated. Echoing, slightly mineral finish…an elegant summer wine. $16.99 by the glass $6.
2012 Poggio Stelato (frizzante)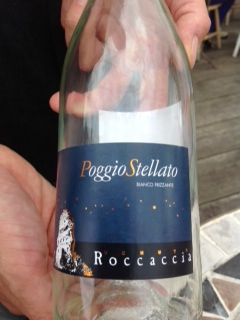 A delicious, fun sparkling sipper for all occasions! Wonderful summertime selection. $17.99 by the glass $6.
2012 I Balzini Pink Label Rosato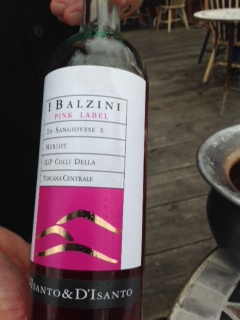 Sangiovese and Merlot; intense rose wine. Floral and fruity nose. Characterized by notes of lily of the valley and red fruits. Cherry and strawberry on the palate…fresh and lively on the palate. Very good persistence. $22.99 by the glass $7.
2010 La Corsa 'Aghiloro'
1/3 Petit Verdot 1/3Sangiovese 1/3 Teroldego; ruby red flecked with crimson. Fresh raspberries, black and sour cherries accompanied by sweet spices, herbaceous and balsamic notes. Fresh and savoury with well pitched tannins. A lively finish with a delicate softness. Good with Ossobucco cooked in red wine, roasted veal. $20.99 by the glass $7.
2012 I Balzini Red Label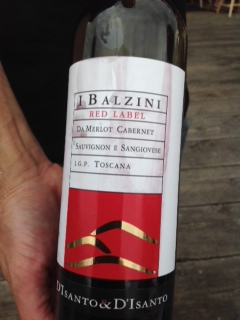 Merlot, Caberne Savignon and Sangiovese; the colour is ruby red with a slight purple hue. On the nose the bouquet is composed of aromas of berries and flowers, you feel even a hint of cinnamon. On the palate it has a good structure. This wine is round and balanced. $26.99 by the glass $8.
2009 I Balzini White Label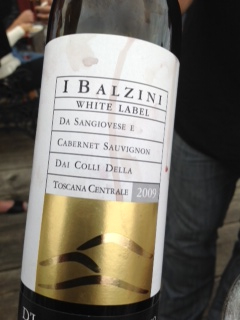 50% Sangiovese and 50% Cabernet Sauvignon; intense deep ruby red coloured wine with elegant complex bouquet characterized by ripe red berries and spicy notes. Well balanced and soft in the mouth with an extremely long finish. Wine with a strong sense of terroir that brings out the elegance and complexity of the two varietals. $39.99 by the glass $11.
2008 Poggiarelle Carmignano Riserva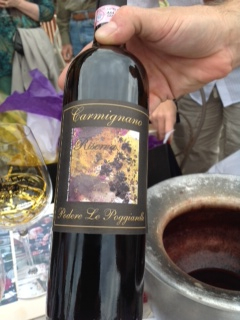 Made with the first selection of grapes, this is a traditional, classic styled Carmignano blend of Sangiovese, Cabernet Sauvignon, Canaiolo and Merlot. Deep ruby red in colour with a full, rich body, this Carmignano's bouquet is well structured with great intensity and persistence. The aging in French oak barriques brings a perfect marriage of red ripe fruit, flavours, wild berries, vanilla and spice. There is a nice presence of tannins that linger on the long, pleasant finish. Try pairing with roasted or grilled meats and savoury pasta dishes. $39.99 by the glass $11.
2008 Gualdo del Re Sangiovese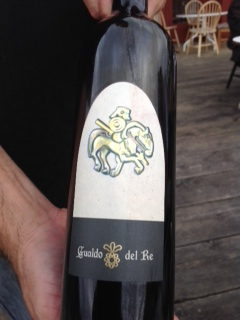 Great nose of dark fruits and well integrated oak, cherry, figs, liquorice. A very good example of warm climate, Maremman Sangiovese and a favourite of Hellam Vineyards. $36.99 by the glass $10.
(good choice Hellam's this was my favourite too)
Read my previous post on Dr. Barbara Tamburini here "A Day Spent with Italian Winemaker Barbara Tamburini"
(please note prices are in U.S. and all the wines are available in Hellam's wine store and wine bar)
[wdi_feed id="2″]