On Saturday, November 12th I had the opportunity to attend a private function hosted by Etiquette expert Cynthia Pace of Politesse Par Cynthia Company Services.
I really didn't know what to expect but I was intrigued at the idea of polishing my social etiquette skills to match modern day values.
As a young woman I attended a Personal Development course here in Vancouver. The things I learned there have stayed with me my entire life and I am grateful for the knowledge. Yes, I still match my shoes and handbags, write thank you notes and always take a hostess gift to a friend's home. It's true that so many things have changed and relaxed over the years but good manners never go out of style.
One of the main things that I learned, and that Cynthia instills, is confidence. Confidence is gained by knowing and being socially aware, conscious of your surroundings but not intimidated.
I was put to the test immediately. Here I was walking into a room full of strangers, not having met Cynthia before. I was greeted by a poised, confident woman who immediately put me at ease. I was introduced to the other guests and had a little time to chat with each one before we got down to the business of social etiquette.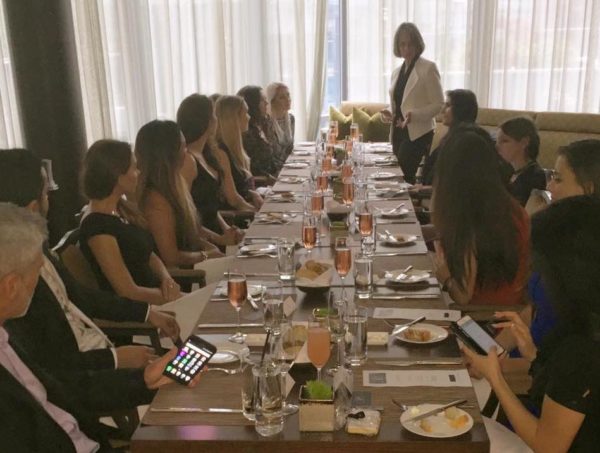 Here is how the afternoon progressed:
November 12th – 2016 – 12:45 to 3:00 pm
Held at Shangri-La Hotel – (Georgian Room)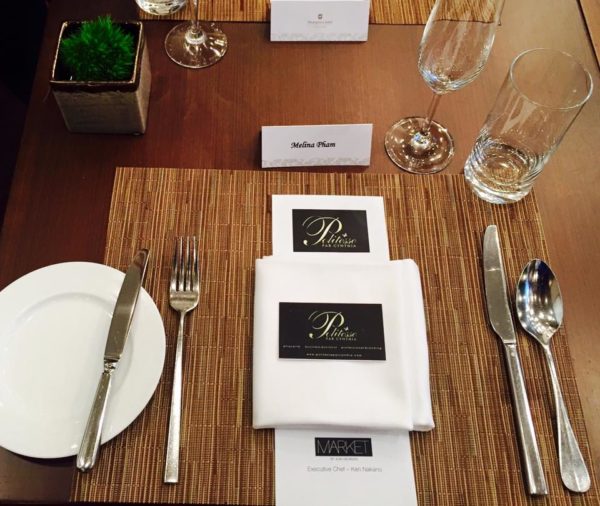 12:45 – 1:15  Bubbly, networking, & canapes
1:10 –  Formal Seating.  Politesse Par Cynthia Company Services Intro
1:15 –   Bread & Butter Etiquette. Napkin Etiquette. Bread Then Served.
1:30 –   Soup Etiquette. Soup Then Served
1:30 –   Entree' Orders. Chose one.
1:45 –  More Etiquette applicable for upcoming Entree's. Slicing    FoodTechniques.    More Toast etiquette.
1:45 –  Individual intro's. More on toast etiquette (receiving & giving & participating)
2:00 –  Entree's Served. Additional Etiquette Tips included Leaving Table & Signaling Finish with Utensils.
2:30 –  Dessert Etiquette. Coffee & Tea Etiquette Desert Served.
2:35 –  Ending The Meal Etiquette. More on Napkins. Coffee & Tea.      Logo Cookies.
2:45 – Conversation Topics to Avoid. Single Status Questions. More  Q & A. Final Greetings. Thank you's.
3:05 – Finish
About Cynthia Pace: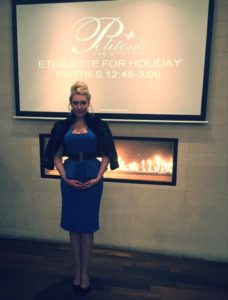 Cynthia Pace is an entrepreneur, etiquette professional, accomplished branding coach, and respected speaker. Brining a contemporary perspective to the etiquette, protocol and branding industries. Combining years of in-depth etiquette study, and more than a decade of delivering training and education to private individuals and businesses. In addition, she obtained an MBA in marketing communications. Cynthia has developed proven curricula in the form of social events, public workshops, group seminars, one-on-one instruction and customized private programs suitable for individuals, groups or corporations.
Cynthia founded PolitesseParCynthia with an impressive team with the mandate of providing real-world coaching by experts who share the business background our clients expect from a trainer or expert.
Cynthia is not credentialed solely with training and education certificates from vocational schools. She also brings a professional business background, and years of experience. Combined with an MBA in Marketing and Communications and a BA in Psychology. Her background & education, has allowed her to foster relationships with businesses and experience personal relationships first hand. With an in-depth understanding of real world challenges faced by entrepreneurs, business leaders and working professionals, our programs have you covered 360 degrees.
Cynthia can be found at the following links:
https://www.facebook.com/cynthia.pace1
https://www.instagram.com/styleandimagewithcynthia/
https://twitter.com/cynthiapace1
Company philosophy
Politesse Par Cynthia brings a 360-degree perspective to etiquette, cross cultural awareness & personal branding. Adding grace to today's world by challenging the stereotype that etiquette is a stuffy & inaccessible lost-art. Empowering entrepreneurs, companies & the socially-minded to better versions of themselves — Developing brand ambassadors, polished businesspersons & socially aware individuals  —  Leveraging the digital age with social media awareness.
PoliteseParCynthia has become the sought out authority in modern etiquette, cross-cultural protocol & brand consulting.
Our Public programs are:
(1) Dining Etiquette – Etiquette Basics. Advanced Formal. Youth/Children
(2) Cross-Cultural Protocol – Individuals. Groups. Companies.
(3) Executive Branding – Individuals. Groups. Companies.
(4) Style & Grace – Special Events Styling. Pageant Coaching.  Debutante Preparation.
(5) Customized Combination Programs (Of any of our service offering) made to fit all needs…customized & specially created for any individual, group, or company.
Read more about PolitesseParCynthia:
http://www.darpanmagazine.com/lifestyle/style/etiquette-lunch-hosted-by-fine-dining-coach-cynthia-pace/
http://www.oliobymarilyn.com/2016/06/cynthia-pace-brings-class-to-another.html