Embark on a flavourful trip around the world – no passport required – at Dine Out Vancouver Festival's most anticipated culinary event. The Vancouver World Chef Exchange returns with a series of collaborative dinners starring award-winning chefs from global culinary hubs, including London, New York, San Francisco, Mexico City and Galway.
During each one-night-only event, an international and local chef will join forces to produce an incredible culinary experience at the Vancouver chef's restaurant, taking inspiration from their respective restaurants' most popular dishes; their own cultural influences and favourite fare; and local and seasonal ingredients.
Tickets for the Vancouver World Chef Exchange are on sale now – make sure to book them quick as seats are limited.
Dine Out Vancouver Festival 2017 World Chef Exchange Pairings:
Mexico City's Chef Jair Tellez and Vancouver's Chef Jefferson Alvarez at Cacao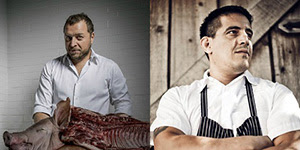 Date: January 21
Details: Chef Jefferson Alvarez of Cacao Progressive Latin welcomes Chef Jair Tellez, one of Mexico's most influential chefs and a champion of locavorism. His roster of highly praised restaurants includes Laja, MeroToro, and recently opened Amaya, all serving delicate Baja-style dishes and organic wines. Joining Chefs Alvarez and Tellez is special guest Nidal Barake, Miami-based food writer and co-founder of Gluttonomy, a creative agency specializing in food businesses.
Galway's Chef JP McMahon and Vancouver's Chef Ned Bell at the Vancouver Aquarium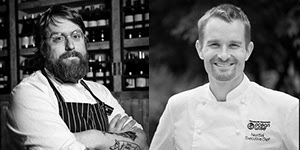 Date:January 22
Details: Joining Chef Ned Bell in the kitchen at the Vancouver Aquarium is Chef JP McMahon from Galway, Ireland. McMahon is culinary director of the celebrated EatGalway Restaurant Group (comprised of Aniar, Cava Bodega and Eat Gastropub) as well as founding chair and director of the Galway Food Festival. McMahon's menus marry contemporary Irish cooking with Spanish flare.
London's Chef James Lowe and Vancouver's Chef Michael Robbins at AnnaLena *SOLD OUT*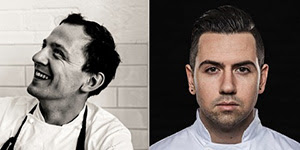 Date:January 25
Details: Hailing from London, Chef James Lowe joins Chef Michael Robbins at Vancouver's AnnaLena. Chef Lowe honed his culinary skills at The Fat Duck, La Trompette and St. John's before opening his Michelin-starred restaurant Lyle's London in the chic Shoreditch district. Lyle's serves up fresh and seasonal dishes peppered with international flavours.
New York & Boston's Chef Jamie Bissonnette and Vancouver's Chef Lee Cooper at L'Abattoir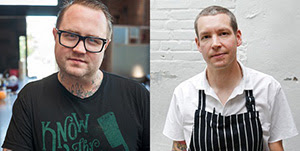 Date:January 29
Details: L'Abattoir's Chef Lee Cooper welcomes James Beard Award-winning chef and restaurateur Jamie Bissonnette. Splitting his time between New York and Boston, Bissonnette heads up Boston's Italian enoteca Coppa, and three locations of Barcelona-style tapas bar Toro (Boston, New York and Bangkok). Most recently, he opened Little Donkey in Cambridge, Massachusetts, a global-inspired small plates restaurant and raw bar.
San Francisco's Chef Ryan McIlwraith and Vancouver's Chef Chris Whittaker at Timber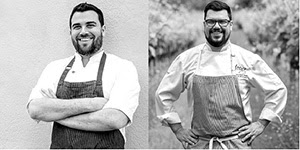 Date: February 1
Details: Chef Chris Whittaker of Forage and Timber brings San Francisco-based Chef Ryan McIlwraith back to his Vancouver roots. Born and raised in Vancouver, McIlwraith manned the kitchen at numerous award-winning restaurants across the country before landing at San Francisco's Bellota as executive chef. His menus are inspired by the regional cuisines and traditions of Spain.
For details, including ticket prices, visit www.dineoutvancouver.com.
About Dine Out Vancouver Festival:
Produced by Tourism Vancouver, Dine Out Vancouver Festival is Canada's largest annual celebration of food and drink. Attracting more than 100,000 locals and visitors, the festival takes over the city with 17 days of culinary events, prix fixe menus at 280-plus restaurants (at $20, $30 or $40 price points), as well as "Dine and Stay" packages and special hotel rates. The festival promotes local and regional ingredients, the wines of British Columbia, and the city's exceptional culinary talent. Festival partners are the Wines of British Columbia and YP Dine. Preferred partners include Air Canada, OpenTable, Metro newspaper and Tickets Tonight. Dine Out Vancouver Festival 2017 runs from January 20 to February 5. dineoutvancouver.com @DineOutVanFest #dovf
Tourism Vancouver's focus is on building exceptional customer relationships with meeting planners, travel influencers, travel media and independent tourists.  The organization's brand essence is about "exceeding expectations".