'Honey Glazed Bone-In Ham'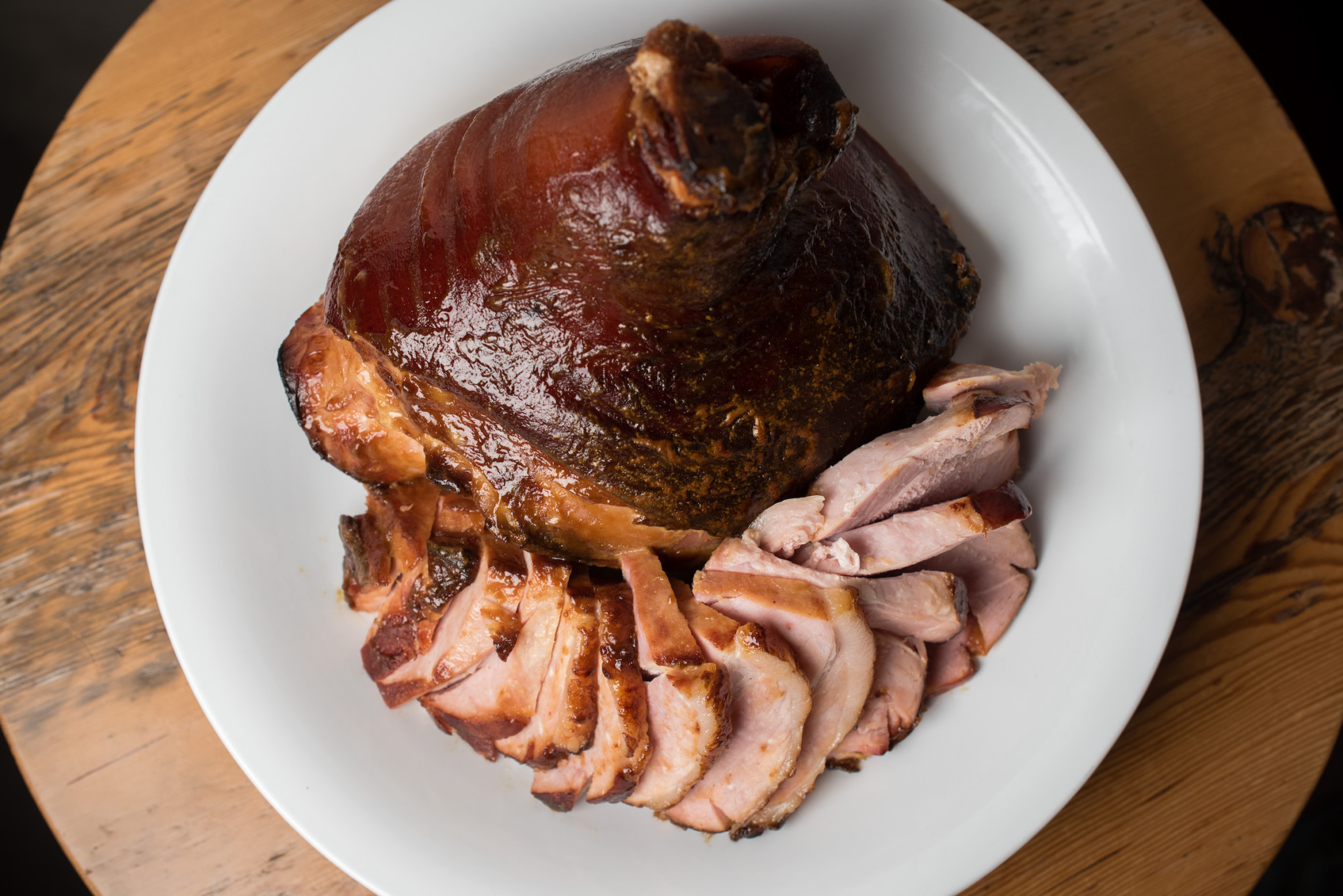 A shiny, crispy-edged glazed ham is an iconic holiday centerpiece. This easy, holiday-ready recipe yields a crunchy, sweet crust and juicy interior. For best results, be sure to buy a high-quality smoked, bone-in ham (seek out a good local butcher or grocery store meat counter that you trust). Note that leaving just enough fat on the ham is important for the perfect 'crunchy crust–to–juicy meat ratio' — too much fat and your caramelized crust becomes soft; too little and your ham will have dry spots.
Ingredients:
1 10lb Lightly-Smoked Bone-in Ham
1 cup Honey
1/4 cup Whole Grain Mustard
1/4 cup Packed Dark Brown Sugar
4 tbsp Unsalted Butter
Method:
Pre-heat oven to 350°F.
Trim away any excess fat, leaving about a 1/4-inch layer all around. Set the ham aside to rest at room temperature for 30 minutes.
Line a baking sheet with tin foil. Place the ham cut side-down on the baking sheet and cover it with a piece of parchment paper. Tightly cover the ham and parchment paper with another sheet of tin foil, and bake for 45 minutes.
Meanwhile, combine the remaining ingredients in a small saucepan over medium-low heat, stirring occasionally until the butter melts and the brown sugar has completely dissolved, about 3 minutes. Set aside and allow to cool until lukewarm (the glaze should have the consistency of room-temperature honey).
When the ham is ready, remove it from the oven and increase the oven temperature to 425°F. Discard the foil and parchment paper and, using a sharp knife, score a 1-inch-wide diamond pattern (don't cut more than 1/4 inch deep) over the entire ham.
Brush the ham with a quarter of the glaze (about a generous 1/3 cup), return it to the oven, and bake uncovered for 15 minutes.
Remove from the oven, brush with another quarter of the glaze, and repeat every 15 minutes until all the glaze has been used and a dark golden-brown crust has formed, about 55 to 60 minutes total.
Let the ham rest 20 to 30 minutes before slicing and serving. Enjoy!
By Dan Olson, Chef/Owner, Railtown Catering
Dan Olson
Executive Chef/Partner
Born and raised in Vancouver, Chef Dan Olson sparked an abiding passion for food and wine during stints at the Century Grill Restaurant and Bacchus Restaurant at The Wedgewood Hotel, where he earned the coveted role of Apprentice under Chef Robert Sulatycky for the Bocuse d'Or, helping Canada record a best-ever fourth-place finish at the prestigious world chef championship in 1999 before embarking on an extensive culinary walkabout and honing his craft in top-tier kitchens throughout the world.
Dan comes by his classical French techniques honestly, having worked under Chef Guy Lassausaie at his eponymous Michelin-starred restaurant in Lyon and Chef Yannick Alleno at the Michelin-starred restaurant Les Muses at the Hotel Scribe in Paris. Olson returned from his overseas sojourn in 2002 and cheffed for Four Seasons Resorts and Hotels in Chicago, Whistler, Dallas, Cairo, Bahamas and Washington, D.C. before settling in
California in 2006, where he worked as Senior Sous Chef and Executive Sous Chef at the Mobil Five-Star- and AAA Five-Diamond-award winning Beverly Hills Hotel before taking on the role of Executive Chef at the iconic Hotel Bel Air in Los Angeles in 2009.
Dan returned to both his Vancouver and Bocuse d'Or roots in 2012, founding Railtown Catering and Café with Chef Tyler Day and using the Downtown Eastside facility as a test kitchen to help coach the Canadian team to a top-ten finish among a field of 24 countries at the 2013 edition of the Bocuse d'Or competition in Lyon, France.
Twitter: @RailtownCaters
Instagram: @RailtownCaters
Facebook: /RailtownCafe
Website: http://railtowncatering.ca/