Enjoy a Spanish Influenced BBQ with Napa Wine Legend John Schwartz
Tulalip Resort Casino's Sommelier Tom Thompson and Executive Chef Perry Mascitti invite wine lovers to join them from 6-9 pm on Saturday, July 8 for a chance to get up close and personal with Napa Valley wine legend, John Schwartz. Guests will enjoy a lively Spanish influenced al fresco dinner of traditional Paella along with grilled-to-order tapas and tantalizing main plates prepared by the Resort's culinary masters. The dishes will be paired with wines from some of Napa Valley's A-list winemakers—Heidi P. Barrett, Kent Jarman, and Richard (Dick) G. Peterson.
John Schwartz, owner of the highly acclaimed Amuse Bouche Winery in Napa Valley, has been involved in the wine industry for more than 25 years. He also owns three other ultra-premium wineries in Northern California where he has teamed up with industry luminaries, such as Heidi P. Barrett, Jim Barbour and the Sinatra family.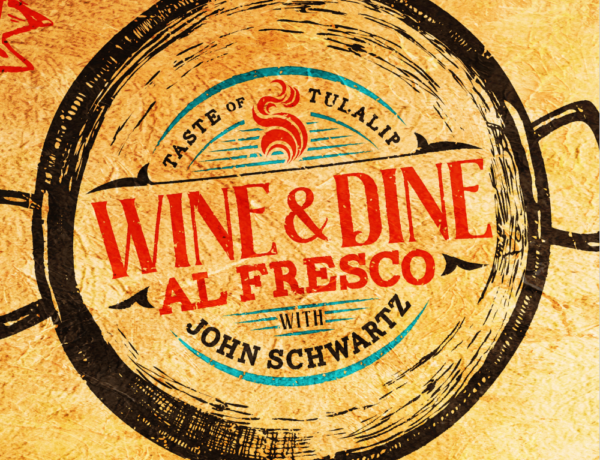 At the July 8 Taste of Tulalip signature event, guests will have an opportunity to rub elbows with John Schwartz and learn about his extensive Napa Valley wine family, which includes Amuse Bouche Winery, Vin Perdu, Au Sommet, Prêt à Boire, Coup De Foudre, and Ricard G. Peterson. Over the years, John Schwartz has assembled a stellar cast of winemakers who are leaders in the wine community for his Napa Valley wineries.
"Sip, savor and dine al fresco on the Orca Ballroom Patio where Napa comes out to play for one night only. The orchard-farm style motif will tie together the evening, making Wine & Dine Al Fresco an immersive experience for all," states Lisa Severn, Food and Beverage Director.
Pours will include tastes from Heidi Barrett's 2013 Amuse Bouche Winery's Merlot/Cabernet Blend (94 Points Robert Parker), 2014 Vin Perdu Blend (94 Points James Suckling), 2013 Au Sommet Cabernet (96 Points James Suckling), 2016 Prêt à Boire Rosè (Robb Report Top 100 Wines) along with Kent Jarman's Coup De Foudre's 2015 Sauvignon Blanc (95 Points James Suckling) and 2013 Cabernet Sauvignon (98 Points Wine Enthusiast), and Richard Peterson's 2014 Richard G. Peterson Pinot Noir (92 Points James Suckling).
"These are hard to find wines, so I hope you will stop by our Taste of Tulalip wine shop, where we will have a limited supply of the dinner wines available for purchase," shares Tom Thompson, Sommelier.
Al Fresco diners can nosh on chilled items from a Carved Ibérico Ham Action Station, to an imported Spanish Cheese Board Selection, Charcuterie Pasta Salad, Orange & Picos Blue Cheese Salad, Potato Salad with olives & anchovies, Basil Prosciutto Wrapped Peaches.
Tulalip chefs will also cook up a selection of hot dishes of Tortilla Española (Spanish potato, onion and egg omelet), as well as items right from the grill: Cedar Wrapped Asparagus Bundles, Spanish Grilled Vegetables, Costillas (BBQ Baby Back Ribs), Marinated Grilled Beef Tenderloin with Chimichurri Sauce to a Traditional or Seafood Paella served right from the big paella pan to the guests' plates.
For a sweet ending under the stars, Pastry Chef Nikol Nakamura will whip up fried-to-order Churros with a choice of dark chocolate or fresh berry sauces, and a Flan with Orange Turrón (nougat candy).
Al Fresco Wine and Dine tickets are priced at $95 per person. To purchase tickets, call (360) 716-6888. All attendees must be 21 and over. Tickets are limited.
About Tulalip Resort Casino
Award winning Tulalip Resort Casino is the most distinctive gaming, dining, meeting, entertainment, and shopping destination in Washington state. The AAA Four Diamond resort's world-class amenities have ensured its place on the Condé Nast Traveler Gold and Traveler Top 100 Resorts lists. The property includes 192,000 square feet of first-class gaming excitement; a luxury hotel showcasing Coast Salish artwork throughout the property, as well as the newly renovated 370 guest rooms and suites, outfitted with custom premium pillow top beds; 30,000 square feet of premier meeting, convention and wedding space; the 14,000 square foot full-service T Spa; and 8 dining venues, including the AAA Four Diamond Tulalip Bay Restaurant. It also showcases the intimate Canoes Cabaret; a 3,000-seat amphitheater. Nearby, find the Hibulb Cultural Center and Natural History Preserve, Cabela's, and the Seattle Premium Outlets—featuring more than 122 name brand retail discount shops. The Tulalip Resort Casino is conveniently located between Seattle and Vancouver, B.C. just off Interstate-5 at exit 200. It is an enterprise of the Tulalip Tribes. For reservations please call (866) 716-7162.