'Berber Iced Tea' Cocktail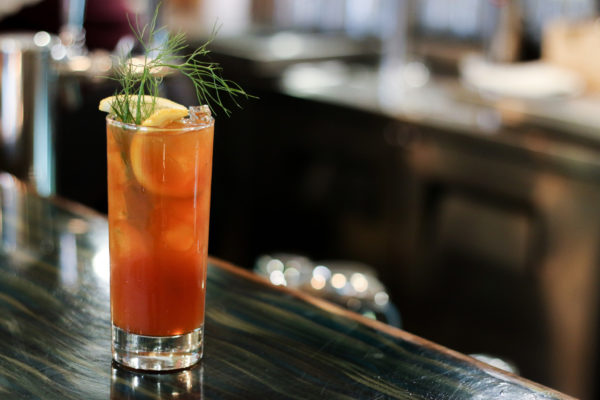 Wash down a plate of waffles with this easy-drinking libation inspired by the unique flavours of the Mediterranean. Featuring a trifecta of black, green and mint tea, this boozy take on a classic iced tea is a light and refreshing option for daytime drinkers. The toasted fennel seeds add a sweet, aromatic quality while the black peppercorn add a hint of spice.
Ingredients:
¾ oz Liquore Strega
¾ oz Calvados
¼ oz lemon juice
¼ oz simple syrup
Berber Iced Tea Blend*
Fresh fennel frond/mint sprig and lemon wheel (for garnishing)
*Berber Iced Tea Blend (makes 1 litre)
2 tbsp JJ Bean loose leaf black tea
1 tbsp green tea (ideally Chinese Gunpowder Tea)
1 tbsp tbsp JJ Bean loose leaf mint tea
2 tbsp toasted fennel seeds
1 tsp black peppercorn
1 litre cold water
Method:
Add all Berber Iced Tea Blend ingredients to a container, cover and leave in the fridge overnight.
In a Collins glass, combine all cocktail ingredients over ice. Top with Berber Iced Tea Blend. Garnish with fresh fennel frond/mint sprig and lemon wheel.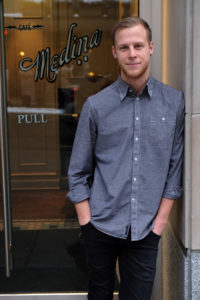 Recipe by: Marc Slingsby-Jones, Bar Manager, Café Medina
While he was born and raised in New Zealand, this transplanted Kiwi has found a new home in Vancouver, where he has taken up residency behind the pine as Café Medina's Bar Manager to curate the restaurant's eclectic drink menu.
An avid traveller, foodie and host, Marc relishes rubbing elbows and trading stories with Café Medina's regulars and visitors alike, while bringing a decidedly local-forward direction to the bar. As Bar Manager, Marc spotlights an array of local craft breweries, distilleries and wineries and incorporating fresh, seasonal ingredients that reflect Café Medina's signature brand of rustic comfort cuisine.