We are excited to announce that we have made a small amount of our 2015 Reserve Chardonnay and 2015 Reserve Pinot Noir available for online purchase. These exquisite wines have been flying out the door of our tasting room and we wanted to make sure that everyone gets a chance to grab some bottles. We have snuck 10 cases of each wine out from under the nose of our tasting room staff to offer to those of you that will not be able to make it out to see us this year.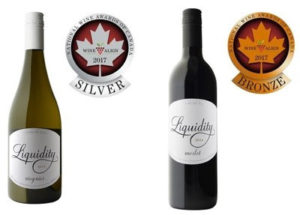 Place your order online and we will deliver direct to your door, no matter where you are in Canada. As an added bonus to these Reserve wines, our popular 2016 Viognier and 2014 Merlot just scored medals at the WineAlign National Wine Awards and are available for order.
Shipping is available in increments of 3, 6 or 12 bottles. Not a Wine Club member? Sign up now and take advantage of free shipping on all orders. As an added bonus, order 6 bottles of our Reserve wines and gain access to our Equity Wine Club, which is launching in 2018. A limited number of spaces are available; please see below for details on this first ever "try before you buy" style of wine club.
Introducing the Equity Club:  
Starting in 2018, members of the Equity Club will have exclusive access to our Reserve tier of wines, including our flagship Pinot Noir – Equity.
Each member will be sent a 200ml sample bottle of our Reserve wines, including Equity, to try with the spring shipment. You will then be given the option to pick the wines for your summer Equity shipment. Only members of the Equity Club will have guaranteed access to these wines. Members placing additional bottle orders above and beyond their club commitment of six bottles of Reserve wines will be able to take advantage of En Primeur pricing on these exquisite wines.
This will be the only way to get your hands on these wines so don't miss your chance. Ask our staff how to sign up.
Membership Privileges:
•Advance access to all new release wines, including our small lot wines
•Special library releases each year for club members
•Enjoy a 10% discount at the Liquidity Bistro*
•2 Complimentary tickets to member events
•Special equity Release events in all major Canadian markets
Club Commitment:
•Three wine shipments per year
◦Equity Release (6 bottles, customer choice from our Reserve and Equity wine)
◦Spring Budbreak (6 bottles, customers choice)
◦Fall Harvest (6 bottles, customers choice)
•Annual fee of 75$**
*Starting in 2018
** Annual fee waived for the first year with purchase of 6 bottles of Reserve wine, for a limited time.