Live performances in acclaimed Vancouver restaurant and lounge to highlight local talent
Chambar is pleased to announce the launch of a weekly Thursday night live music series called Shadow Sessions.
In a city where live venues are increasingly shuttering, Chambar is opening its doors to local artists and performers in an ongoing contribution to Vancouver's culture.
"Live music is the next part of our evolution toward physically manifesting the values and culture we want in this city," says co-owner Karri Schuermans who conceived of the Shadow Sessions as an extension of Chambar's original vision for the restaurant when it opened 13 years ago.
Schuermans believes the most important part of any city is its people. While Vancouver is attracting top talent in the tech and clean energy sectors, there's a definite lack of creative or entertainment spaces for artists and citizens.
"We just don't have that culture here, so Chambar is providing a space where you can still hear the person you're talking to; the wine, cocktails and service are impeccable; and the calibre of local music and sound quality is excellent," says Schuermans. "The vibe is so good, you might just get up and dance!"
This first 8 week Shadow Sessions series began 28 September, and continues through November 16 beginning at 9pm. Drink specials from a rotating roster of featured cocktails will be available for $9-$11. The full fall menu will also be in effect.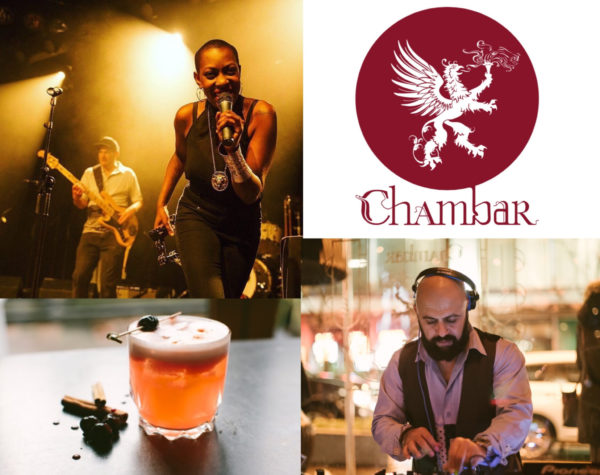 Shadow Sessions Series 1 Line-up (all shows begin 9pm)
Oct. 26: R&B soul with Johnny Tobin Trio
Nov. 2: Grammy Award-winning singer and producer Chin Injeti w/ guests
Nov. 9: Former Wide Mouth Mason bassist's Shaun Verreault Trio
Nov. 16: Rhythmic percussion with Flow n' Motion with DJ Flipout
There is no cover for Shadow Sessions.
Additional artist information:
Tonye 
Tonye Aganaba is a dynamic and sultry musician born in the United Kingdom, and raised in Canada. She considers herself a citizen of the universe, undefined by geographical, cultural or stylistic boundaries.Tonye was the go-to feature singer for Vancouver's EDM producers and DJs for years, a soulful, powerful voice that stood out, giving her the confidence to create music of her own that reflects who she is. Signed to 604 Records after two solo releases, her new EP, Villain, is a fun, groovy, electronic-spiked R&B/soul recording that declares the arrival of an artist not to be messed with.
Chin Injeti w/ Guests
Chin Injeti is a Canadian singer, musician, and music producer. He got his start as a founding member of Juno award-winning group Bass is Base. Working in many genres ranging from rock to country and most notably hip-hop, Chin is seeing major breakthroughs as a writer/producer. Recent work with DJ Khalil for top hip-hop artists Dr. Dre, 50 Cent, Drake, Clipse, Eminem. Chin's foray into hip-hop came with great success in 2010, with Eminem's multi-platinum album "Recovery" winning the Grammy Award for Best Rap Album. Chin shows no sign of slowing down as he works on many new projects as well as developing a number of new artists.
Shaun Verreault Trio
Shaun Verreault is best known as the singer/guitarist/songwriter for the band Wide Mouth Mason. The platinum-selling blues rockers have toured with AC/DC and played on multiple tours with both the Rolling Stones and ZZ Top. WMM have performed at Switzerland's prestigious Montreux Jazz Festival twice, resulting in an invitation for Shaun to sit in with Van Morrison, and Ray Charles remarking, "That boy can play guitar!"
Flow n' Motion with DJ Flipout
Hailing from the Pacific Northwest come two of Vancouver's most sought after and recognized percussionists. Having worked with many different artists in the music community and beyond, Tim Proznick and Chris Couto have decided to join forces, creating FLOW n' MOTION, a percussion heavy duo that has the ability to elevate any group in any venue to the next level. Whether they are joining a DJ on stage, a band rocking a venue to a thousand people, or an intimate singer/songwriter, they can take the feel and vibe of the music with their deep understanding of rhythms, and translate it to the audience the way it needs to be felt. As most know, drumming and the beat is such an integral part to most groups, which can set the way you want people to feel when they hear your music. Chris and Tim define pocket and feel in music that is unlike anything you will find. Its a connection that can not only be heard, but felt. If you want your music, show, and dance floor lifted to the next level, Flow n' Motion is where its at…
CHAMBAR RESTAURANT

Address: 568 Beatty Street, Crosstown
Reservations: www.chambar.com / (604) 879-7119
SOCIAL MEDIA
Instagram: @chambar_restaurant
Twitter: @chambar

Website: www.chambar.com