Herd-Crusted Beef Tenderloin with Parmesan Potato Pave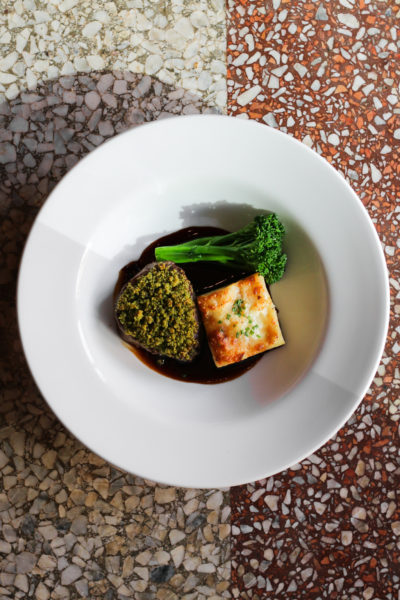 Yields 4 servings
INGREDIENTS: 
Four pieces of beef tenderloin (approximately 5 to 6 oz. each)
Crust
2 Tbsp. butter
1/2 cup bread crumbs
1/4 bunch parsley
1/4 bunch basil
1/4 bunch rosemary
Salt and Pepper
1 tsp. Dijon mustard
Potato Pave
6 to 8 peeled russet potatoes, thinly sliced
2 Tbsp. butter
1 garlic clove, chopped fine
1 small shallot, diced finely
1/4 cup shaved Parmesan
Splash of cream
Salt and pepper
Veal Just
2 Tbsp. olive oil
2 whole shallots, quartered
2 Tbsp. sugar
1 cup veal jus
1/4 cup red wine
METHOD: 
Crust
Melt butter in a bowl.
Add bread crumbs and all herbs to the bowl and stir to combine.
Season with salt and pepper and reserve.
Potatoes
Pre-heat the oven to 375 F.
Rub the bottom of a stainless-steel baking pan with butter, shallots and garlic.
Drizzle a small amount of cream into the pan and then layer the potatoes, seasoning with a small amount of salt and pepper every other layer until the potatoes fill the baking pan at least 3/4 of the way.
Cover the pan with parchment paper and foil and bake for one hour at 375 F
Remove pan from oven and scatter the Parmesan cheese on top.
Bake uncovered for another 10 to 15 minutes until brown.
Let settle for about 20 minutes before cutting.
Beef
Pre-heat the oven to 400 F.
On the stovetop, heat an oven-proof pan well (prior to adding fat).
Once hot, add touch of olive oil and butter.
Season beef with salt and pepper and place into the pan to sear one side.
Once one side is browned, flip it and pop the pan into the oven for approximately six minutes.
Remove pan from the oven and brush the top of the beef with Dijon mustard and crust with herb crust.
Pop it back in the oven for one minute then remove.
Let the herb-crusted beef rest at room temperature for five minutes prior to serving.
Veal Jus
Brown shallots in a stainless pot with olive oil.
Add sugar and let it caramelize slightly.
Add red wine and reduce by 75 percent.
Add veal jus and reduce until desired consistency.
Drizzle veal jus on the bottom of your plate and place herb-crusted beef and potato pave on top. Serve with your favourite seasonal vegetables and enjoy.
Josh Gonneau, Executive Chef, Cibo Trattoria
Twitter: @cibotrattoria
Instagram: @cibotrattoria @josh_gonneau
Facebook: facebook.com/CiboTrattoria