We were definitely spoiled as we joined the throng of happy guests  celebrating the opening of The Victor Restaurant and Lounge Wednesday evening.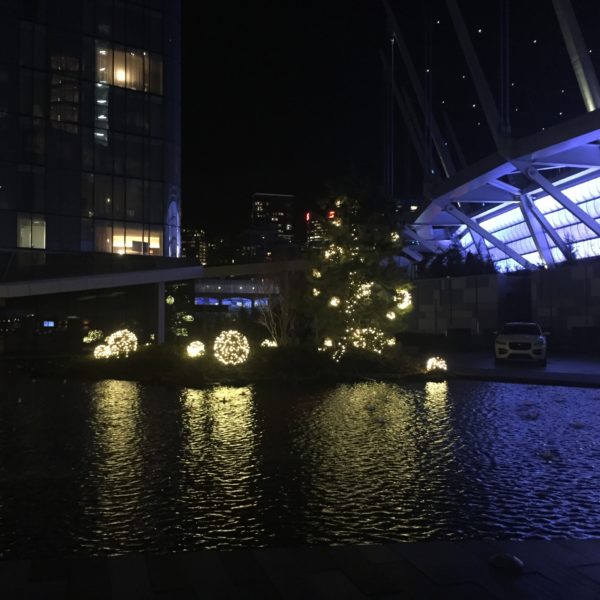 With a nod to mid century elegance and intimacy The Victor definitely made it's mark. Just getting there is an experience as you stroll around a beautiful outdoor water feature under a winding breezeway. Entering the impressive double wooden doors you are greeted by the 19th Century proverb "To The Victor Belong the Spoils".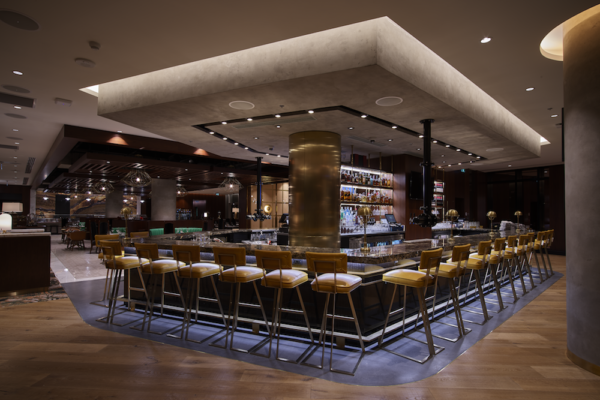 Once inside there is an eyecatching fully stocked bar slightly off to the right of the restaurant itself. It has the feel and ambience of another era when a lounge was truly a lounge. Furnished with stylishly comfortable seating all wrapped in glass with views of the cityscape.
The restaurant itself is spacious yet is arranged in such a way that each table has it's own feeling of intimacy. Subdued lighting adds to this affect with a floor to ceiling wall of glass with views out to the water feature making this one truly romantic locale.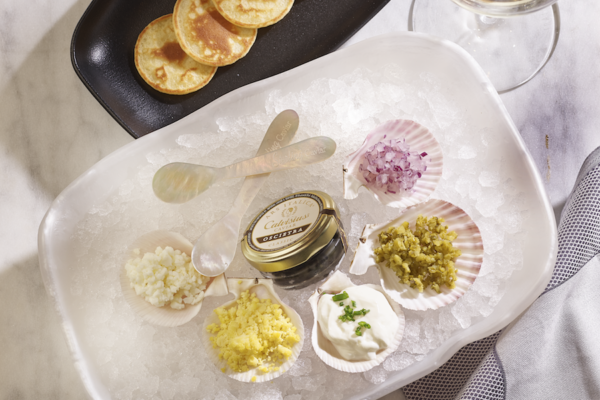 For this evening the restaurant had set up grazing stations with fabulous dishes for us to sample. Especially impressive is the long fresh seafood and sushi bar with wonderful delights such as fresh oysters on the half shell and succulent pieces of split crab and creative sushi rolls.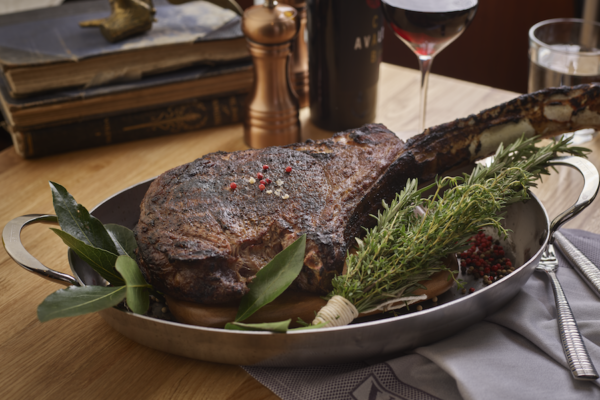 For the carnivore in me it was all about the carving station with two chefs holding court over two outstanding beef offerings with all the trimmings. The massive tomahawk steak meant for sharing was a site to behold with 45 ounces of juicy Angus Reserve that can be enhanced with either chimichurri, peppercorn, or béarnaise sauce or all three if you desire. The other option was the Angus Reserve strip loin which was tender and delicious. I opted to pair mine with horseradish, a mac 'n cheese waffle which is a five cheese combo with fondue to top it off, and yummy pretzel-crusted onion rings . I resisted the Triple Cooked Fries but not the truffle & chive aióli which was rich and oh so delicious.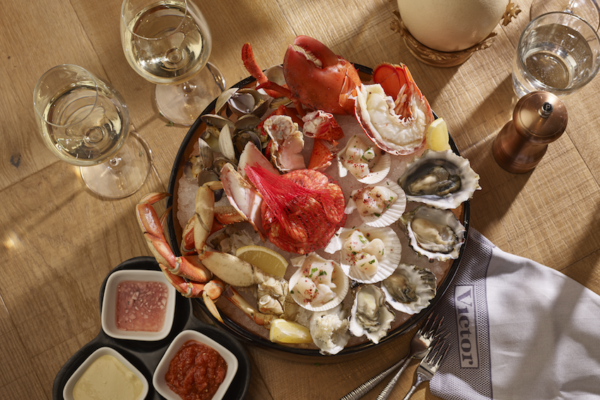 The Seafood Bar featured both Dungeness and Alaska King Crab which I splashed with just a touch of freshly squeezed lemon juice and tucked into their decadent goodness.Of the sushi offerings I most enjoyed Avocado Crunch with avocado, cucumber, mango, shiso aióli, and puffed rice. Yum!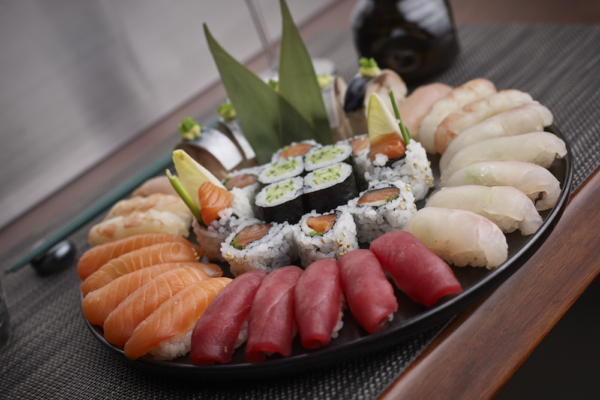 In addition to the Carving Station and Seafood Bar we were treated to samples of the various fresh salad ingredients from the Salad Bar that featured most of their menu choices. Possibly one of the most popular was the Candy Buffet which was located in a private and palatial dining room. Oh so tempting I was very good until the Candy Floss arrived. Have to admit I just could not resist this childish confection. Brings back so many fond memories and worth the calorie splurge for sure.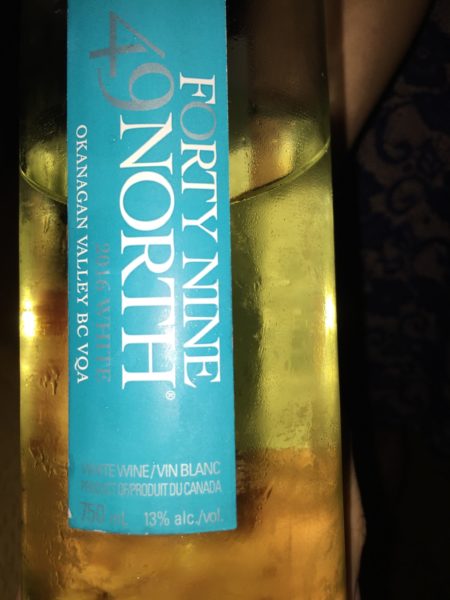 Wine pairing for the evening that I enjoyed was the 49 North Chenin Blanc a BCVQA wine from the Okanagan Valley.
I will definitely be going back to The Victor based on this experience. Everything I tried would be a dish I would order on my next visit and seeing I tried so many dishes I'll just have to go back again and again.
View The Victor at the Parq dinner menu selections here. The Victor is located in The Parq Hotel on the Lobby Level.The Victor is open nightly from 5:00 p.m. Reservations are suggested [email protected] or 778-370-8600
Images by Bill Milne, except as noted.