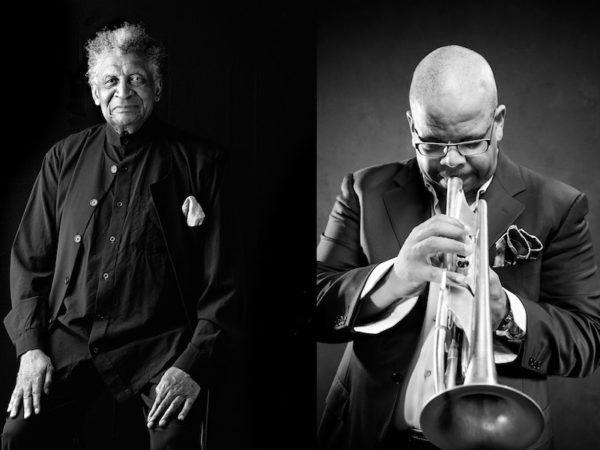 Jazz Epistles Alumnus Abdullah Ibrahim with Prodigious Trumpeter Terence Blanchard
Revisits Iconic Catalogue of Apartheid-Era Works
The Chan Centre for the Performing Arts
at the University of British Columbia (UBC) presents
The Jazz Epistles: Abdullah Ibrahim with guest Terence Blanchard
in a rare tribute concert
, February
18
at
7pm
in the
Chan Shun Concert Hall.
Half a century after the release of their landmark album,
Jazz Epistle Verse 1
, iconic keyboardist and Jazz Epistle alumnus Abdullah Ibrahim revisits the legendary repertoire of his historic South African ensemble. Four-time GRAMMY-winning New Orleans trumpeter Terence Blanchard joins Ibrahim and band Ekaya as guest performer of these jazz masterworks produced during the apartheid struggle.
"Abdullah Ibrahim is one of the world's great jazz pioneers and an important figure of hope and perseverance in the face of oppression," says Joyce Hinton, Co-Managing Director of the Chan Centre. "While apartheid divided South Africa, a brave group of black artists, The Jazz Epistles, were creating brilliant jazz at a time when it was forbidden. We proudly celebrate their talent and achievements as we welcome Ibrahim alongside a fellow influential force in jazz, Terence Blanchard, to our stage for the first time."
The Jazz Epistles were South Africa's first black jazz band to record an album and break onto the world stage. Formed in the early 1950's and inspired by Art Blakey's Jazz Messengers, the group's all-star members included pianist Dollar Brand, later known as Abdullah Ibrahim, alto-saxophonist Kippie Moeketsi, trombonist Jonas Gwangwa, trumpeter Hugh Masekela, bassist Johnny Gertze, and Early Mabuza on drums. These young artists came together for illustrious late-night jam sessions at the Odin Theatre near Johannesburg, where they built their fame and notoriety. Blending the sound of township dancehalls with American jazz, the music of The Jazz Epistles was both innovative and brave.
In 1959, The Jazz Epistles recorded their first album. Though only 500 copies were initially distributed, it was later recognized as a groundbreaking recording. Following the 1960 Sharpeville Massacre in South Africa, the country's racist apartheid government forced The Jazz Epistles into exile and the sextet fled separately to Europe and North America. Two members – Abdullah Ibrahim and Hugh Masekela – became music giants in their own right.
After being discovered by the late Duke Ellington, Ibrahim was signed to Frank Sinatra's record label and quickly achieved international recognition. Ibrahim went on to release an impressive discography, with many works addressing a defiance to apartheid and oppression, including the anthem "Mannenberg". Ibrahim settled in the US, playing with big jazz names such as Max Roach, Carlos Ward, Randy Weston, and many others. Following a more than 50-year hiatus, in June 2016 several members of The Jazz Epistles reunited in two concerts in Johannesburg, their first gig together on African soil in almost six decades.
Top-tier New Orleans trumpeter and composer Terence Blanchard, who will appear at the Chan Centre alongside Ibrahim, is considered one of the most prolific jazz musicians of our time. Much like Ibrahim, Blanchard's career is steeped in acclaim and spans more than four decades, plus 30 albums. In 1982, Blanchard joined the group behind The Jazz Epistles' inspiration, Art Blakey's Jazz Messengers, as a soloist and musical director. Shortly thereafter, Blanchard went on to create an eponymous solo album and has since enjoyed a varied and versatile career, which includes fronting his own quintet, the E-Collective. Blanchard is also a revered film score performer and composer, playing on the soundtracks of Spike Lee's Do The Right Thing and Mo' Better Blues and composing the score for Lee's Jungle Fever.
For this historic homage to The Jazz Epistles, Ibrahim and Blanchard will be backed by Ibrahim's stellar band Ekaya featuring: Noah Jackson (cello and bass); Will Terrill (drums); Cleave Guyton Jr. (alto saxophone, flute, clarinet, and piccolo); Lance Bryant (tenor saxophone); Andrae Murchison (trombone and trumpet); and Marshall McDonald (baritone saxophone).
Chan Centre Connects Events (chancentre.com/connects)
A series of ancillary events programmed in conjunction with Chan Centre performances, exploring the role of arts and artists in society.
Pre-Show Talk –

Sunday, February 18, 2018, 6:15pm

@ Royal Bank Cinema, the Chan Centre. Nou Dadoun, host of Vancouver Co-op Radio's A-Trane program, discusses the legacy of The Jazz Epistles and how its members have contributed to the world of jazz. Free for concert ticket holders.
A Conversation with Abdullah Ibrahim –

Monday, February 19, 2018, 7:30pm

@ Vancouver Community College (1155 East Broadway). Abdullah Ibrahim talks with CBC Music's Michael Juk about his career, journey as an artist, and decision to re-visit the iconic Jazz Epistles catalogue. This event is free. Space is limited.
Film Screening: Abdullah Ibrahim: A Struggle for Love –

Thursday, February 8, 2018, 7pm

@ The Cinematheque.  A meaningful tribute to one of the world's most legendary jazz musicians, this 2005 documentary by Ciro Cappellari explores the life of South African pianist Abdullah Ibrahim, covering his extensive musical career, his fight against Apartheid, and his subsequent relationship with the great Duke Ellington. For ticket info, visit chancentre.com/events/film-screening-abdullah-ibrahim-struggle-love/
About The Chan Centre for Performing Arts at UBC (
chancentre.com
)
Since 1997, the Chan Centre for the Performing Arts in UBC's Arts & Culture District has earned an international reputation for its striking design, stellar acoustics, and exceptional programming. Artists, critics, and patrons alike are unanimous in their praise of the facility, winning it a place among North America's pre­­­­mier performing arts venues. The Chan Centre boasts three unique venues: the superb Chan Shun Concert Hall, the dramatic Telus Studio Theatre, and the intimate Royal Bank Cinema. From classical, jazz, theatre, and opera to world music, the Chan Centre is a vital part of UBC campus life where artistic and academic disciplines merge to inspire new perspectives on life and culture. Past performers and guest speakers include: Wynton Marsalis, His Holiness the Dalai Lama, Renée Fleming, Dan Savage, Yo-Yo Ma, Buena Vista Social Club, Sigur Rós, Mavis Staples, Anoushka Shankar, Trombone Shorty, Chick Corea and Herbie Hancock. This season the Chan Centre is celebrating two decades of world class performance. Visit their 20
th
anniversary archives at
chancentre.com
for memorable stories and never-before-seen photos from the past twenty years.
LISTING INFORMATION

Chan Centre presents
The Jazz Epistles: Abdullah Ibrahim
with guest Terence Blanchard

Date:

Sunday, February 18, 2018 at 7pm

Ticket prices:

From $54

Address:

Chan Centre for the Performing Arts

University of

British Columbia

6265 Crescent Road, Vancouver, BC V6T 1Z1

Box Office:

Website: