Put award winners from Tinhorn Creek Vineyard in your glass
With so many lists tomake at this time of year, decision-making can be a challenge, but Tinhorn Creek Vineyards makes holiday wine selection easy, with its award-winning lineup.
Holiday entertainers and gift-givers can't go wrong with anything the South Okanagan winery offers, from a crisp Pinot Gris to a bold Pinot Noir. Illustrating this,the winery shares that just in time for the holidays, it has received an armful of medals from the 19th Annual Wine Press Northwest Platinum Competition: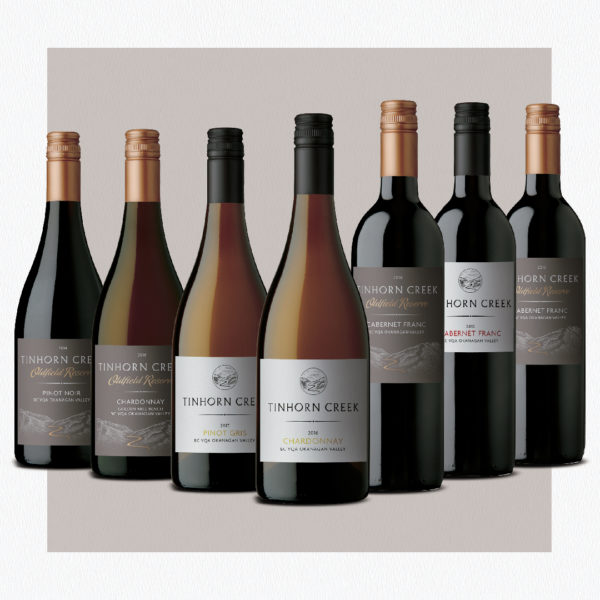 · Double Platinum – 2016 Chardonnay
· Platinum – 2014 Oldfield Reserve Cabernet Franc
· Platinum – 2017 Pinot Gris
· Double Gold – 2015 Cabernet Franc
· Double Gold – 2016 Oldfield Reserve Chardonnay
· Gold – 2015 Oldfield Reserve Cabernet Franc
· Gold – 2014 Oldfield Reserve Pinot Noir
Hosted by Wine Press Northwest magazine, the Platinum Judging is only by invitation, and includes wines from BC, Washington, Oregon, and Idaho that have been first been recognized with a gold or better award at other defined competitions. The resulting winner list is a 'best of the best' in the Northwest and is a fun way to discover great wines right before the holidays.
Wine Press Northwest editor Gregg McConnell notes "Earning a Platinum is an outstanding accomplishment, and Double Platinum is an exceptional honor."
For Tinhorn Creek to receive seven awards is a notable achievement, and winemaker Andrew Windsor is grateful. "We make wines for our customers and not to attain high scores," he says, "but it is always nice to receive recognition for our hard work. We track our success based on the acceptance of our wines," he continues. "The fact that we have been consistently selling out of our wines tells us we are on the right track. It's an honor to work for this great group of people and be the stewards of such a great place; so these awards are for them."
To order or learn more about where you can find Tinhorn Creek Vineyards Wines in your neighborhood: Call 1-888-484-6467 or email crushclub@nulltinhorn.com.
To see the complete list of Wine Press Northwest Platinum Competition winners visit here.
Established in 1993, Tinhorn Creek Vineyards is located just south of Oliver B.C. in the famed Golden Mile Bench sub-appellation. As a leading winery destination evoking classic southern Okanagan terroir, Tinhorn Creek proudly offers a selection of estate-grown wines. The first winery in Canada to support carbon neutral measures, Tinhorn Creek continues their commitment to land stewardship, conservation and environmentally sustainable practices.
Open seven days a week, Tinhorn Creek offers an unrivaled visitor experience, wines that rank among the best in the world, and the award-winning Miradoro Restaurant.
For more information about Tinhorn Creek Vineyards, call 1.888.484.6467 or visit tinhorn.com
Media release and bottle images provided by Leeann Froese, Town Hall Brands. Feature image courtesy of Tinhorn.