From June to September, The Paisley Notebook creator, Aman Dosanj is launching her third instalment of remarkable pop up dinner experiences aimed at bringing the community together.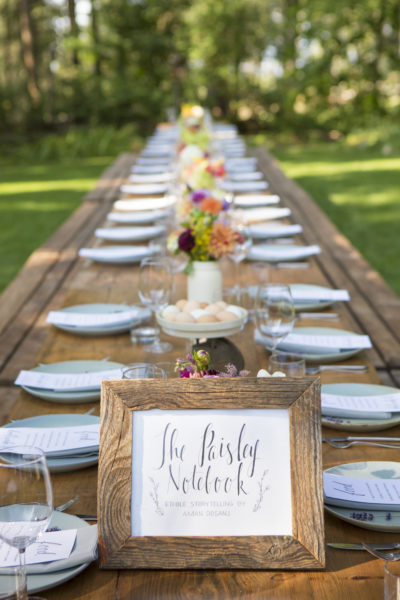 'SOURCED' is a pop up naturally constructed feast that tells one edible story at a time. Surprise menus are crafted using what is seasonally available from primarily organic farmers and producers that week to showcase the ever-changing nature and stories of the Okanagan. Serving restaurant quality food in unexpected places without the fancy equipment, 'SOURCED' and The Paisley Notebook won the 2018 Canadian Tourism Industry Awards 'Culinary Tourism Experience'. The series is continuing to explore the Okanagan with 4 new host farms on the edible road trip reaching as far as Osoyoos.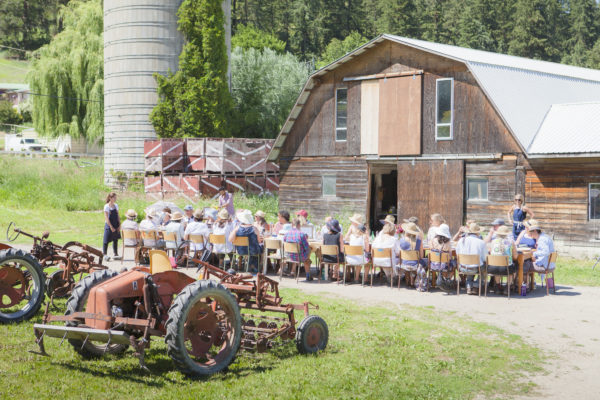 "The idea is to get people thinking about where their food comes from and to showcase how edible the Canada is. It's often the chefs who receive the spotlight, but my farmers make my job so much easier – that's why the series tells the stories of the farmer, who, year-in-year-out risk everything to look out for us. My naturally constructed feast puts the same level of care into each of my dishes, but with that, I share how hard small business is and what supporting local really means. The project is all about trust, and this year, I'm going to be pushing that even more – it's a social experiment after all", says Dosanj.
2019 Schedule:
June 16 at Green Croft Gardens (Grindrod)
A lunchtime pop up inspired by Wolf and Gabi Wesle and early summer flavours. They've been supplying organic vegetables to Poppadoms and now The Paisley Notebook for over 8 years. Tickets available from May 2.
July 7 at Caldwell Heritage Farm (Kelowna)
Heading back to where the 'SOURCED' series started in 2017 with a menu inspired by 'family'. Meet Kristi and James Caldwell and be introduced to the soon-to-be-opening Wiseacre Farm Distillery.
July 21 at Okanagan Lavender & Herb Farm (Kelowna)
Thinking about the bigger picture with a menu with Okanagan Lavender & Herb Farm's philosophy in mind with their transition to biodegradable and compostable packaging.
August 3 at Spirit Ridge Resort (Osoyoos)
Celebrating Food Day Canada with a menu crafted with all Canadian ingredients. Exploring the First Nation's concept of language and terroir on indigenous grounds.
August at Stirling Springs Chicken (Falkland) (date TBD)
A discussion about factory-raised vs. free-run vs. free-range vs. organic with family members and owners Lisa, Hans, Jacob and Johanna Dueck. (Date to be schedule during wildfire season as both farm tour and dinner will be indoors).
September 8 at Creek & Gully Cider (Naramata/Penticton)
Meet Kaleigh Jorgensen and Annelise Simonsen, farmers/cooks turned cider makers. Sit within the apple orchard (weather permitting) and learn about their hands-off, small batch, soon-to-be-launching small business.
Tickets are $100 per person and sold on a first come, first served basis. A select number of pre-release tickets are available to those on The Paisley Notebook's mailing list, with general sale shortly after. All prices exclude taxes and EventBrite booking fee. Bartender brother, Harry Dosanj will be serving up a farm-inspired cocktail, craft BC beer and small lot Okanagan wines with his cash bar. See paisleynotebook.com/events or contact aman@nullpaisleynotebook.com for more information. Space is limited, so early bookings are recommended.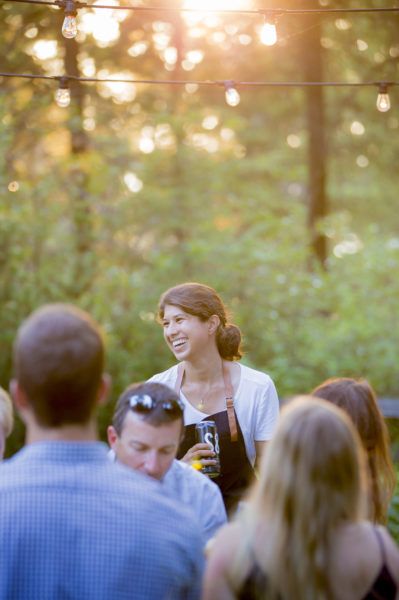 About The Paisley Notebook
Aman Dosanj, the former Poppadoms owner and Western Living Magazine 'Foodie of the Year' 2015, has returned from a 7.5-month edible adventure, writing about how food connects us. Telling stories using food, Aman organizes pop up dinners and collaborative events across the Okanagan aimed at bringing the community together. Winner of the 'Culinary Tourism Experience' category at the 2018 Canadian Tourism Awards, and a two-time finalist in the BC Tourism Industry Awards' 'Remarkable Experiences' category, Aman and The Paisley Notebook has raised over $47k for local charities since 2017. For more information, check out paisleynotebook.com.
Media release and images provided by Aman Dosanj, The Paisley Notebook. Photo Credit: Thuy Tran Photography
[wdi_feed id="2″]