I had been saving the Fort Berens Sparkling Rosé X for a special occasion and Canada Day July 1st was the day! It was a great time to share some Rosé wines from my wine rack. Many I had had for awhile and others like the Rosé X were new to me and as you will read below a "one of a kind" sparkling for their 10th anniversary.
Join me in saluting this momentous occasion and enjoy a glass of the Fort Berens Sparkling Rosé X before it's all gone. Available online, click here or in their tasting room.
Fort Berens Sparkling Rosé X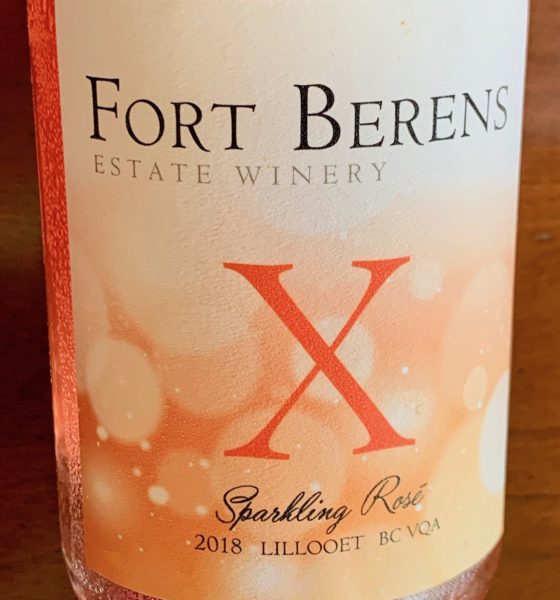 This is a wine made for celebrations. I found it had a salty, tangy, mineral scent with aromas and flavours of strawberries and lichee. It brought a hard candy essence to the nose. It was fizzy and fun to drink, a lovely salmony colour but not too dark. The hard candy presented itself in the palate and was slightly alcohol forward which is one of the things I thought said celebration! The X is fun, social and good to share with guests.
We believe that important milestones should be celebrated. To commemorate our 10th anniversary, we have crafted a very special wine. Our new limited release Sparkling Rosé X is our first ever sparkling wine, which we've made to celebrate our 10th anniversary.
Our Sparkling Rosé X features grapes from 3 remarkable vineyards in Lillooet. Pinot Gris from a small block in Fort Berens' Dry Creek vineyard that Heleen prunes and thins each year. Chardonnay from the newest vineyard in Lillooet, Fraser Bench Vineyard, owned by the Keith & Jodi Pawloski. The gorgeous colour comes from a block of Marechal Foch vines, planted in 1970 by Robert Roshard and are dearly called "Papa's Old Vines" by Christ'l Roshard and Doug Robson, who continue to care for the vineyard. These grapes were harvested early September and fermented together in a stainless-steel tank. The secondary fermentation was completed in a pressure tank to make the wine sparkling and shine for this very special occasion.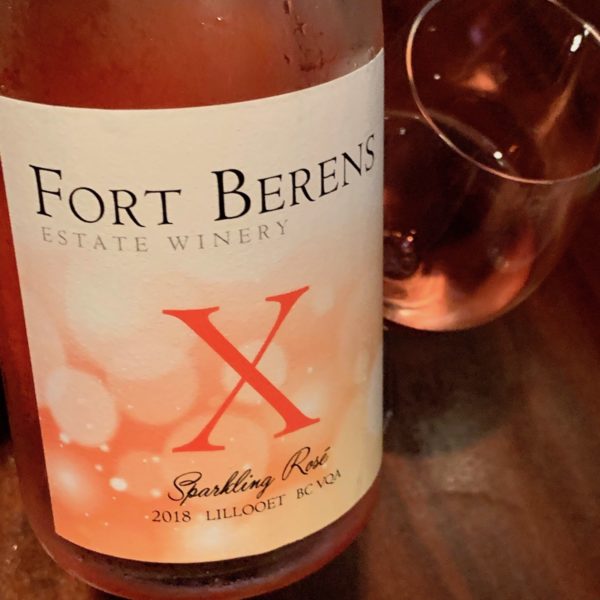 Sparkling Rosé X is medium-bodied, fragrant with citrus and crisp orchard fruit and a hint of toasted bread crumbs on the nose. The effervescence keeps the slightly off-dry palate crisp on the finish. A worthy salute to this exciting moment in time. Savour it chilled with grilled salmon, a fresh summer salad and all your parties this summer.
With this special commemorative sparkling wine, we salute all pioneers and everyone that supported us in building this new wine region. It celebrates the Lillooet grape growing area, commemorates the true founders of grape growing in the region, and applauds all the pioneers in this region.
The Sparkling Rosé X was launched on Sunday, May 5th at a special 10-year anniversary celebration at the winery. Customers can order the Sparkling Rosé X online, click here. They can also purchase it in our tasting room at the winery, and it will be available at liquor stores and fine wine stores in BC in the days ahead.
Winery notes (in italics) provided by Kim Lawton, DogLeg Marketing. All images, except as noted, MyVanCity. I received a complimentary bottle of wine to facilitate this review. All opinions are my own. Feature image courtesy of Fort Berens.
[wdi_feed id="2″]