For the past few years MyVanCity has been bringing you our #FavouriteThings Gift Ideas. This year I just couldn't wait for our personal wine recommendations for your gift giving and hosting pleasure so for the first time here are my personal recommendations of regions, wineries to visit, and wines for you to taste, buy and savour.
Another of my #FavouriteThings wine touring regions is the Sub-GI Okanagan Falls. The overall size of the area is not large but it has so many excellent wineries, making exceptional wines, that are so worth a visit.
My geography abilities are a bit lacking so I think it's just as easy to list my favourite wineries to visit in alphabetical order. So here goes, the wineries for me that are worth a visit and should be on your radar.
Autumn is an ideal time to visit anywhere in BC Wine Country. Fewer crowds and it's when "the grown-ups come out to play"
It's been awhile since I visited Blasted Church but it is a very popular winery with a great line-up of wines to satisfy the palate of a BC wine lover.
All the roads (should) lead to Blasted Church! Make your pilgrimage to the Okanagan's most creatively unique, and fascinating winery. Angelic wines. Paradisiacal views. Heavenly memories. Come to Church!
Blasted Church
378 Parsons Road
Okanagan Falls, BC V0H 1R5
Tasting Room Hours
Winter Hours
October to April
Monday to Friday
10am to 5pm
Summer Hours
April to October
10am to 5pm Daily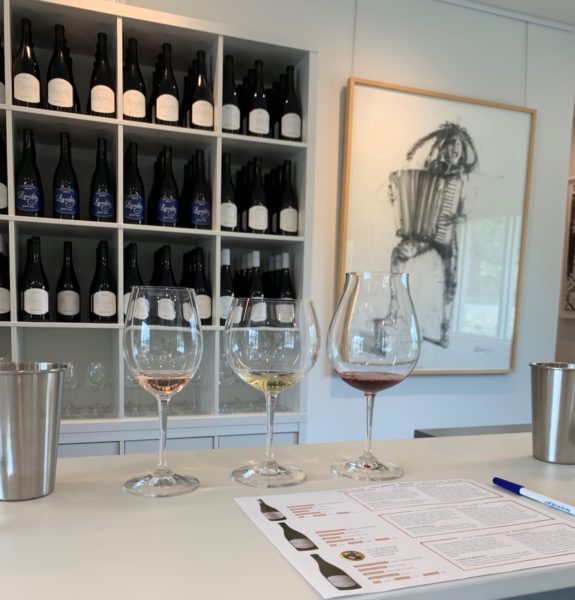 Liquidity is a must visit for me when I visit Okanagan Falls. The main Tasting Room is like walking into an Art Gallery with rotating exhibits from famous to up and coming artists along with art from co-owner Ian MacDonald's personal collection. The new Premium Tasting Lounge with their curated vertical, reserve and winemakers tastings is a separate room located a few steps from the Tasting Room and the Bistro. While there I make sure to time my visit to include a delectable meal in the Liquidity Bistro. Enjoy the artistry and creative culinary genius of Chef Matt Martin. My wine tasting reviews are available here for the reserve, here for the vertical tasting. My review of dinner at the Bistro is available here.
Treat your senses with a visit to our state-of-the-art winery and bistro. Sample award-winning wines while surrounded by wonderful works of art. Enjoy locally-sourced meals indoors or on our water feature patio.
Liquidity Wines
4720 Allendale Road
Okanagan Falls, BC V0H 1R2
(Bistro is ext 1,  Tasting Room is ext 2)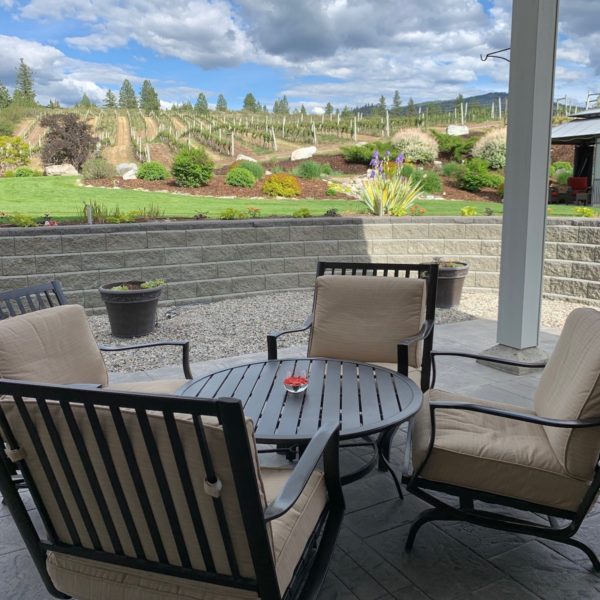 Meyer was one of the very first wineries I discovered on my initial excursion to Okanagan Falls and a visit here is always tops of my list. The wine tasting experience is casual and relaxed. The team at Meyer are friendly and super knowledgeable about the wines and helpful too. In fact you can expect this kind of friendly and helpful advice from any of the OK Falls wineries. On a visit in 2018 I mentioned that I was a big fan of riesling and the team member immediately suggested a couple of other wineries close by that were well worth the time to discover. That's one of the things I appreciate about this region, the fact that they put the visitor first and are always willing to help and offer suggestions. Meyer is noted for excellent wines and in particular their Chardonnays and Pinot Noirs are outstanding. Such a welcoming winery with a relaxing patio and cabanas to enjoy a glass of wine during your visit. Just a few of the reasons Meyer Family Vineyard is a #FavouriteThings highly recommended winery. See wine our reviews for Meyer wines here.
Crafting Single Vineyard Wines of Excellence.
In traditional French Burgundian style we focus on small case lots of varietals best suited and expressive of their unique place of origin with an emphasis on Chardonnay and Pinot Noir. Producing about 8,000 cases, we strive to create the finest wines possible. Our wines are hand harvested and hand crafted and we take great pride in each bottle of wine with great attention to detail. We hope that you enjoy our wines as much as we enjoy making them! JAK & Janice Meyer.
Meyer Family Vineyards
4287 McLean Creek Rd
Okanagan Falls, B.C. V0H 1R1
T: 250-497-8553
marketing@nullmfvwines.com
Tasting Room Hours
Apr 1st through Oct 31st
10am to 5pm
Nov 1st through March 31st
By appointment
If you are visiting on Friday, September 6 or Saturday, September 7 you will have an added opportunity to taste the wines of Mayhem. Mayhem wines will be poured in the Cabana at Meyer Family Vineyards. Read our review of Mayhem Wines here.
"Siblings. Partners. Colleagues. Friends"
Terry and JAK have been involved in each other's lives for all their life. Why not spill over into business? If that's not a recipe for Mayhem, we don't know what is!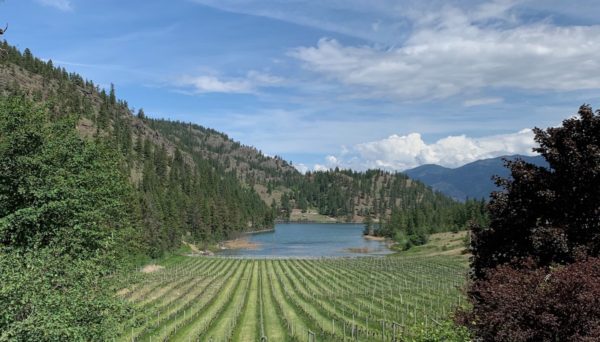 A bit off the beaten track this is still one of our #FavouriteThings winery to visit. The views are quite spectacular and worth the time it takes to get there. Stop by and enjoy Charcuterie plates, their outdoor patio and picnic facilities. See our most recent review of Nighthawk wines here.
NATURAL BEAUTY. DISTINCTIVE ELEGANCE. EXCEPTIONAL HAND CRAFTED WINES.
Nighthawk Vineyards is a boutique farm gate winery, overlooking the scenic Green Lake valley above Okanagan Falls. It is truly a magical destination, with a distinctive terroir that contributes to some of the finest grape growing conditions.
Nighthawk Vineyards
2735 Green Lake Road
Okanagan Falls, B.C. V0H 1R2
T: 250-497-8874
info@nullnighthawkvineyards.com
Tasting Room Hours:
11:00 am – 5:00 pm Daily (April to October).
Winter wine tastings available by appointment (250) 497-8874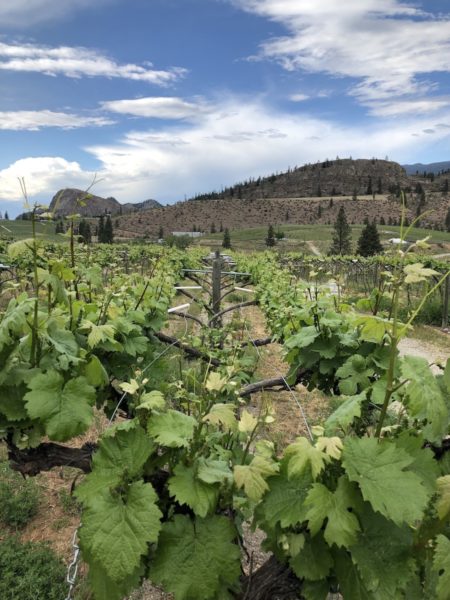 The winery with exceptional vistas and excellent wines. One of the most welcoming wineries anywhere. Expect to be greeted with some not so challenging fun activities and an outdoor space with rows of picnic tables. Inside their newly expanded Tasting room and deck are delightful. Lucky wine club members have access to a private lounge area that is equipped for caterers. There is so much to appreciate about Noble Ridge; friendly, welcoming wine tasting team and great wines. If you're a fan of bubbles you've come to the right place. #FavouriteThings are a personal favourite. Read our reviews of Noble Ridge wines here.
Noble Ridge Vineyard Winery lays in the Okanagan Valley at the northern most tip of the only desert in Canada. The winery is named for the noble varieties of grapes grown and the ridge that divides the land on which they thrive. But this noble name is more than just a nod to the land. It's a statement of values and a reminder of the hard work and dedication on which the winery was built.
Noble Ridge Vineyard & Winery
2320 Oliver Ranch Road
Okanagan Falls, B.C. V0H 1R2
T: 250-497-7945
nrwineshop@nullnobleridge.com
Tasting Room Hours
May – October
Open Daily from 10am-5pm
Picnic Area – Cheese and Charcuterie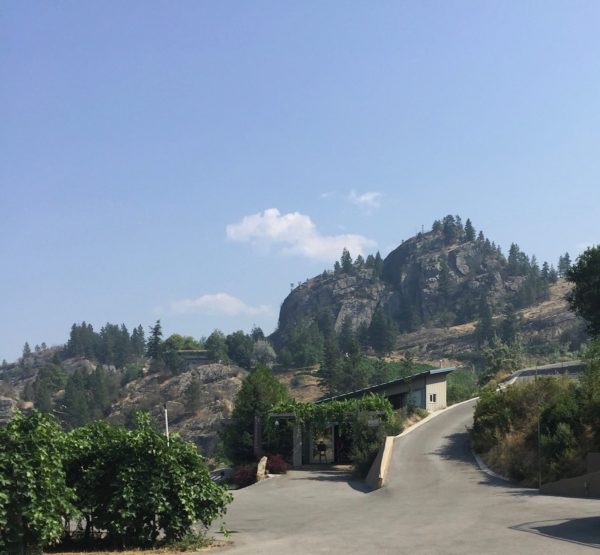 This lovely boutique winery is another #FavouriteThings that I personally recommend. Such an incredible portfolio of wines and they are all so good. There is something for everyone here. Enjoy the climb as you head up to the winery tucked away from the maddening crowds. This carved from stone winery is a must visit. Read our reviews of Pentâge wines here.
Pentâge Winery is a boutique winery nestled on 23 acres overlooking Skaha Lake in Penticton, British Columbia. 
We limit our annual production to approximately 5,000 cases a year – this enables us the ability to create exceptional small lot releases and maintain our hands-on approach for quality control.
Our commitment to excellence begins in the vineyards.  We believe the foundation of a great wine is most truly reflected by the soil and climate – also known as the "terroir". Our low-yield cultivation strategy produces the top-quality grapes essential to our premium, limited release, hand-crafted wines.
Pentâge Winery
4551 Valley View Road
Penticton, B.C. V2A 8W3
T: 250-493-4008
julie@nullpentage.com
Tasting Room Hours
May 1 – Thanksgiving
Open daily 11am – 5pm
Winter Hours
Sales by Appointment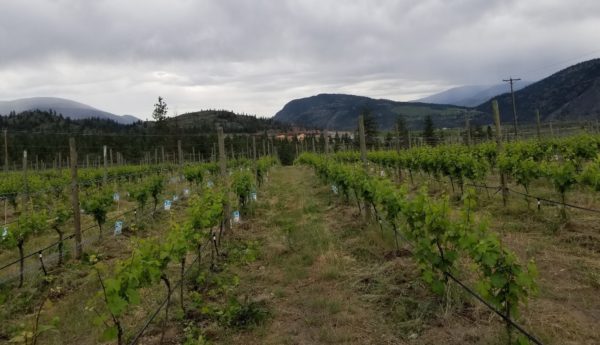 I include Synchromesh on this list because their wines are really very good and some would say the best example of a small case winery. Visiting is by appointment and can be rather difficult to arrange so be sure to contact them well in advance.
Synchromesh wines are born of a passion for high quality, traditionally styled wines.
Synchromesh Wines
4220 McLean Creek Road
Okanagan Falls, B.C. V0H 1R0
T: 250-535-1558
wine@nullsynchromeshwines.ca
Tasting Room Hours
Open Friday-Monday from 11am-5pm
If you're looking for premium wines at very affordable prices look no further than our #FavouriteThings Wild Goose. One of the largest and most awarded of the Okanagan Falls wineries, including nine Lieutenant Governor's Awards of Excellence in Winemaking. If like me you are a lover of Rhine style wines then look no further. My first tasting was the Autumn Gold which quickly became my favourite all around white. Since that first foray into Wild Goose wines I have discovered many others that it would be hard to say which is my favourite. Instead I just try different wines in different seasons those covering all the bases of great whites. #FavouriteThings and my personal recommendation. Read our reviews of Wild Goose wines here.
Award-winning winemaker Hagen Kruger's approach to winemaking has been to grow the highest quality fruit and then transfer this quality into ultra-premium wines.  Year after year Wild Goose wines have exhibited the best that Mother Nature has to offer.  From carefully grown grapes to the delicate bottling process; Wild Goose wines are benchmarks of British Columbia winemaking at its best.
Wild Goose Vineyard
2145 Sun Valley Way
Okanagan Falls, B.C. V0H 1R2
T: 250-497-8919
leslie@nullwildgoosewinery.com
Tasting Room Hours
Summer Hours
April 1 – Mid June
Daily 10am – 5pm
Mid June – Mid October
Daily 10am – 6pm
Winter Hours
Mid October to April
Mon- Fri 9am – 4pm (sales only or by appointment)
Food Service
The Smoke and Oak Bistro
Hours
May – Oct
Wed-Sun 12 noon – 7pm
For reservations, please call 250-497-8919
Okanagan Falls Sub-Geographical Indication
The Okanagan Falls sub-GI incorporates the area immediately south of the village of Okanagan Falls, east of the Okanagan River along Highway 97 and to approximately 500 metres elevation. Okanagan Falls is a sub-GI of the Okanagan Valley, covering an area just under 2,000 acres (800 hectares). It is estimated there are approximately 370 acres (150 hectares) of vineyards within the area.
The sub-GI is located on the east side of the Okanagan Valley giving long afternoon sunlight with cool mornings. Cool air from higher elevations flows into the region at night keeping night time temperatures low and therefore retaining acidity. Chardonnay, Pinot Noir and Pinot Gris account for roughly 75% of the planted acreage in the area.
Thanks to the British Columbia Wine Institute who have provided information on the  Sub-GI Okanagan Falls to facilitate this article. 
Editor's note:
When visiting BC Wine Country, before you go: Do your homework and a bit of research about the wineries you wish to visit. Check the winery website to find out their months, days and hours that their Tasting Room is open. Know if you need to book your tasting in advance of your visit. Many wineries are now so busy there may be times that they are unable to accommodate you. It will be a much better visit if you have a confirmed appointment. Be on time. Expect to pay for your tasting, some, but not all wineries refund all or a portion of the fee if you purchase wine. Plan ahead for a designated driver or use the services of a wine tour company. Limit the number of wineries you visit in a day. A more leisurely timeline will increase your enjoyment. For the best overall experience, I like to limit my daily visits to three, maximum two wineries if a winery lunch is on the agenda. – Valerie, Editor.
Where to Dine:
Okanagan Falls has one of BC Wine Country's finest restaurants. Reservations suggested for Liquidity Bistro. My review of dinner at Liquidity Bistro available here.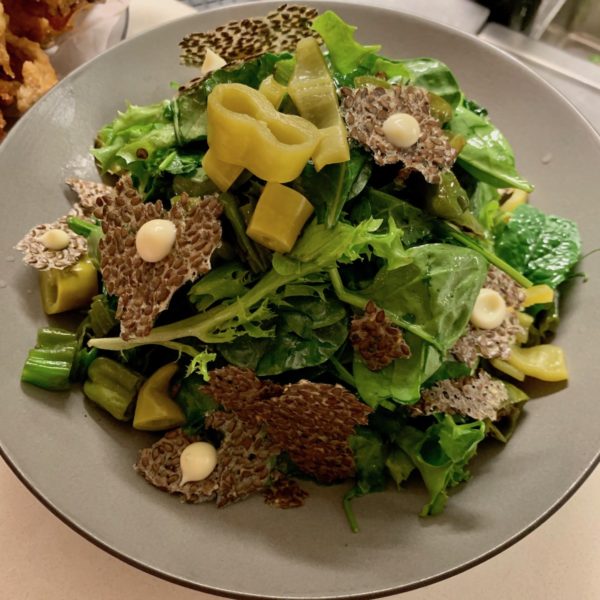 4720 Allendale Road
Okanagan Falls, B.C. V0H 1R2
T: 778-515-5500  ext 1
Bistro: open until March 2019
Did you know you can enjoy your tasting at the Bistro. Please inquire and make arrangements in advance. Smoke & Oak Bistro also has a takeout menu.
For Bistro reservations, please call 250.497.8919 ext. 3 or 1.877.497.8919. If we can't answer right away, please leave a message and we will get back to you shortly.
Looking for something a bit different? Are you young or young at heart? May we suggest a stop at Tickleberry's A must for lovers of ice cream, kitsch, souvenirs and just fun!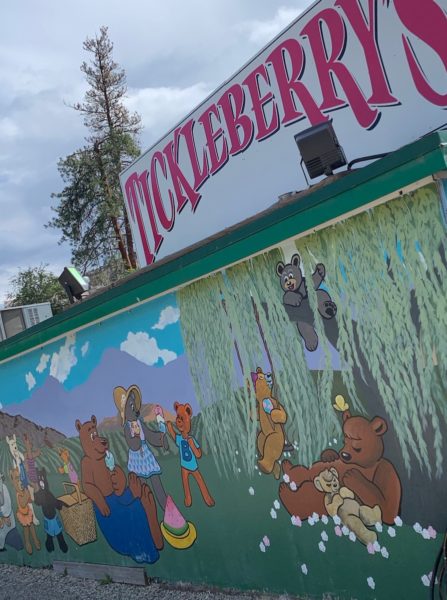 Information in italics courtesy of the wineries. All images MyVanCity. Featured image: Meyer Family Vineyards.
[wdi_feed id="2″]