Liquidity Bistro located beside the Liquidity Winery Tasting Room in Okanagan Falls is fast becoming a culinary destination for locals and visitors alike. Under the capable hand of young Chef Matt Martin.
We have been fans of Liquidity Bistro for a few years and never pass up the opportunity to enjoy lunch, weekend brunch or dinner when we visit Okanagan Falls. The ideal spot to "do lunch" between wine tastings.
On this occasion we were looking for a relaxing evening for two and had decided to try the Tasting Menu. The Bistro offers an 8 course Tasting Menu for $80 with Wine Pairings $50 and an 11 course Experience Menu for $110 with Wine Pairings $65, non-alcoholic Beverage Pairing $25 both menus offer an optional course of Northern Divine Caviar Serving $40.
Tasting Menu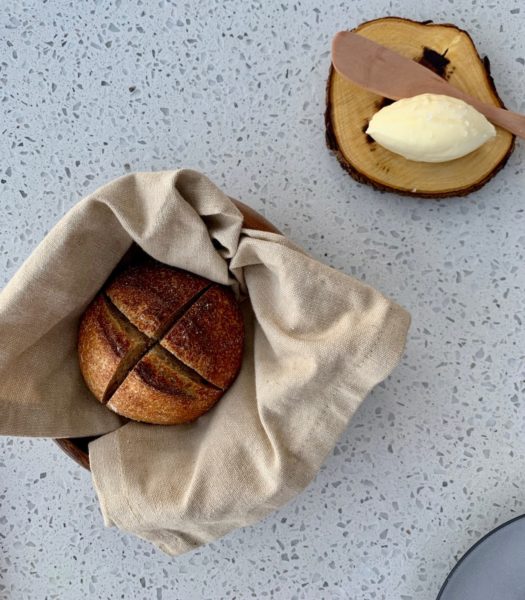 Red Fife & Khorosan Sourdough
House Churned & Cultured Butter
Totally seduced by the wafting warm aromas of the Sourdough we dove into this delicious loaf as if we were starving. Crunchy on the outside with dense whole grain goodness on the inside. Still warm from the oven the House Churned, Cultured Butter soaked into the soft interior of the loaf resulting in moans. If, like me, you are a true butter connoisseur you will definitely appreciate the combination of the sour, wheaty loaf with the sweet and salty soft butter that sets the palate on a journey of appreciation for what is to come.
Snacks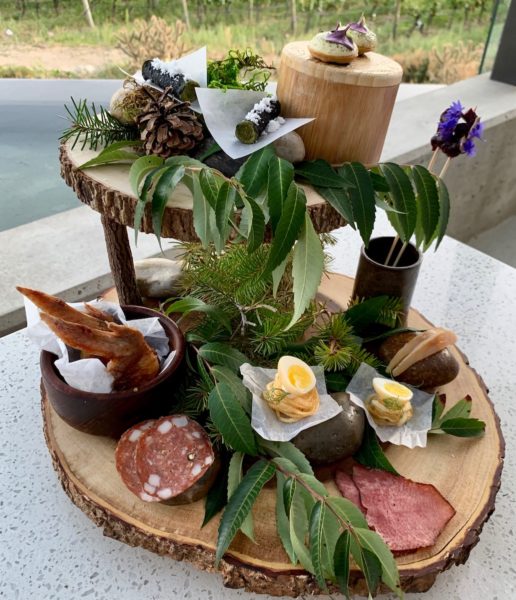 Leek & Mussel Cannoli
Quail Egg & Potato
Beet Jerky
XO Stuffed Chicken Wing
Vegetable Tartelette
House Charcuterie
The Leek and Museel Cannoli had a crispy exterior with a forest, forage flavour. Inside was a soft cream with lingering flavour of the mussels.
The Vegetable Tartelette with a crisp pastry shell tasted like whole wheat. The inside was a creamy delight, rich and luscious.
House Charcuterie included the house cured Tongue Pastrami sliced thin and very tasty; salty and smokey Artic Char; and spicy Salami with peppercorns and a slow after burn, but not too hot.
The Quails Egg and Potato swirl with a tangy aioli was absolutely delicious.
The Chicken Wing with soft stuffing (XO, charcuterie, dried shellfish and dried chili) had a soft bite, the outside was crispy and left me wanting more.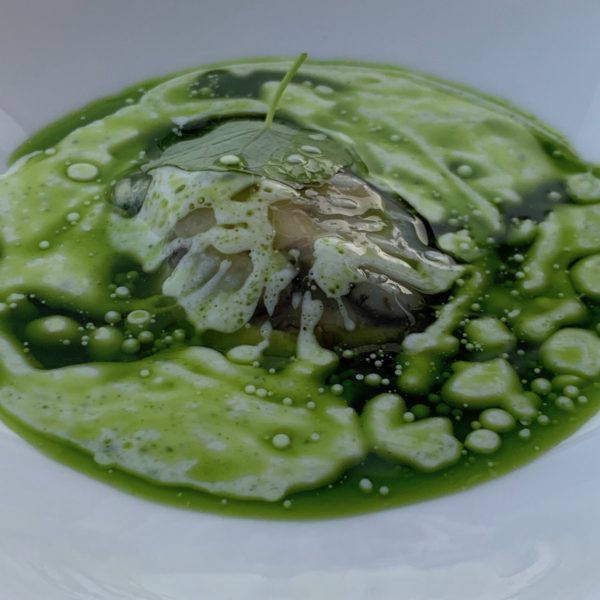 Oyster
with Buttermilk & Dill
The buttermilk and dill perfectly complemented the Oyster. The buttermilk is rich with a tang and the dill was very tasty and went well with the other flavours. A smooth textured, buttery oyster topped with a nasturtium leaf. The buttermilk, dill and nasturtium did not overpower the oyster but was a thoughtful melding of flavours.
The first courses were paired with Liquidity Pinot Gris.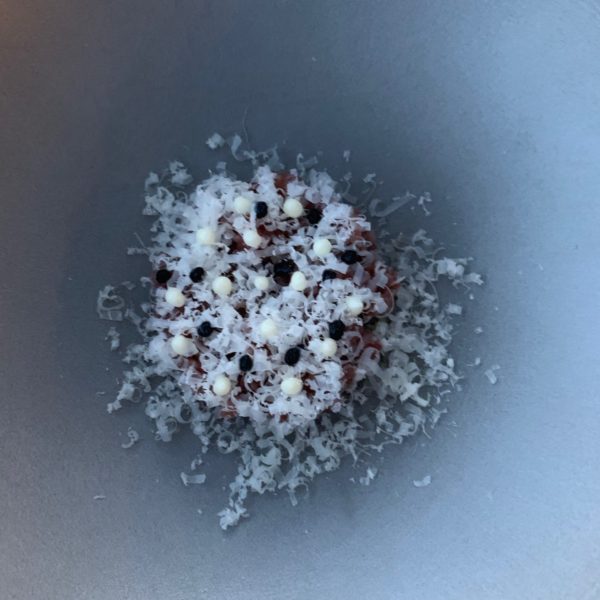 Ostrich Tartare
with Sauerkraut & Goat Cheese
Kaledon Sunny Valley Ostrich with smoked aioli, black shallot puree, with a Liquidity red wine and shallot vinegarette. Sour dough levigne crisps. An excellent dish and was so beautiful with sprinkles of lardo on top. Soft with the crunch of sourdough and crisp sauerkraut, and the extra aged creamy goat gouda was tangy.  The sauerkraut is very mild and goes well in the dish giving it a good balance of sweet meat and tart kraut wich keeps the dish from being too rich. Each flavour stands alone but when combined was heavenly.
Paired with the Liquidity Rosé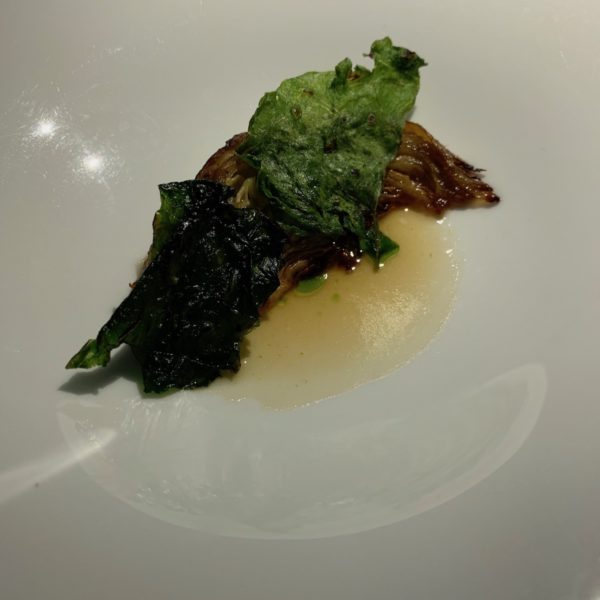 Caraflex Cabbage
with Miso & Lardo
This was a surprisingly tasty dish. Topped with crispy kale leaves the cabbage was fired and flavoured with miso. It was really good. Just another example of the creativity of Chef Matt, unexpected but delicious.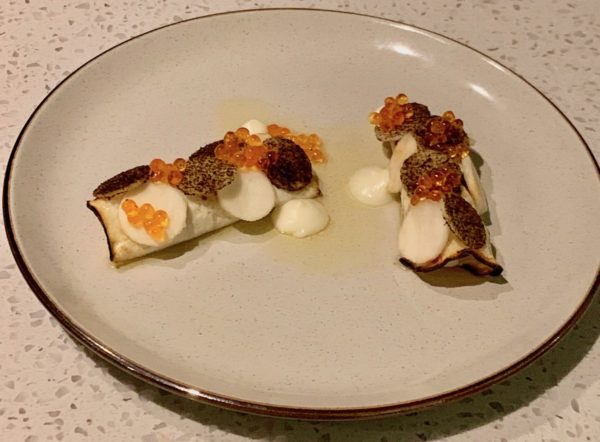 Mackerel
with Smoked Spruce Butter, Celeriac & Apple
The Mackerel was salt cured, air dried and smoke confited in spruce brown butter, celeriac variance and trout roe. The Mackerel was tender, warm, flaky and its light flavour went nicely with the celeriac and apple slices. The trout roe added salty and fishy essence. The Mackerel was wrapped in a celeriac tortilla which was a tiny bit hard to cut and chewy but inside the Mackerel was superb.
These two courses were aired with Liquidity Chardonnay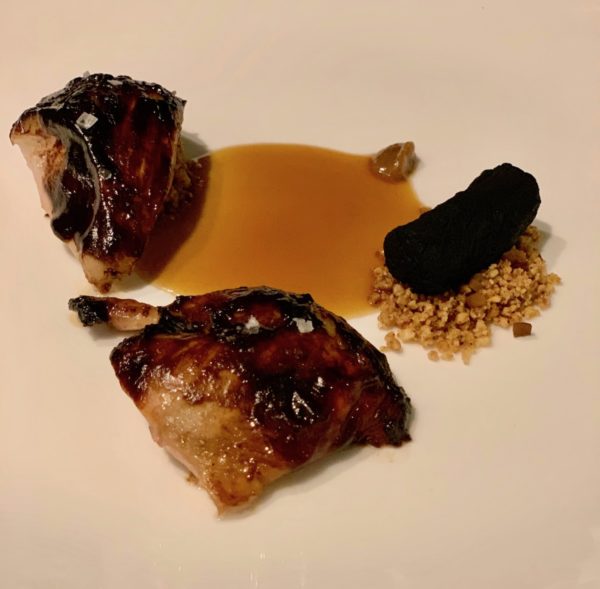 Lacquered Quail
with Sourdough Miso, Eggplant, Hazelnut & Black Sunchoke
The Quail prepared similarly as a Peking Duck, hung in the oven, turned and constantly reglazed. Black shallots, black garlic, fermented honey and black apple with roasted semi dried eggplant. The black eggplant sitting on a sour dough miso crumble it was a little bit tangy with a chalky exterior. The Quail delivers tender miso flavour, accentuated by the nutty flavoured sour dough crisp. Another excellent dish.
Paired with Liquidity Pinot Noir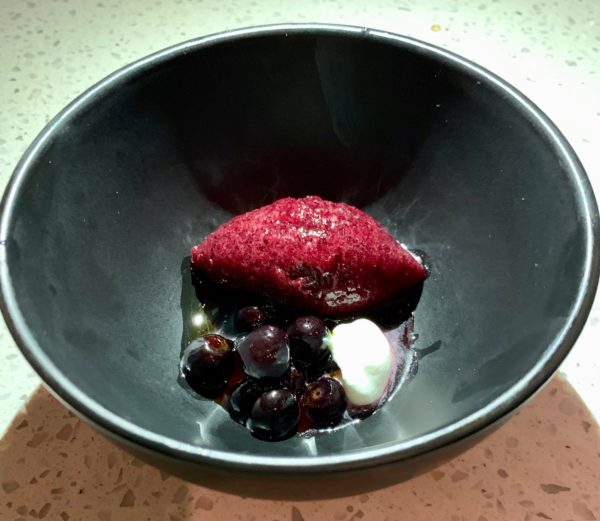 Huckleberry
with Salted Cream & Thyme
The Huckleberry was simultaneously tart and sweet and was the perfect palate cleanser. Beautiful fruit flavour that really worked with the berries, thyme and salted cream.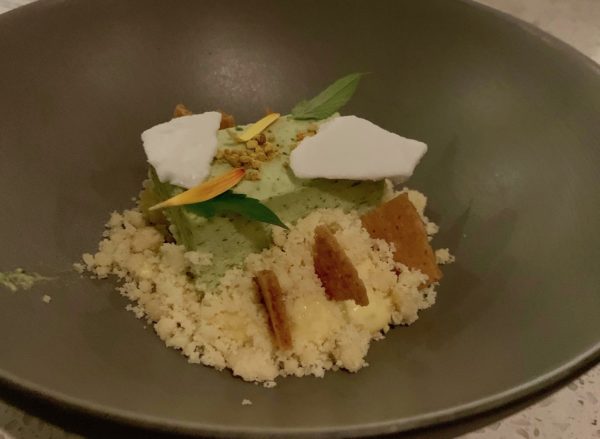 Anise Hyssop
with Bee Pollen & Green Apple
Such a complex finish that is sweet, salty, crunchy, soft, smooth and so good. Layers of something new with every bite. Layers of surprises. Very understated, not overpowering, essence of liquorice, candy and toast.
Service was attentive and our server was very knowledgeable on each dish and provided explanations of preparation and of any ingredients not listed on the menu.
By the time we had finished the eight courses we were full without feeling overstuffed.
Every dish was exquisite and beautifully presented. I felt there was value for the money and would definitely have the Tasting Menu again on another visit. In fact I'm intrigued with the Experience Menu and I'm sure it would be well worth the splurge. The dishes created by Chef Matt are innovative and intriguing, certainly never boring. Many of the dishes feature ingredients you might not expect or wonder if they would work and can be surprising in the final analysis. Amazing things are happening here.
Chef Matt is inventive and extremely dedicated to his craft. Some might say that there was a similarity to the menu because there are multiple uses of some ingredients. I prefer to view this as a sustainable practice. For example the use of sourdough bread crumbs in other dishes and as crumble. The kitchen uses a zero waste policy that is time and labour intensive but the results speak for themselves. Each dish is made with an intense desire to be the best it can be, no compromises. Attention to detail is finite. Every dish that comes from the kitchen was planned and executed with a dedication that shows in the taste, texture, flavour and presentation.
A true dining experience in a gorgeous setting with spectacular views. Everyone at the Bistro puts in maximum effort to see to it your dining is pleasurable, never rushed. Lunch, Dinner and weekend Brunch are available with an ever changing menu of delectable dishes.
Please keep in mind that the Tasting Menu we enjoyed and that are pictured here are a smaller version of some of the same dishes that are available on the Dinner Menu, served al a carte.
Dinner was leisurely with wine pairings that worked well. Note: we opted for a small pour and limited wine pairings after having spent most of our day wine tasting.
 "All meats are sourced ethically from small local farms in BC. All seafoods are sourced ethically from BC fishers. All vegetables are sourced from our organic farming partners or are grown on site. Everything is made in house using strictly local and organic ingredients."
BISTRO HOURS
The Bistro is open daily.
Monday from 12 to 5pm.      Tuesday to Friday 12 to 9pm.      Saturday & Sunday ​11am to 9pm.
Brunch Saturday and Sundays from 11am to 4pm.
Reservations suggested
Meet Head Chef Matt Martin
Chef Matt Martin is a passionate young chef who is focused on creating seasonal, sustainable, artful plates. Matt joined Liquidity Bistro as Executive Chef at the beginning of the 2018 season.
Matt has been lucky enough to spend time in the kitchens of some amazing global restaurants such as 3 Michelin starred, Atelier Crenn in San Francisco and 1 Michelin starred, Relae in Copenhagen.
When Matt is not in the kitchen at Liquidity Bistro he can be found with his team in the Liquidity Estate Garden where he will be growing produce to compliment what he is able to purchase from his farm partners.
Lucia Martin – Restaurant Operator
Lucia started her career in hospitality more than 25 years ago. After working extensively for Club Med Resorts in the Caribbean, Lucia returned to Canada where she learned about all aspects of the food and beverage industry by serving, bartending, managing and leading operations at well-known restaurant chains and for independent operators.
Lucia worked with Vintage Hospitality for eight years in various roles, managing properties, opening new ones, including Liquidity Bistro in 2014, and finally taking on the role of Director of Operations.
2017 saw Lucia looking for a change. The opportunity to take on the operation of Liquidity Bistro for herself came up and she jumped at the chance. She has always loved the Bistro, winery and people at Liquidity. She now looks forward to growing with the amazing team.
I suggest you start or finish your lunch with a visit to the Liquidity tasting room, Standard Wine Session – Up to 5 wines from their estate portfolio – $5 (waived on any purchase) the Tasting Room is now open daily 11am to 6pm. For groups of 8 people or more, please contact the tasting room in advance to book a tasting time at tastingroom@nullliquiditywines.com or 778-515-5500, ext 2. This will ensure they have adequate staffing to provide the best tasting experience possible for you and your group.
For Wine Club members and those looking for a little extra we suggest The Premium Lounge. Tastings are done in varietal-specific Riedel glasses, in a relaxing environment away from the high energy of our bistro, surrounded by the personal art collection of winery founder, Ian MacDonald . Immerse yourself in a world where fine wine and fine art blend seamlessly together to create the perfect environment for sampling some of the great wines of the Okanagan. Reservations are available for the tastings here.
For more about the Tasting Lounge and Premium Lounge Vertical or Reserve wine tastings check our reviews: Vertical Tasting and Reserve Tasting
Information in italics and feature image, images of Matt Martin and Lucia Martin  courtesy of Liquidity Winery/Bistro. All food images MyVanCity. I received dinner for myself and a guest, including wine pairings, complimentary in order to facilitate this review. All opinions are my own. We left a gratuity equal to 20% of the total before taxes. I highly recommend Liquidity Bistro and have been a patron for a number of years. This is my first review.
[wdi_feed id="2″]