We are pleased to suggest Water Street Cafe as one of our #FavouriteThings Holiday Gift Suggestions. I have enjoyed many dinners, wine dinners and special occasions at Water Street and I can personally recommend them for your special occasions. This year another great line-up for Christmas Eve, Christmas Dinner and New Year's frivolity.
There are some fun times ahead at Water St. Cafe for the holidays, including a special Christmas Eve and Christmas Day Menu. Water St. Cafe will be hosting our 3rd annual New Year's Eve gala!
The culinary team at Water Street Cafe has come up with some fantastic menus to help you celebrate the holidays! ✨
On Christmas Eve you have 2 options: Enjoy a fantastic $49 3-Course Menu or order from the a la carte menu featuring some menu favourites!
Sure to fill up, be sure to book your table early!
Twas' the was the night before Christmas,
when all through the house
Not a creature was stirring,
not even a mouse…
Merry Christmas to one and all!
We would love you to celebrate the holidays at Water Street Cafe!✨
Enjoy a festive $129 5-course menu on December 25th from 2pm to 8pm.
Surround yourself with holiday cheer, family, friends and beautiful Gastown! Let us worry about the cooking and the cleanup.
Happy Holidays Water Street Diners!! Please join us at Water Street Cafe for Chef Alan's five course Christmas feast!
Enjoy with your family and friends as we take care of all the details!
Call the restaurant directly for reservations we are not taking online reservations for this date. 604.689.2832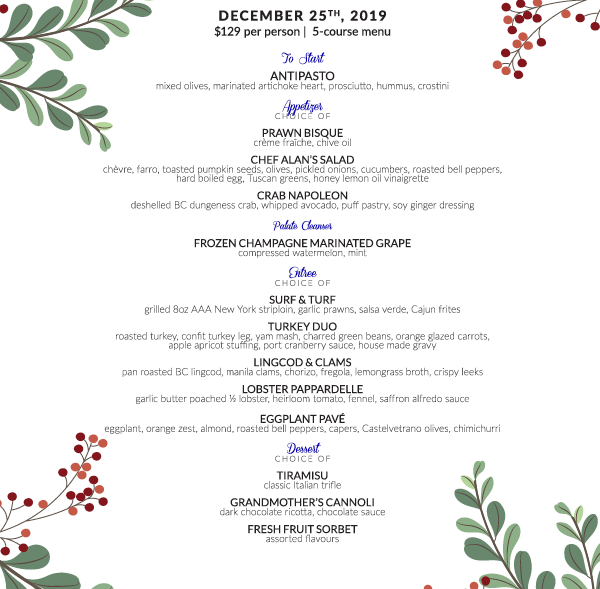 2:00pm – 8:00pm
$129 per person
(Vegan and vegetarian options available) See the al a carte menu here. We look forward to hosting you!
Water Street Annual New Years Eve Gala!
Join us for a night of amazing culinary expression, local live music featuring Marlie Collins & Co and of course amazing company of family and friends!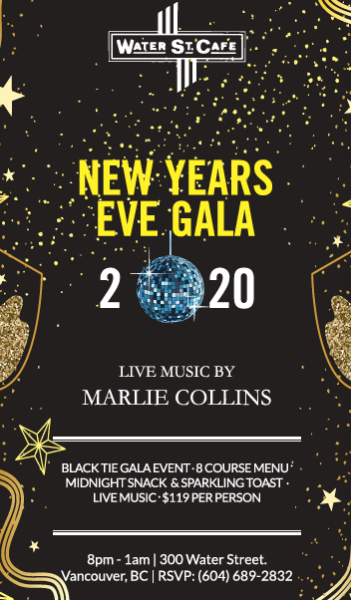 The Details:
– $119 per guest
– 8:00pm to late
– 8 course menu
– Black & White Tie Affair
– Live music
– Dancing
– Party Favours
– Toast of Sparkling
– Midnight Snack
We look forward to dancing in the new year with you and your most special guests!
(vegan and vegetarian options available)
We look forward to seeing you all here to ring in 2020!
Call and reserve your seat today: 604.689.2832
Music brought to you by Blue Light Sessions and JumpAttack Records.
Lots more happening up to the holidays, see all the Water Street events here.
With Water Street Cafe you can give yourself the gift of any one or all of these good times or you can also give the gift of a Water Street Cafe Gift Card to friends and family. Details here.
* Menu items and prices are subject to change without notice and are displayed for informational purposes only.
[wdi_feed id="2″]