Fresh off the Press:
Steampunk-themed DTC Website & Cider Club
It's been a pleasure working with Howling Moon Craft Cider! The steampunk-themed craft cider house is conducting innovative market research to optimize direct-to-consumer club sales.
Check out their best-in-class website, featuring a strong brand message, automated purchase and Community Box subscriptions (aka club sales,) and pick-up and delivery options.
Join the craft cider revolution by ordering some refreshing bottles of delish craft cider to your door.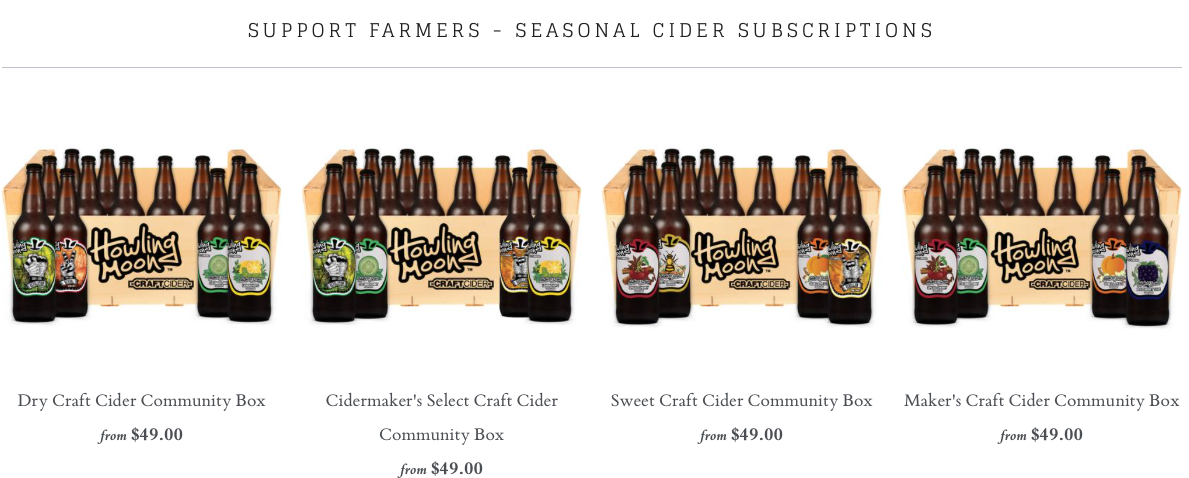 Applications opened today!
Get $5000 in aid for DTC sales
Are you a BC beverage producer, and would like to sell online? Now's your chance to get direct-to-consumer revenue rolling – quick – with up to $5000 support from the provincial government.
The Buy BC Ecommerce grant opened this morning Friday, May 15, 9am and support is on a first-come, first-serve basis. That means you have to hustle.
If you are not currently receiving Buy BC funding, and have products grown or processed in BC, this might be the perfect opportunity for you.
Terroir Consulting has only two more spots available in our Quick Sell program this summer – this program is a perfect fit for the Buy BC Ecommerce grant.
Terroir Consulting's Quick Sell Program
Get your beverage products live in a seamless Shopify store, ready to be sold and shipped within 2 weeks.
You fill out our inventory template and provide either bottle shot photos, or simply a bottle of each product for us to shoot (and drink!)
Your product catalogue will be either embedded in your existing website, or linked to your existing website (depending on what you have set up.) Don't have a website? No worries, one branded page is included, to put a face on your store.
Customers will have the option of picking up, or having your bevies shipped by Canada Post. All options will be automated into the checkout.
We'll show you how to run your store, with a one hour live Zoom tutorial. Then you can sell, sell, sell!
These costs are not included, but we'll walk you through your options: additional website pages, ongoing Shopify costs, Shopify payment processor costs and domain registration.
Regular Cost: $6500 (+GST)
With a Buy BC Ecommerce grant, you'll only pay $1625 (+GST)
Get your bottles online – contact us!
Hurry! The grant application window opened May 15, 9am and applications will be considered on a first-come, first-serve basis until May 29 at 4:30pm, or until the funding is fully subscribed, at which point the application window will close. You don't want to miss this.
Projects must be implemented between June 8 2020 and September 30, 2020. Terroir Consulting currently has only three Quick Sell Program spots left, starting in July and August.
Want to get your bottles online? Give us a shout! (-quickly-)
Terroir Consulting
Research & Development Services
Terroir Consulting's dedicated consultants offer professional research and development services for the wine and beverage industry.
MARKET, CONSUMER & SENSORY RESEARCH
Consumer Research: market segmentation, focus groups, interviews, intercepts, ethnographies, online surveys.
Sensory Evaluation: consumer sensory preferences, sensory attribute evaluation, product sensory profiling, labels and packaging impact evaluation, portfolio analysis, thresholds of acceptable smoke taint.
Market Analysis: geographic and psychographic market analysis, export market evaluation
Trend Evaluation: customized trends reporting, attitudes and behaviours tracking, brand fit analysis
PLANNING & BUSINESS DEVELOPMENT
Strategic Planning: executive coaching, family business strategy, organizational planning, stakeholder consultation
Marketing Planning: brand planning, marketing strategy and tactics, analysis of existing brand for potential fit and path to entry
Business Planning: human resource and succession planning, organizational and productivity evaluation, merger and growth strategy
Export Planning: foreign market analysis and evaluation, export strategy, export planning, path to entry, and brand fit analysis.
BRANDING, MARKETING, & HOSPITALITY
Brand Development: branding strategy, visual identity development, beverage label design
Marketing: marketing research, marketing plan, website development, wine club set-up and development, professional industry writing
Social media: social strategy and planning, photography planning, post writing and programming, social interaction management
Distribution: direct-to-consumer system set-up, wine club development, staff training
Hospitality: professional sales training, tasting room planning, tasting room staff training
WINE PROFESSIONAL EDUCATION & INDUSTRY EVENTS
WINE ANALYSIS, WINEMAKING & VINEYARD PLANNING
Wine Analysis: professional wine quality analysis, sensory profiling, wine product development, portfolio planning
Winemaking: winemaker coaching and mentoring, process planning, just-in-time advisement
Vineyard Planning: terroir analysis, varietal recommendations, site selection, vineyard planting planning, viticulture practices coaching, sustainability planning
From garagistes and local associations, to international industry leaders, supports wine organizations to think strategically and develop towards their goals. We conduct consumer and market research, and assist our clients to compete in a changing wine world.
Talk to Darcen and Arnica about taking your wine business to the next level.
Email Terroir Consulting about Wine R & D