"In this series I am sharing inspirational Italian recipes"
This wonderful family friendly recipe comes from Mamma Marzia. Wouldn't this be fun to make and enjoy together with your kids?
TORTA CAPRESE/GLUTEN FREE CHOCOLATE CAKE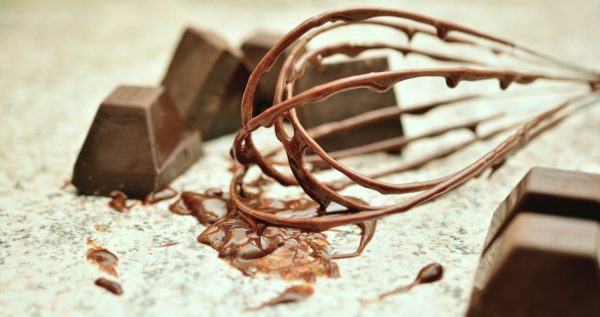 Torta Caprese is a dessert that I had in Positano few years ago when I was in   vacation with my family. It's not a secret that I'm not a chocolate cake lover but this cake had something different, something memorable. I'm not sure if it was just the flavour of the cake or the amazing smell of my surrounding. The smell of the flowers, the smell of the gorgeous lemon, the smell of the sea, the smell of the good food, the espresso, the smell of the amazing people  all these makes the Amalfi coast a very unique place.
I visited Positano and the Amalfi coast so many times and every time the smell it's something that stay in my mind and it's unforgettable. I can't wait to go back one day and live the Dolce Vita for few weeks.
In this recipe I put the measurement in cups too but please consider buying a food scale and starting to use grams. Grams are more precise for baking and more successful for any recipe. 
Ingredients:
3 eggs room temperature

120 grams sugar (5/8 cup)

150 grams almond flour (1 cup)

1 teaspoon baking powder

130 grams chocolate ( 1 cup approx)

100 grams butter ( ¼ cup + 3 tbsp)

2 tsp Cacao

1 tsp butter for the pan 

Icing sugar to sprinkle

A sprinkle of Love
Method:
In a sauce pan melt the chocolate, butter and sugar together. Pour everything in a bowl and let it cool down. Add the almond flour and baking powder.
Separate the egg white from eggs yolk.  Beat the eggs white until fluffy. Add the eggs yolks to the chocolate mixture, one at the time making sure that is perfectly incorporate before to adding the next one. At the end add the egg white, incorporating everything slowly. Spread some Butter to a 9 inch cake pan and sprinkle some cacao.
Pour the cake mixture and bake for 30/35 minutes at 350. When it's ready sprinkle icing sugar and serves it with some whipping cream or vanilla ice cream or just by itself. Close your eyes, play some Italian Music  and pretend to be in Positano living La dolce Vita.
Buon  appetito.
Cooking with Mamma Marzia: Authentic Italian Recipes for the Whole Family is a collection of my family recipes, traditions, and cultures passed down through generations of my family. This cook book is my love story between me, my family, and Italian food. You will find easy-to-follow recipes with a deliciously appetizing photo to inspire your everyday cooking. My hope is that you will make many beautiful memories with your loved ones, cooking for them or cooking with them. And don't forget to add a Sprinkle of Love in every recipe!
I really hope you will get in the kitchen and create some precious memories with your family or friends, if you need help with the recipe don't hesite to message me on Social media.
Cooking with Mamma Marzia's new cookbook is available on Amazon.ca
Recipe and food image courtesy of Mamma Marzia. I received a complimentary cookbook in December and I use it often. The recipes are easy to follow and the dishes are not only good but family friendly.