Join us for a Virtual Tasting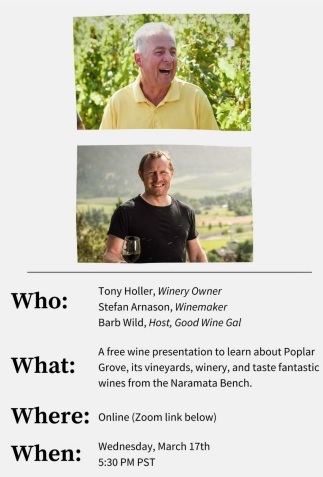 Good Wine Gal is hosting Poplar Grove for their inaugural BC Wine Wednesday event of 2021 on March 17th at 5:30 pm. 
Join host, Barb Wild, Poplar Grove Owner, Tony Holler, and Winemaker, Stefan Arnason for a free wine presentation and learn about Poplar Grove, its vineyards, winery, and fantastic wines from the Naramata Bench. 
For added fun, have an exclusive 6 or 12 bottle wine pack delivered to your doorstep so you can taste alongside Stefan, Tony and Barb! 
Place your order by March 10th to ensure that wines arrive on time for the March 17th tasting date. 
Complimentary shipping in BC and AB. $15 flat rate to SK, MB, ON.
Don't Miss our Instagram Giveaway!
Spring at Poplar Grove Winery means bottling delicious wines, pre-pruning in the vineyards, and Chef Rob Ratcliffe creating new (and always delicious) menu items at The Restaurant at Poplar Grove! 
To celebrate, one lucky person will win a $150 Gift Card to enjoy at The Restaurant at Poplar Grove Winery. 
Poplar Grove Winery
425 Middle Bench Road N 
Penticton, BC 
wine@nullpoplargrove.ca 250.493.9463 
www.poplargrove.ca 
Purchase Wines 
Wine Club 
Contact Us 
The Restaurant at Poplar Grove 

To view our COVID-19 please click here.
Information and images courtesy of the winery.