Just in time for Holiday gifting
(or if you just need to add a little joy to your home)
HO,HO,HO!!
We've put together a selection of our favourite wines for you this holiday season. "Home for the Holidays", "Toast & Tipple", and "Winter Wonderland" are available now. Each pack is in a deliciously handcrafted box, ready for gifting, bringing to family dinners, or just putting under the tree for yourself!
There are only 100 gift boxes available, so get your orders in early to stay off the Naughty list! They are sold as individual packs, so you can get as many of each as you like.
Email us to order yours in a decorated 6 pack of all 3 of the Collections, or send a note with your order.
Each holiday pack comes in a uniquely handcrafted gift box, can include your own personalized message, and shipping is a flat fee of $15 anywhere in BC, $20 for rest of Canada (sorry, we are unable to ship to AB, but you can purchase and have someone pick up). You can always add some extra bottles to your Holiday packs (always good to have a few extra bottles for holiday entertaining!) and get free case shipping.
Pick up orders must be received by December 16. Shipping orders must be received no later than Dec 10* to guarantee delivery by Dec 24 (*for rural addresses (ie. T0K) using Canada Post must be no later than Dec 5)
Not sure what wines to give? You can send a virtual gift card for your friends to choose their own wines, or for any of the Holiday Collection packs.
"Home for the Holidays"
2 bottle gift pack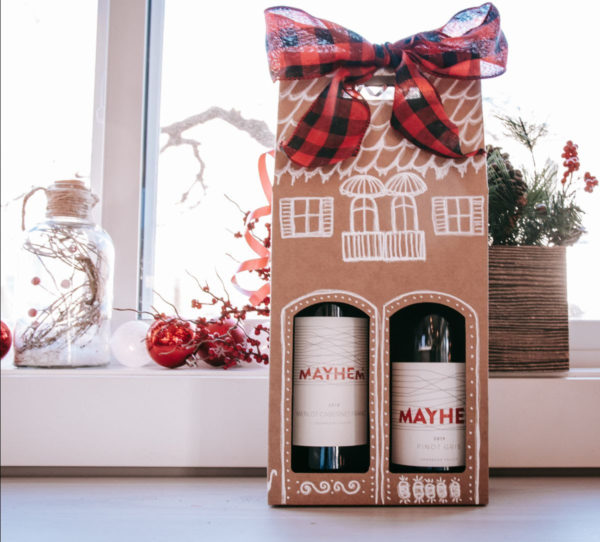 What to bring to dinner? We've solved your dilemma with a special 2 bottle pack of 2019 Pinot Gris and 2018 Merlot/ Cabernet Franc
Reg. Price: $39.13 plus taxes Available online
CLUB MAYHEM Price: $35.22 Avail NOW to Club!
"Toast & Tipple"
2 bottle gift pack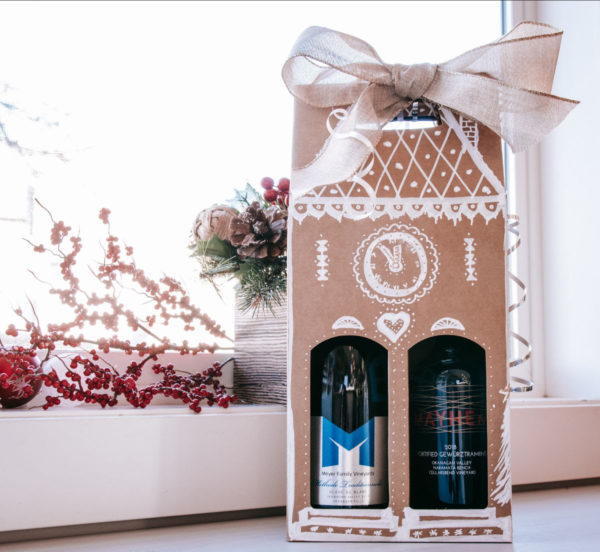 We've teamed up with Meyer Family Vineyards to bring this package of 2014 Sparkling Methode Traditionelle Blanc de Blanc and our 2018 Fortified Gewurztraminer.  Show up with these two exceptional wines to start and finish your festive meals and watch their eyes light up!
Reg. Price: $66.96 plus taxes Available online
CLUB MAYHEM Price: $60.26 Avail NOW to Club!
"Winter Wonderland"
6 can gift pack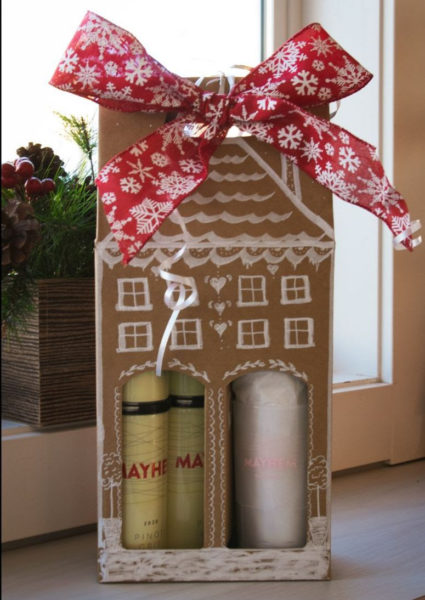 For the outdoor adventurer on your list this season, send a special gift of our 2020 Pinot Gris cans  along with two Mayhem logo stein-style mugs for after those apres snow afternoons, or for bringing to parties to share. They fit great into backpacks, are lightweight and eco-friendly, along with being great wine!
Reg. Price: $39.13 plus taxes Available online
CLUB MAYHEM Price: $35.22
Avail NOW to Club!
We hope you will join us for our free on-line event series this winter. We genuinely appreciate your support of our wines, and have some exciting news for you in 2022.
Keep reading those emails, checking out our Instagram and Facebook stories (links are below), and as always, if there's anything we can help you with, don't hesitate to call or email us!
Warmest wishes for a happy, healthy and festive holiday season to all,
from all the team here at Mayhem Wines
Terry Meyer Stone, President
Information and images courtesy of the winery.