"In this series, I will be sharing my take on which Wines pair well with some inspirational recipes"
This dish was easy to make but so very good. We enjoyed this on February 15th – the final day of the Lunar New Year celebrations. The pork dumplings and the soup broth were both flavoured with ginger which could have presented a challenge if the wine had not been just right. The Brewer ~ Clifton Santa Rita Hills Chardonnay 2017 was a standout with this dish.
Brewer ~ Clifton Santa Rita Hills Chardonnay 2017

VINEYARD
This blend is comprised of 3D, Machado, Acin and Hapgood vineyards:
3D The primary emphasis of the predominantly sandy 10-acre vineyard is chardonnay, with five clones planted in addition to chardonnay, there is a smaller field of pinot noir planted to Swan, Pommard and 667 clones.
MACHADO 15 acre parcel on the Machado family land is located adjacent to Clos Pepe and immediately behind the Kessler-Haak vineyard. The site is marked by a gorgeous rolling terrain with sandy clay loam soils.
HAPGOOD In slightly richer soil, the vineyard is planted to the Mount Eden selection of chardonnay. The elevated clay loam content results in a larger volume and a more dense palate expression. Our most recent installation, planted in 2010, is this small 2 1/2 acre section of pinot noir planted to Merry Edwards clone.
CRAFT
Only neutral barrels are employed. We strive for whole cluster fermentation. We farm with a focus on ripening the stems alongside the fruit, allowing the cluster to be in harmony. Working with the stems allows for wines that are structured, earthy and balanced with our beautiful SRH fruit.
AROMA
Lemon, Kiwi, Orange Blossom, Sweet Basil
FLAVOUR
Jasmine, Lime Ginger, Mineral
TEXTURE
Peel, Orange Zest, Fresh Sea Salt
$46.98 available at Everything Wine
Dumpling Noodle Soup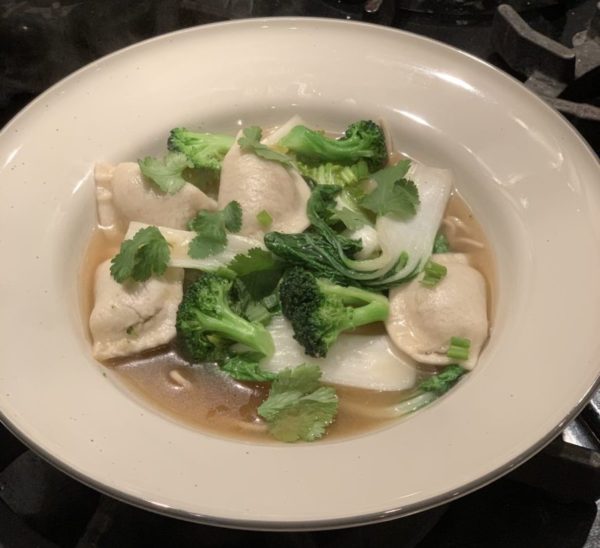 one square of dried wavy noodles
1 tablespoon sesame oil
1 (2-inch) piece ginger, grated
2 garlic cloves, peeled and crushed
6 cups vegetable stock or chicken stock
2 tablespoons miso paste
frozen dumplings (4-6 per person)
4 baby bok choy cut into small pieces
1 small head broccoli cut into bite-size florets
sliced green onions, thin and cut into about 4″ strips for garnish
Cook the noodles just slightly less than done
Drain and rinse well with cold water
Add sesame oil, ginger and garlic to a pot
Cook for a few minutes to release the flavours
Add the stock and season with salt to taste
Simmer for 10-15 minutes
Add the miso, stirring to combine.
Turn to medium/high and first add the frozen dumplings
Once the dumplings begin to float add the broccoli and bok choy
Cook until broccoli is bright green but still a bit crunchy
Place the wavy noodles in the bottom of each bowl and then add the hot soup, broccoli, bok choy and dumplings
Garnish with cilantro leaves
To make this dish vegetarian use a vegetable dumpling instead.
Brewer – Clifton
"IT IS OUR PRIMARY GOAL AND PRIORITY TO DELIVER THE ESSENCE OF THAT VINEYARD AS CLEARLY AND HONESTLY AS POSSIBLE."
At Brewer – Clifton, there is an utmost respect for nature. We believe that when working with a product of nature, it is necessary to always maintain an awareness of the elements and phenomena that are sometimes beyond our total understanding and control. If at any time that level of sensitivity is lessened, we risk the unavoidable degradation of the very goals that we are trying to pursue. As such, any intervention in the natural evolution of the product must be carried out with the utmost attentiveness and care.
We believe that the geographic, geologic and climatic uniqueness of the Sta. Rita Hills appellation provides an ideal place to grow chardonnay and pinot noir grapes of intensity, complexity and specificity. Within this appellation, each vineyard carries its own imprint. Our mission and indeed our passion is to present wines that convey the characteristics inherent to each of these sites, with uncompromising quality.
A TEAM COMMITTED TO EXCELLENCE
No Shortcuts. World-class wine. An honest voice of our vineyard.
Wine notes courtesy of the winery. Images: MyVanCity. I received complimentary wine to facilitate this feature. See all the #ThisWineThatDish features here.