It's Spring and it's time to channel your inner wanderlust! Welcome back wine touring!
What goes better than wine and cheese together? Upper Bench wine and Upper Bench cheese! together! Come for a wine tasting and shop for cheese. Go home with your favourite Upper Bench wines and fresh Upper Bench cheese made from 100% pasteurized Canadian cow's milk.
TASTING EXPERIENCES
We are so pleased to welcome everyone back for the 2022 season. Join us and experience the very best Upper Bench has to offer.
Tasting Options:
Seated Portfolio Tasting
(45-60 minutes)
Taste 5 of our premium Estate-grown wines paired with our onsite, handcrafted cheese, seated on our shaded, misted patio
$20 per person, waived with a $50 or more purchase per person
Stand-Up Tasting
(15-20 minutes)
Taste 4 of our wines, standing at our bar inside our shop or outside on barrel tops when weather permits
$10 per person, waived with a $20 or more purchase per person
Tastings are available daily, starting at 11am. Our shop remains open daily, 10am-5pm, for wine and cheese purchases.
We truly want you to have a memorable experience with us here at Upper Bench. The best way for that to happen is if we know you are coming so we can staff accordingly. As such, reservations are not yet required but very highly recommended. Of course, we understand those who wish to pop in for a tasting, which we will do our utmost best to accommodate, but please be aware there may be a wait, or availability may be limited to standing room only.
Please call the winery at 250-770-1733 or email clubs@nullupperbench.ca to book. Please note a credit card will be required to finalize all bookings.
For same day reservations, please call the winery during regular shop hours (we are open daily, 10am-5pm) at 250-770-1733.
We look forward to welcoming you soon!
We require a minimum of 24 hours notice for a cancellation. Any cancellations with less than 24 hours notice will not have their tasting fees refunded.
Please note that our patio is 19+ only, but we are able to accommodate minors for stand-up tastings.
Due to the intimate size of our space we cannot accommodate any groups larger than 6 people, nor do we accommodate any stagette/party tours.
Masks are now optional while in the wine shop and during tastings. We ask that you please respect the individual preferences of other guests and staff members.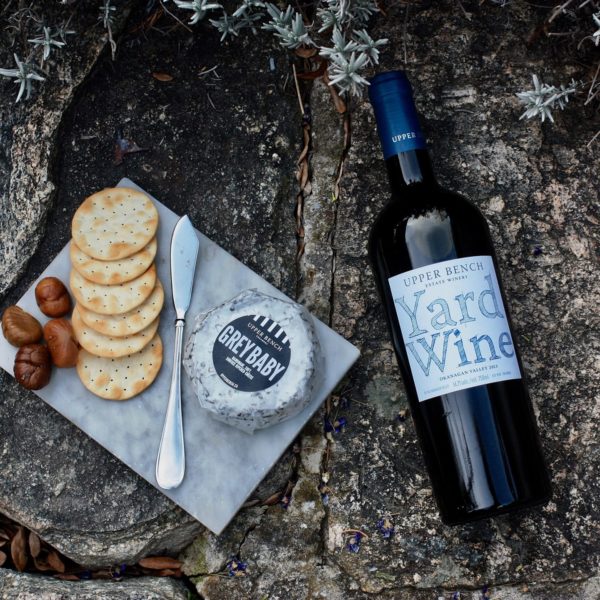 OUR CHEESE
Handcrafted, wine-paired Cheese
We handcraft artisanal washed, bloomy, natural rinds, lactic, and blue cheese, which are purposefully crafted to pair with our wines.
As a CFIA registered creamery, we use locally sourced, 100% pasteurized Canadian cow's milk. All of our cheese are gluten and additive free, and we maintain our Safe Food for Canadians Licence.
Our cheese are made onsite and shipped safely anywhere in Canada, with bulk orders available. We make special occasion cheese towers, and specialty cheese made exclusively for our Club members.
Can't make it into the winery just yet. Check out the retail and merchandise available online. Everything from Upper Bench decanters to cookbooks!
Upper Bench Winery & Creamery
170 Upper Bench Road South
Penticton, BC, Canada
V2A 8T1
Phone +1 250 770 1733
Email info@nullupperbench.ca
Information and images courtesy of the winery.