"Our ultimate goal is to be 100% Lillooet VQA and to really showcase the Lillooet terroir in our wines."
It's always exciting when a winery releases their latest vintages and this release from Fort Berens is no exception. Six easy sipping wines for summer, including the introduction of two small lot wines.
The release of the wines to the media for promoting was slightly delayed due to the winery's support of the Lytton community and the Lytton Strong Fundraiser sponsored by Fort Berens proudly raising $150,000.00 to help the people of Lytton rebuild their outdoor community swimming pool.
Kudos to the Fort Berens team as they look forward with optimism to the future of wines in Lillooet.
New releases now available:

Lillooet BC VQA
TASTING NOTES
Luscious and juicy, this 100% estate grown Rosé is made predominantly with Pinot Noir grapes. It also features a small fraction of Merlot and Cabernet Franc grapes from our new Red Rock Vineyard. Savour enticing notes of fresh strawberries, raspberries, and cotton candy in this delicious wine.
VINEYARD NOTES
Fort Berens Grapes 100%
PRODUCTION NOTES
Pinot Noir -79% Merlot -13 % Cabernet Franc -8%
WINEMAKER NOTES
A portion of the 100% estate grown grapes were destemmed and crushed to allow for 12 hours of skin contact time for the colour from the skin to integrate into the juice. The grapes were then lightly pressed, settled, and the clean juice racked from the solids. The fermentation was long and cold, to produce an exotic aroma with a fruit-forward palate.
FOOD PAIRING NOTES
A great summer wine to enjoy on its own or paired with a variety of foods, from a fresh salad to burgers or BBQ chicken skewers.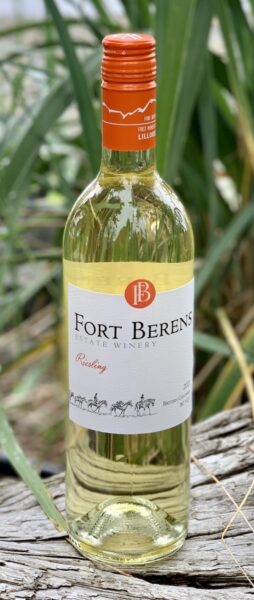 BC VQA
TASTING NOTES
Bright and lively with notes of tropical fruit, and hints of lychee, muscat, and rose petals, this Riesling is beautifully balanced and features flavours of green apples, pears, and lemon zest. The versatile and slightly off-dry wine is great to enjoy on its own, and it pairs with almost any dish.
VINEYARD NOTES
FB Grapes = 40% Outside grapes: 60% (Vernon)
PRODUCTION NOTES
100% Riesling
WINEMAKER NOTES
Made with grapes from our estate vineyard and a vineyard in Vernon. The grapes were given 12 hours skin contact after crushing and were then lightly pressed to collect the free run juice. After daily tasting, the ferment in stainless steel was arrested naturally by dramatically lowering the core temperature of the wine until it was no longer active. This left just enough residual sugar to balance the higher acid levels traditional in this varietal. 5 months of lees contact gave this terroir driven Riesling an elegant and aromatic palate.
FOOD PAIRING NOTES
This slightly off-dry Riesling is very food-friendly. It will balance well with Asian and spicy Mexican dishes.
Chardonnay 2021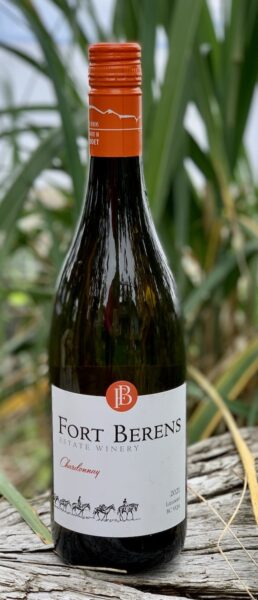 Lillooet BC VQA
WINEMAKER'S NOTES
The grapes for this Chardonnay came from two vineyards in Lillooet, the majority from the Dry Creek Vineyard at Fort Berens and a smaller portion from the Fraser BenchVineyard. The grapes were hand harvested, destemmed, crushed and given 4 hours of skin contact prior to light pressing. Mostly fermentd and aged in stainless steel tanks. 30% was fermented naturally in neutral French oak barrels and aged for 6 months. Lees in the barrels were stirred twice a month to enhance the mid-palate weight. Tank and barrel portions were blended in April and bottled in May.
TASTING NOTES
The lightly oaked wine is citrus driven with aromas of lemon grass, white pear and some nutty and biscuit notes. Medium bodied with flavours of fresh peaches, apricot and granny smith apples leads to a well-rounded finish. Paired with shellfish or a creamy pasta alfredo.
$22.99 available from the winery and select fine wine stores *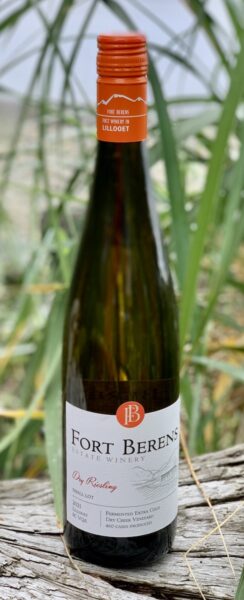 Lillooet BC VQA
TASTING NOTES
Clear, bright and brilliant in colour. Notes of Tropical fruit, Pineapple, elderflower, lemon zest and ginger spice on the nose. The wines is fresh and lively with distinct green apple and stone fruit on the nose. A medium bodied wine with a creamy finish on the palate.
VINEYARD NOTES
Fort Berens Grapes = 100%
PRODUCTION NOTES
100% Riesling
WINEMAKER NOTES
Selected from 2 older blocks on the estate. Reductive winemaking with dry ice at the crush and press. 6 hours of skin contact was given before pressing. 24 hour of cold settling and inoculated with an aromatic yeast strain. 5 months lees contact to enhance the mouthfeel.
FOOD PAIRING NOTES
chicken dishes and sushi or best enjoyed on its own too.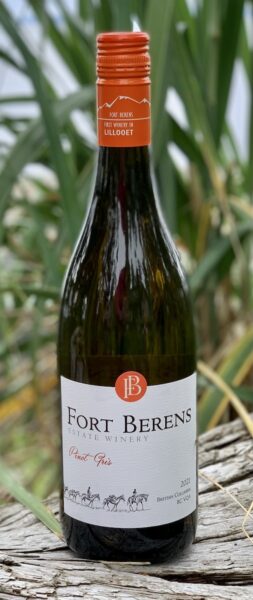 BC VQA
TASTING NOTES
Vibrant and crisp, this Pinot Gris is bursting with fruity notes of pear and yellow apple, elderflower, and honeysuckle. This fresh and fruit-forward wine is well balanced and perfect for any occasion. It is a very versatile wine. It is delicious to drink on its own, paired with a good book, or a light summer meal.
VINEYARD NOTES
FB Grapes: 53% Outside Grapes: 47% (volcanic Hills and Savona)
PRODUCTION NOTES
100% Pinot Gris
WINEMAKER NOTES
Made with grapes from our Dry Creek Vineyard, a West Kelowna vineyard, and a small vineyard in Savona. 50% of the grapes were crushed and destemmed and given 6 hours of skin contact before pressing, leading to structure and more aromatics. The remaining grapes were crushed, destemmed, and pressed off immediately, giving a fresh component. The wine was fermented cold at 11 degrees to enhance the aromatic profile and then aged for 5 months on the lees to give a full, creamy texture.
FOOD PAIRING NOTES
Enjoy this fresh and lively wine on its own, or pair it with white fish, mussels, calamari, or pasta with a cream sauce.
Small Lot Grüner Veltliner 2021
Lillooet BC VQA
WINEMAKER'S NOTES
This wine was made from the first vintage with our estate grown Grüner Veltliner grapes from our Red Rock vineyard. A specially cared for 1 acre block is used for this wine. The wine had 9 hours skin contact before a light pressing, followed by a cold ferment with an aromatic yeast strains. Then aged for 5 months on the lees to produce a complex, aromatic wine.
TASTING NOTES
This wine features an array of tropical fruit aromas, with hints of passion fruit, orange peel, kiwi fruit and gooseberry. On the palate, find a rounded and creamy texture, combined with fresh and lively notes.
$24.99 available at the winery, select fine wine stores and restaurants. *
* For wines not currently listed on the winery website please contact:
Tel: 1-877-956-7768
EMAIL:  SALES@nullFORTBERENS.CA
Come Explore
Fort Berens Estate Winery is located in Lillooet, along the Gold Rush Trail in British Columbia's newest and most exciting emerging wine region. Lillooet's first winery was forged on the road less traveled. It is a culmination of the dreams, vision, and pioneering spirit of the team. Today, with 38 acres of vineyard and a cabinet filled with regional, national, and international wine awards, Fort Berens is showing the world that this is a discovery for the new millennium. At this breathtaking location, we passionately handcraft award-winning wines that reflect our unique Lillooet terroir.
1881 Highway 99 North
PO Box 758
Lillooet, BC V0K 1V0
TF: 1-877-956-7768
P: 1-250-256-7788
F: 1-250-256-7780
E: info@nullfortberens.ca
Wine notes courtesy of the winery. Images: MyVanCity. I received complimentary wine to facilitate this feature.