A must for wine lovers is a visit to their favourite winery. Or why not visit a winery that's new to you, or a winery recommended by a friend. All good ideas. Reservations are highly recommended and for some visits reservations are required. Know before you go.
Moon Curser has such an incredible portfolio of wines, diverse and in some cases quite unique. Tasting gives you the heads up or the wines you love that may be only available in limited quantities, like the Tannat or Arneis. Whatever the motivation is for your wine touring and wine tasting you will enjoy your experience at Moon Curser.
Visit Us at Moon Curser
Some think that this wine shop is a front for other nefarious activities. Could be…
Why not just go along with it nonetheless. No one will know any different.
OUR TASTING ROOM IS OPEN!
Tastings are by appointment and can be booked online.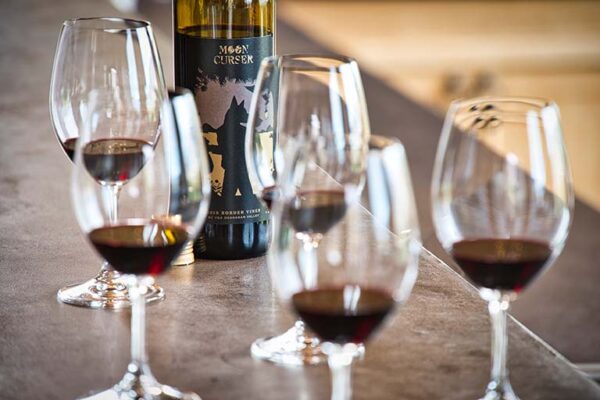 Wine Tasting
$10 (plus tax) per person; waived with the purchase of 2 bottles per person (or complimentary for wine club members and three of their guests).
Wine tasting experience of five pre-selected wines with one of our fabulous tasting room associates.
Enjoy views of our vineyard and Osoyoos Lake while being led through a tasting flight that aims to provide a representative cross-section from all tiers of our portfolio. It will include one white, and four red wines.
Please allow 20-30 minutes for your visit.
Daily 10am-5pm (last tasting at 4pm) April 20 until Oct 31, 2022.
Maximum 4 – 5 people per group (including children) depending on space available.
Tastings are by appointment.
Reservations highly recommended.
Walk-ins will be accepted when time and space permits.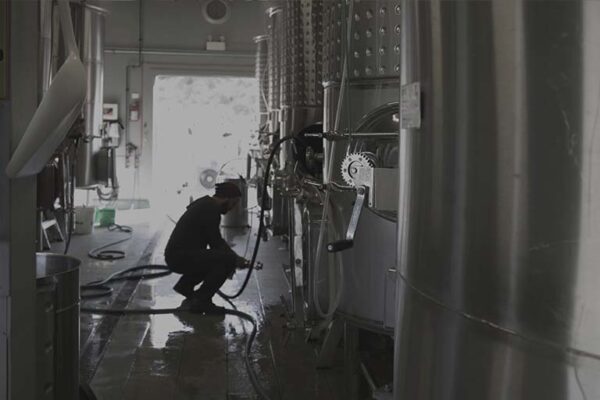 Private Winemaker Tour & Tasting
$75 (plus tax) per person, non-refundable.
Private vineyard and winery tour plus a guided tasting of six Moon Curser wines with our Winemaker Christian Scagnetti.
The vineyard and winery tour will culminate with a tasting at the Hideout, our luxurious suite with an expansive open deck that offers panoramic views over the valley, our vineyards and Osoyoos Lake. You will taste from Riedel Performance Series glassware, specially selected to optimize your tasting experience.
Please allow for 1.0 to 1.5 hours for this experience.
Only available on weekdays.
Typically offered on Thursday and Friday at 10:30am and 1:30pm.
Other times may be available; please enquire.
Subject to availability/change/cancellation – The winemakers schedule can be hard to predict in advance, especially leading up to and during harvest and crush (usually in September/October); please allow as much notice as possible when booking.
Minimum 2 persons per appointment (or $150+tax fee).
Maximum 6 people per group, including children.
Please bring your questions, thoughts and comments – this experience is all about answering all the questions you have always had about winemaking and grape growing in general, and Moon Curser practices and wines in particular.
Reservations required.
Wine Shop Hours
10am-5pm DAILY April 20 until October 31, 2022.
Winter Hours: Stay tuned.
One of the advantages of a visit is it gives you a prelude into which wines are your favourites. At Moon Curser your Club shipment is customizable. So visit this summer, settle on all your favourite wines and think seriously about joining their Wine Club. Check out this feature that gives you all the ins and outs of Wine Club membership.
Moon Curser Vineyards
Deep in Osoyoos, just shy of the US border, hides the Okanagan Valley's most elusive winery.
Named after moonlight-evading gold rush smugglers, Moon Curser pursues clandestine (some would say fascinating) grape varieties like Touriga Nacional and Tannat, with an occasional Syrah or Bordeaux blend thrown in for diversion.
Highly prized by both good guys and those of questionable repute, Moon Curser wines are treasured across Canada's finest dimly lit dining establishments.
Information and images courtesy of the winery. Feature image photo credit: Lionel Trudel Photography.